Composed by Kelly (wired) and originally published on the BMX Museum
I left Denver around 9:00 AM and flew direct to Calgary, landing around 11:30 AM. I said this in another post but Calgary is a beautiful city and the people I met while there were friendly, helpful and just downright good people. Oddly enough the city looks just like where I live, only a little greener this time of year. The weather was perfect the entire three days.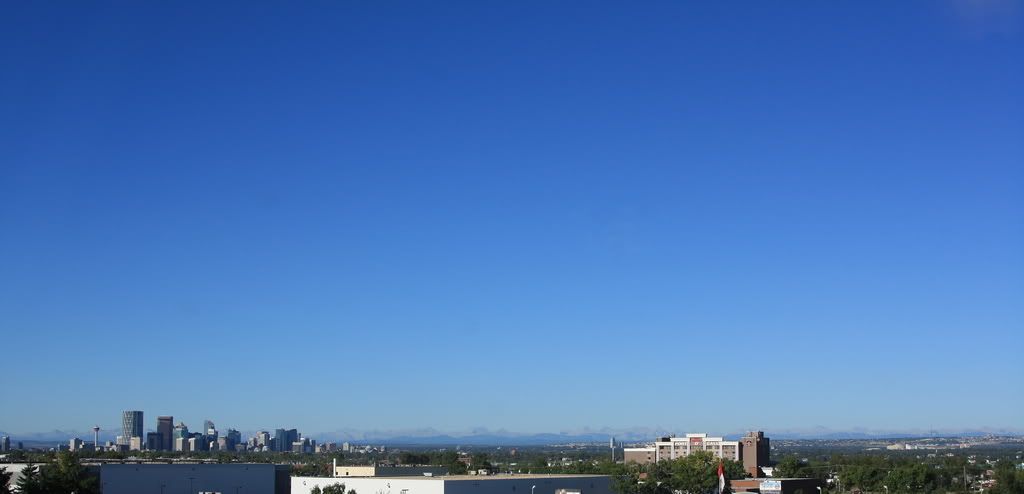 I got to my hotel and assembled my bike and was ready to go by 2:30PM. I had gotten in touch with franticbmx and was going to ride downtown to Millennium skatepark around 5:00 PM with him but when I got a couple texts that others were already there, I decided to cab it over. Rod, I should have waited for you cause it cost me $70 in cabs by the end of the day for the ride over and back. :mad: Thanks again for your generous offer!
Once at Mills I met several Museumers that made me feel really welcome. Axle10 and tk4130 are the two on the right and Wes is in the red shirt. Not only were they all cool to hang with their riding talent was awesome for the 35+ crowd - way better than me for sure.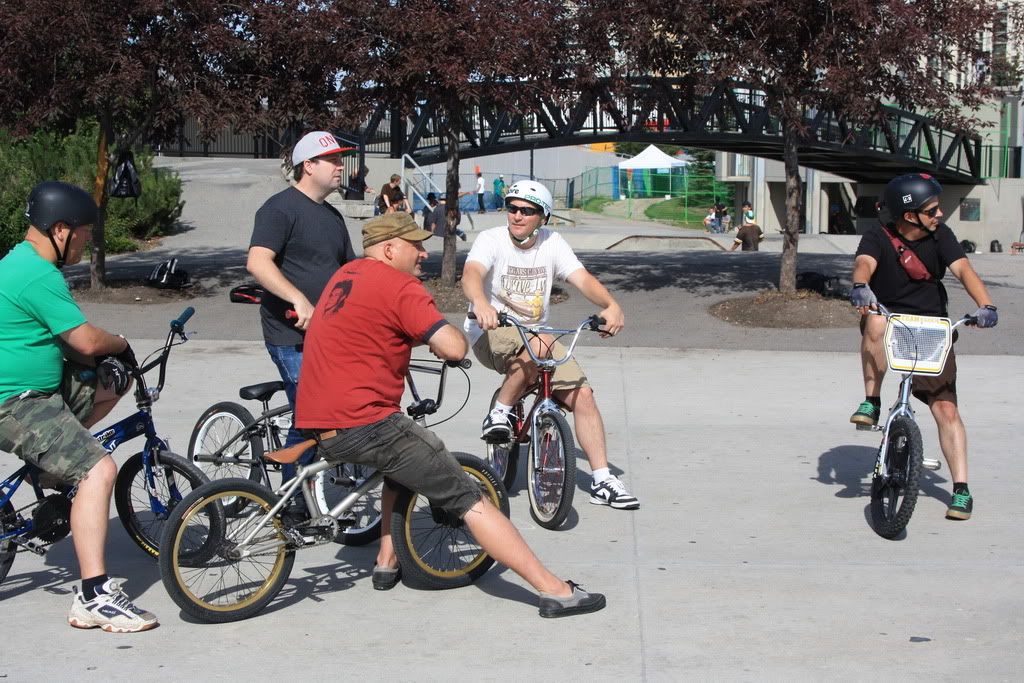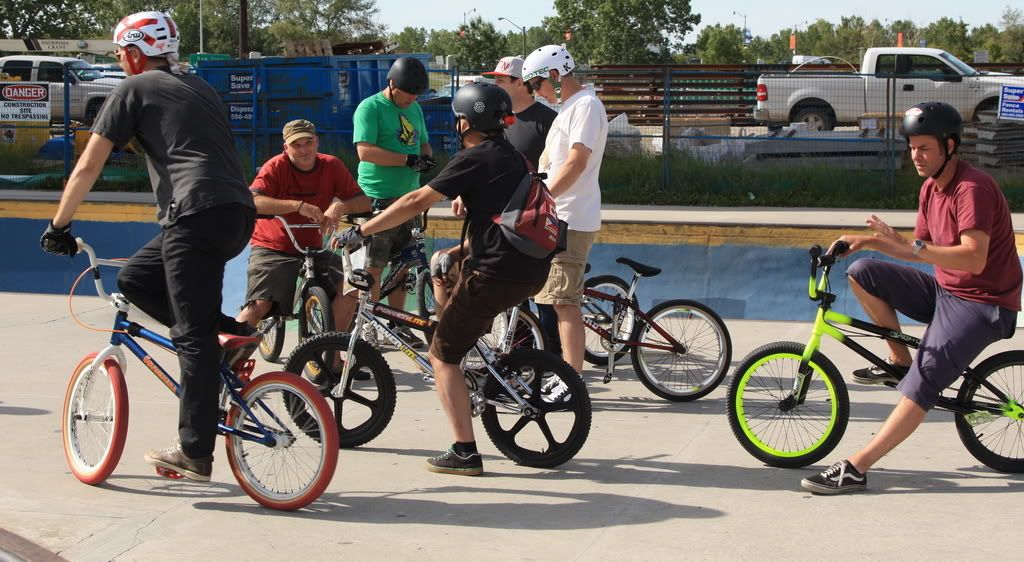 The only disappointment of the day was the water in the full pipe. I was really looking forward to riding this!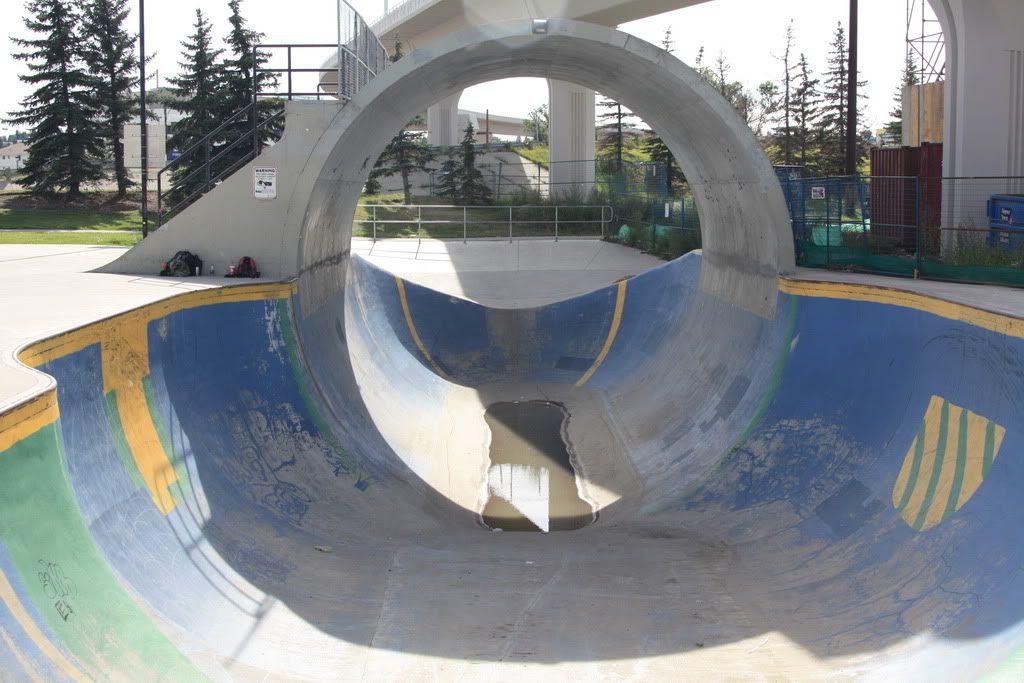 After about an hour of riding and hanging out Axle10 led me down to the BMX Gallery 4130 bike shop. A BMX only shop open seven days a week. How cool is that!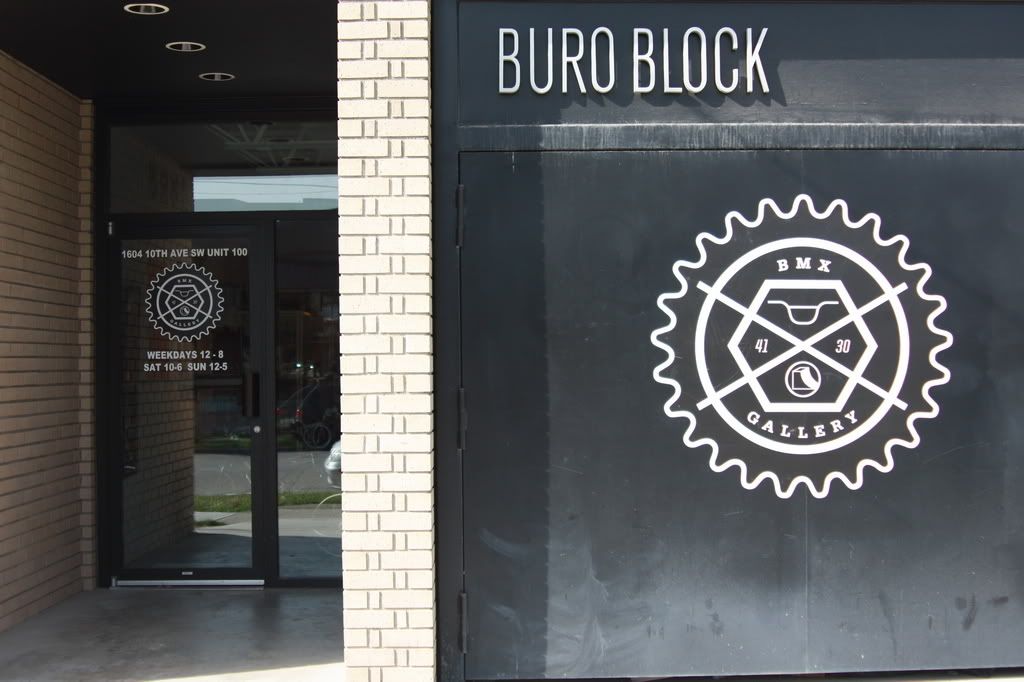 This is Brad Hanneford, one of the three owners. They opened their shop to everyone the whole weekend and hosted the Rad 25 poster and art contest along with Jeremy Moser's Rad movie memorabilia which was driven up from Southern California by motorhome!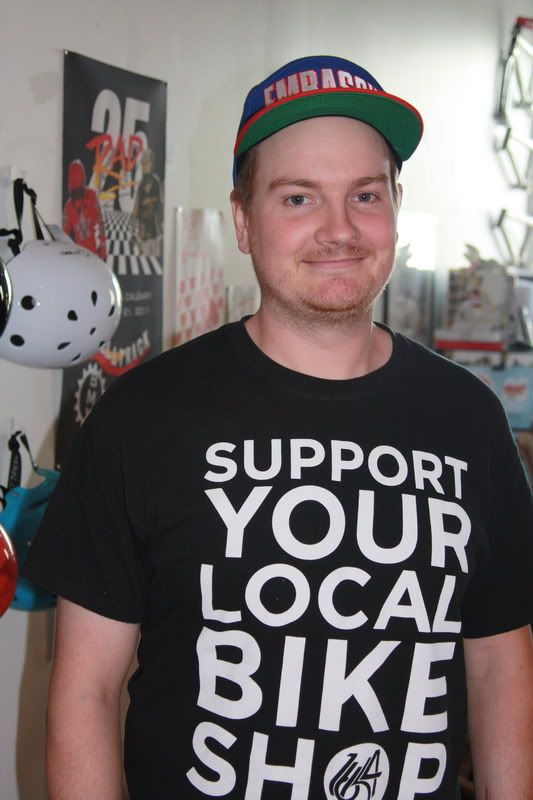 It's an awesome shop with a small selection of new school bikes and parts. I'm just realizing now that I didn't get enough shots of the shop... :(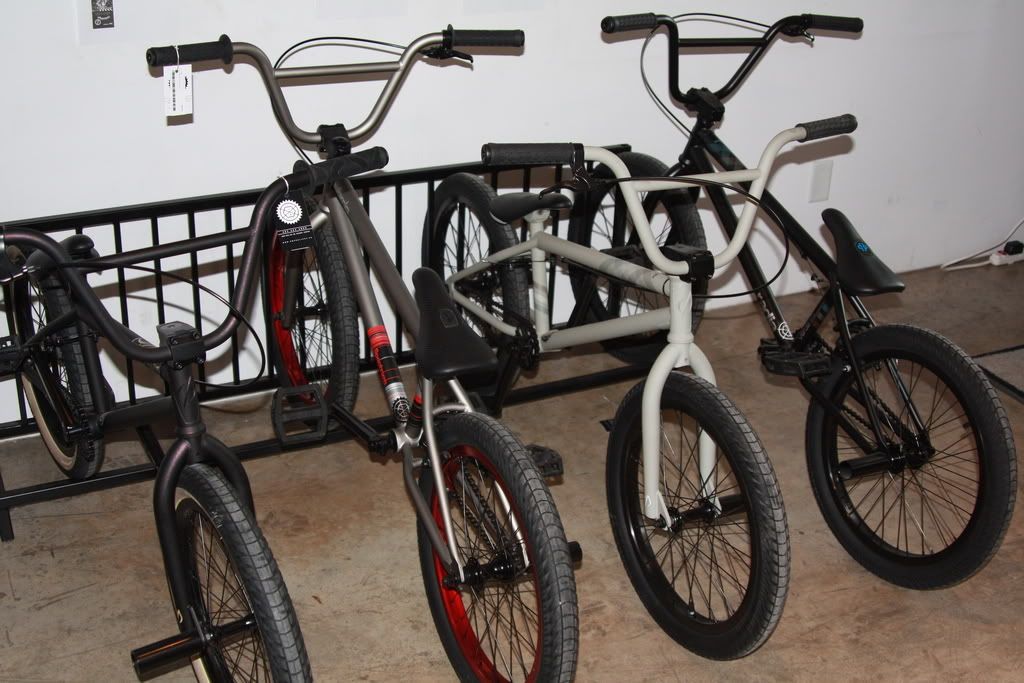 Axle10 and I had our own personal bike rack inside the shop when we arrived. :)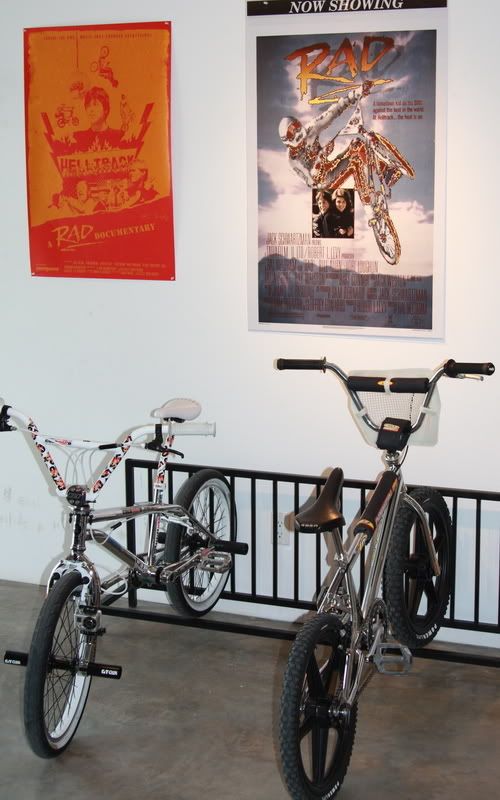 Here are a few of the things brought up by Jeremy. Mike Miranda's actual Hutch restored by BMX Museum's Harossa.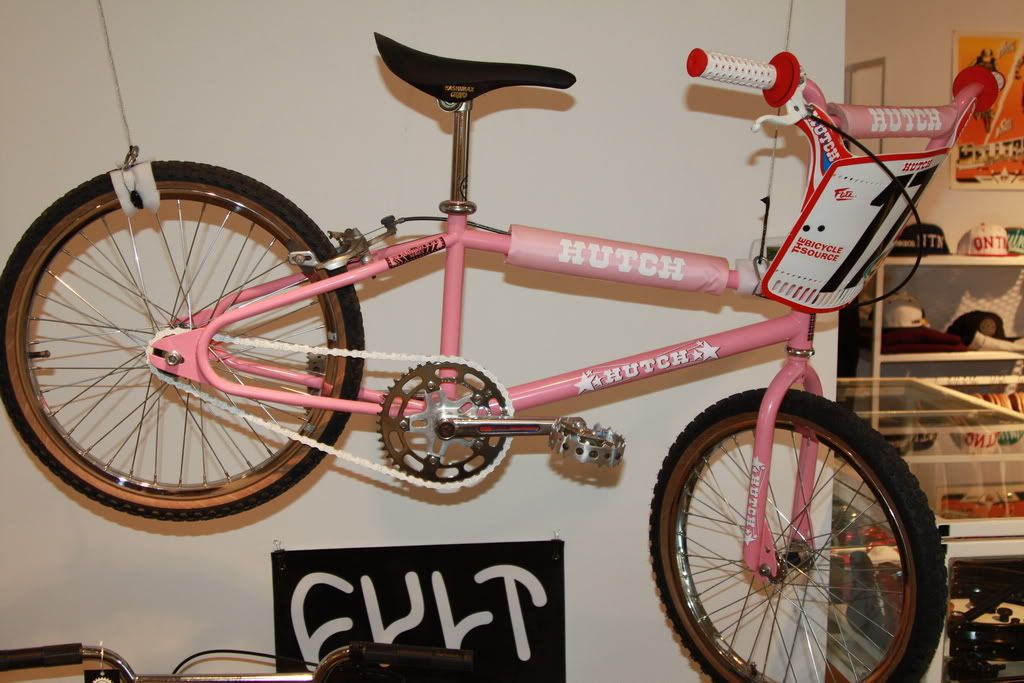 Bart's Blue Max.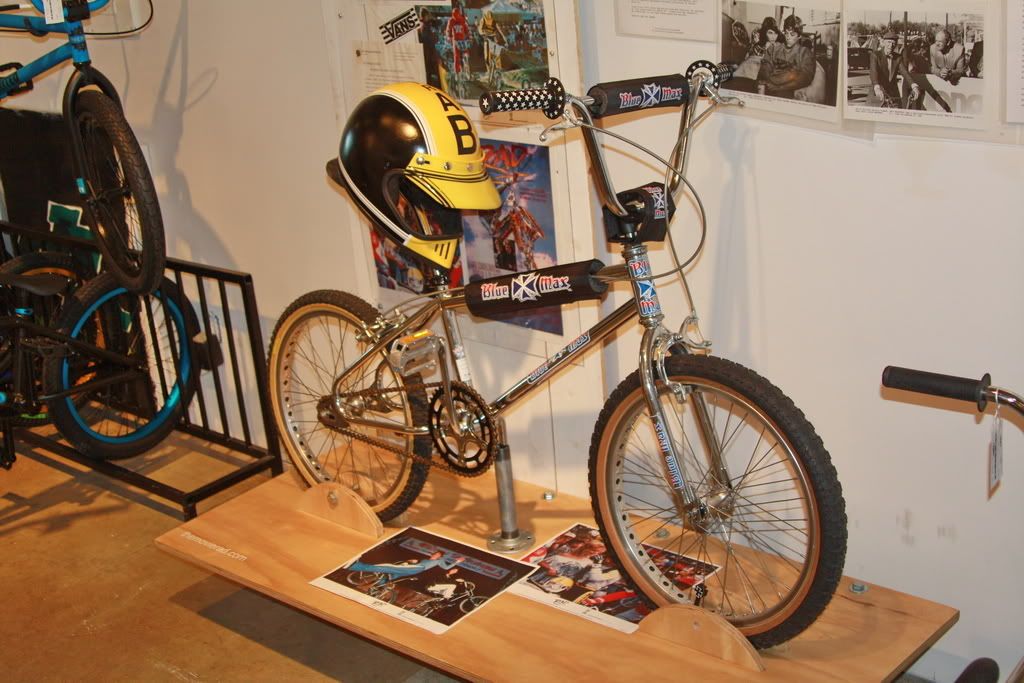 Cru's outfit.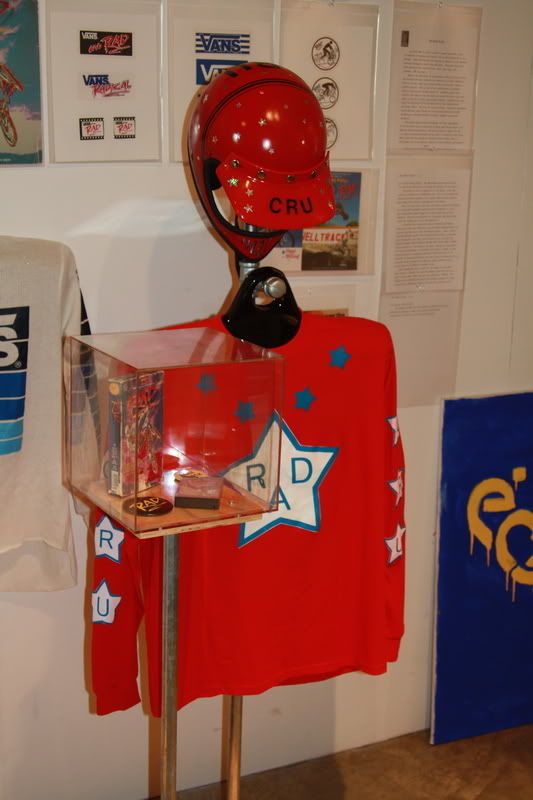 A scale model of the track.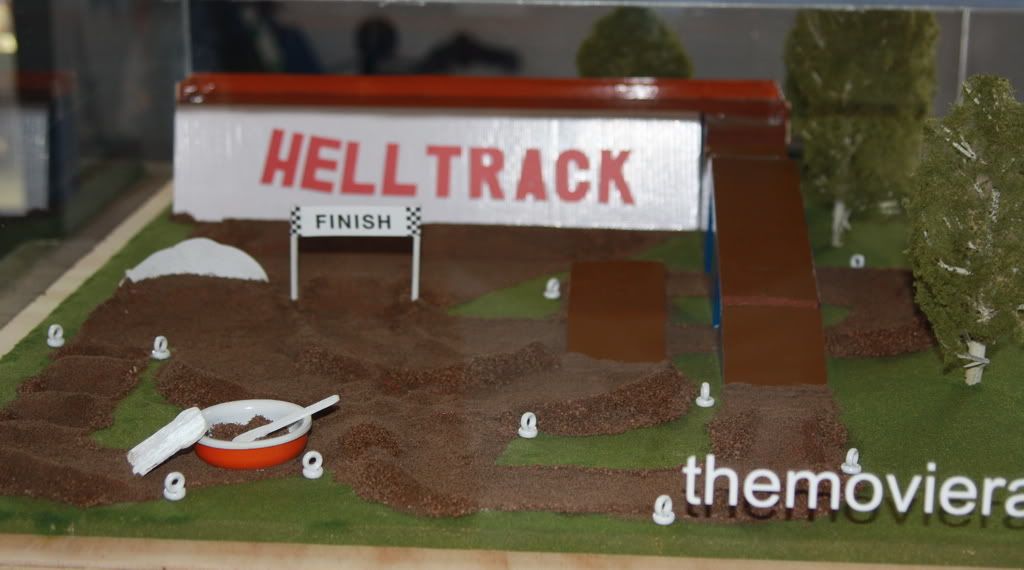 This was on top of the scale model.
This poster came up with the crew shooting the Rad documentary ([url]http://araddocumentary.com[/url]). These posters were also being given away on day 2 in Cochrane at the Mongoose booth.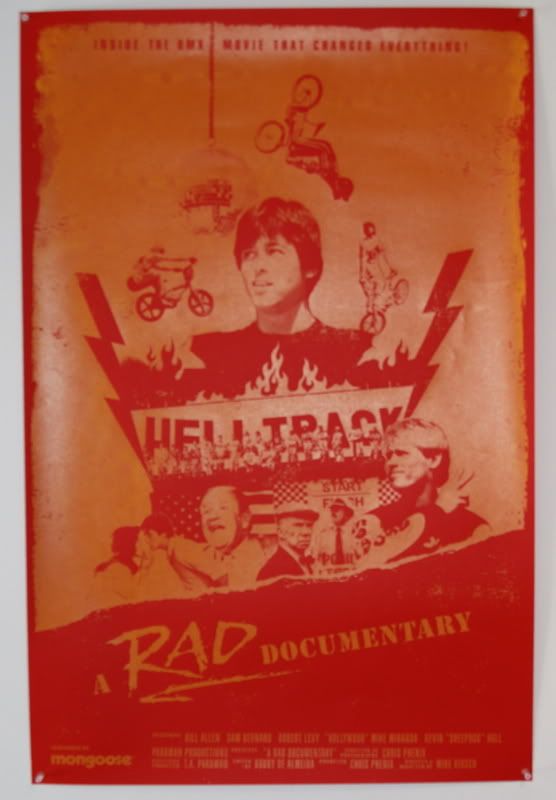 Not part of the art contest, I think this is a repop movie poster.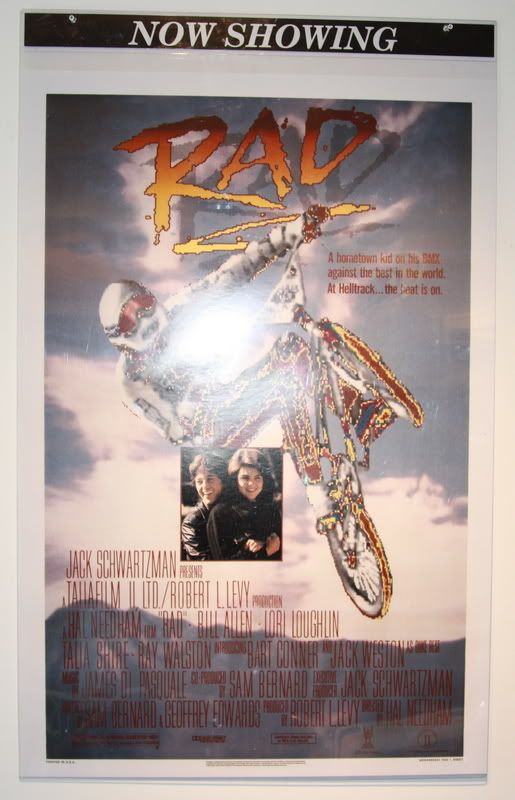 I'm not sure if this is Jeremy's or not but it was tacked to the wall in the back...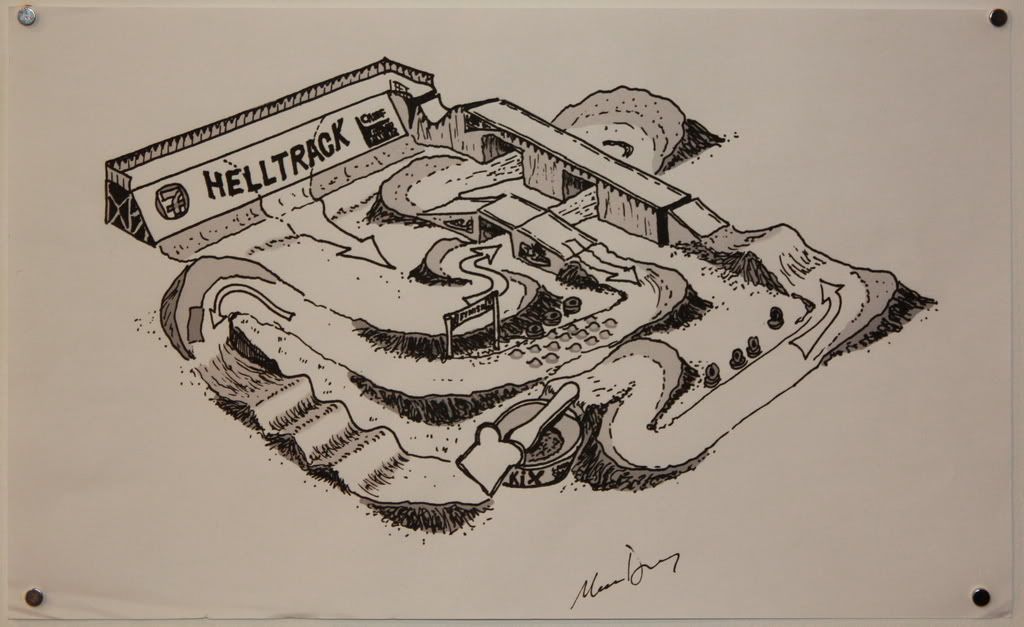 Here are all of the entries in the poster and art contest that were hanging in the shop. These people put some time into their work so I hope you enjoy checking them out as much as I did.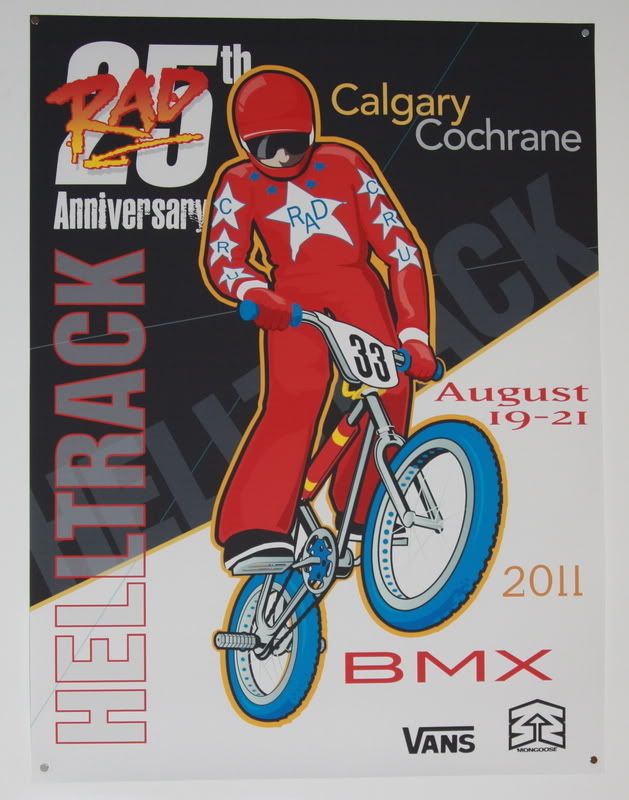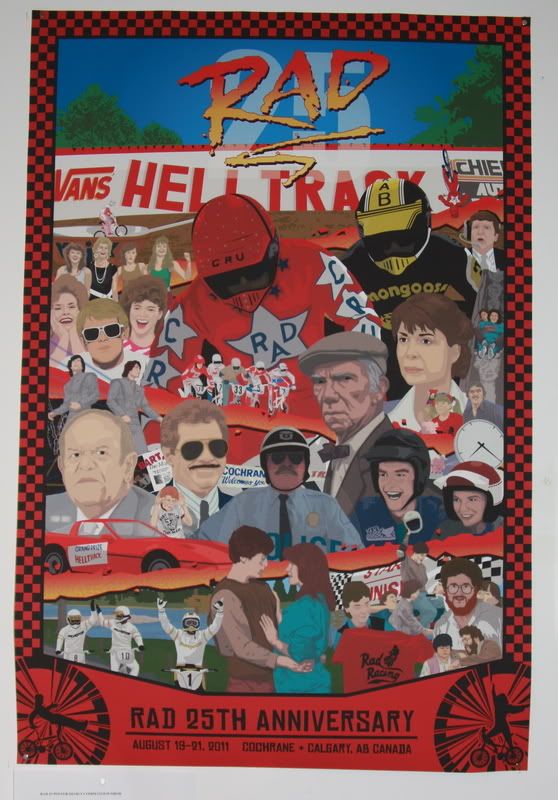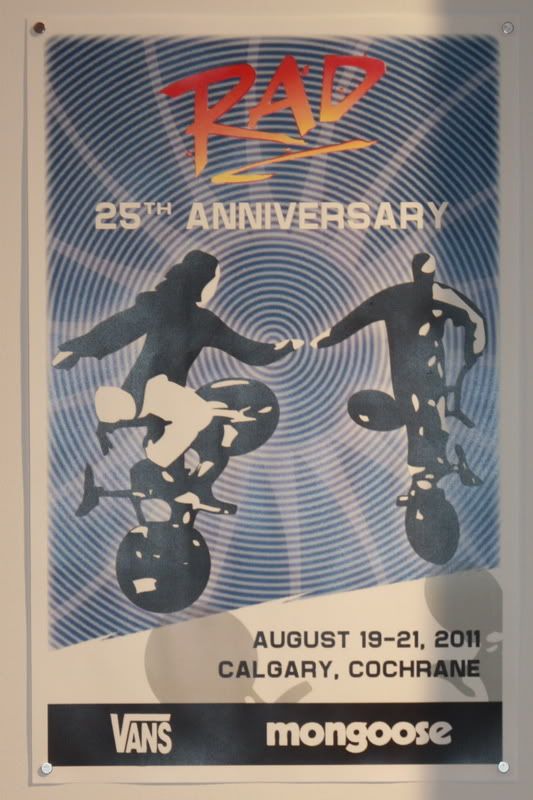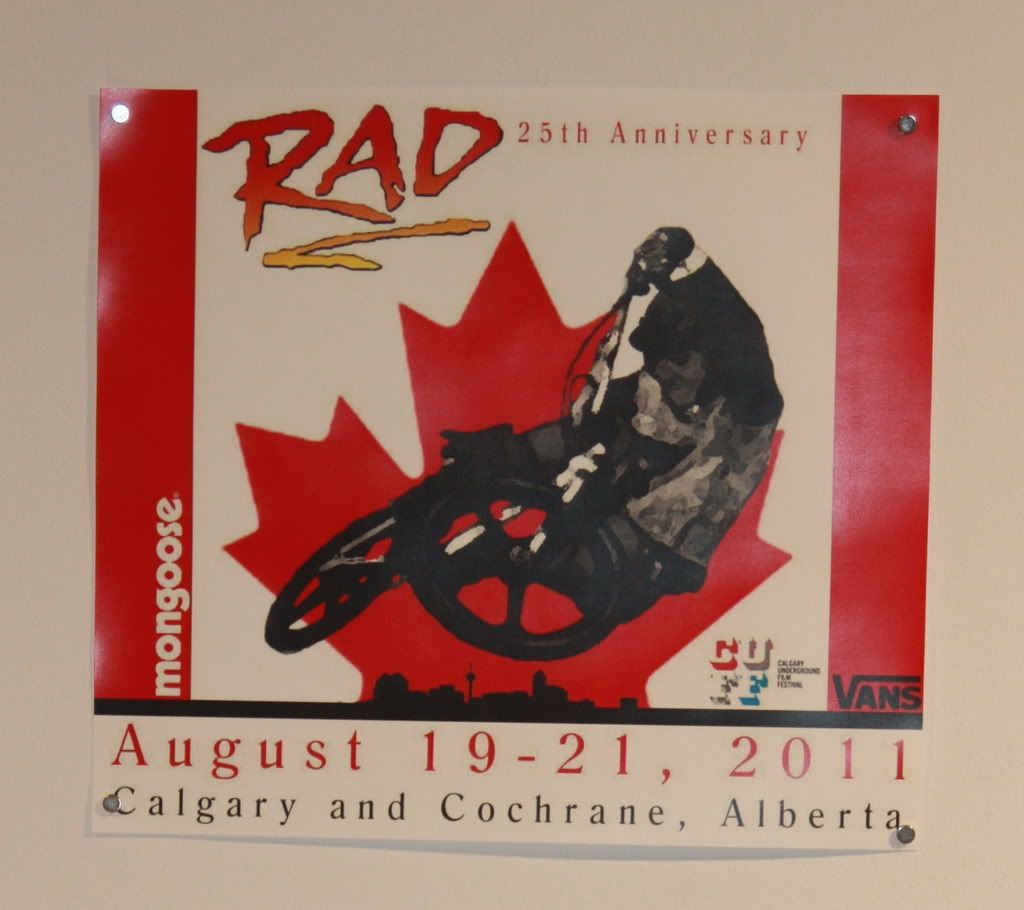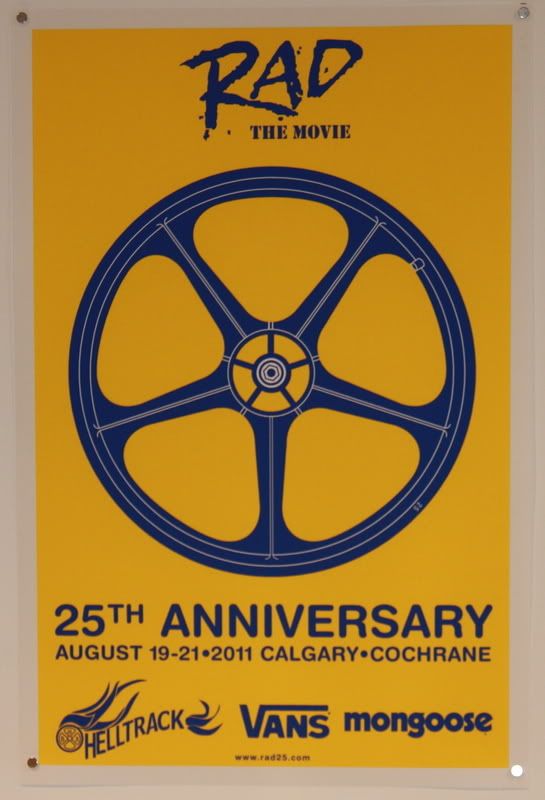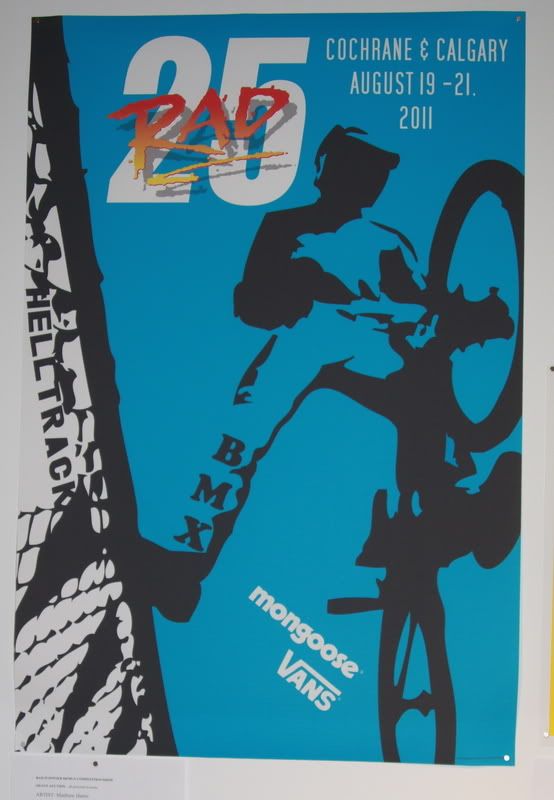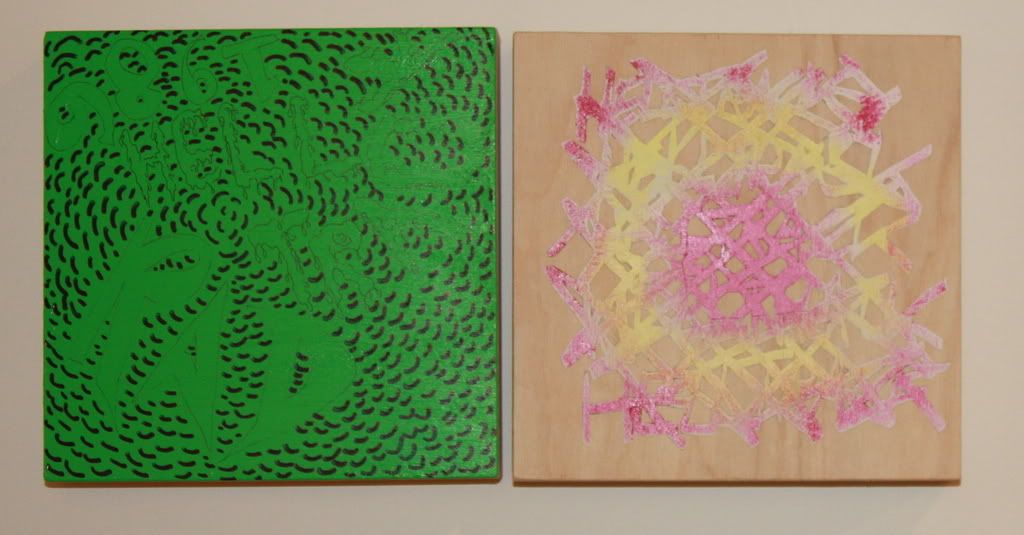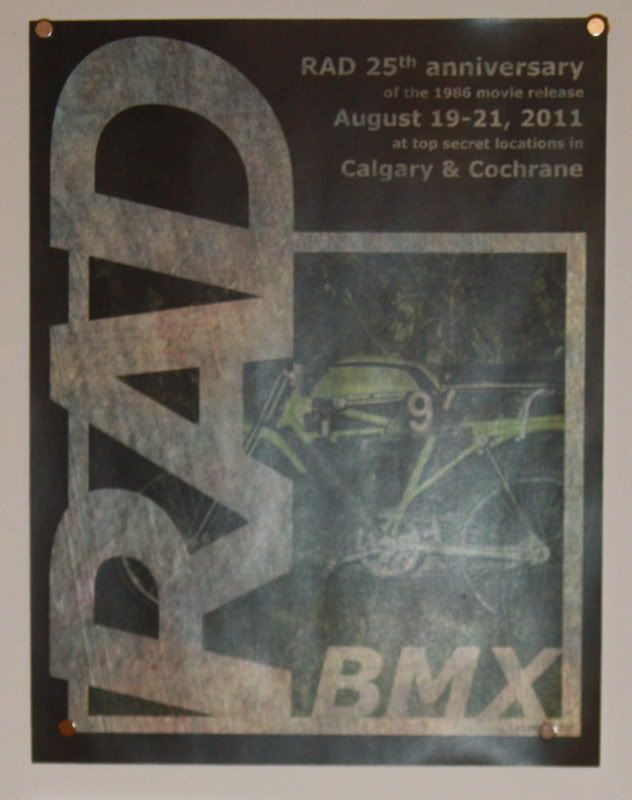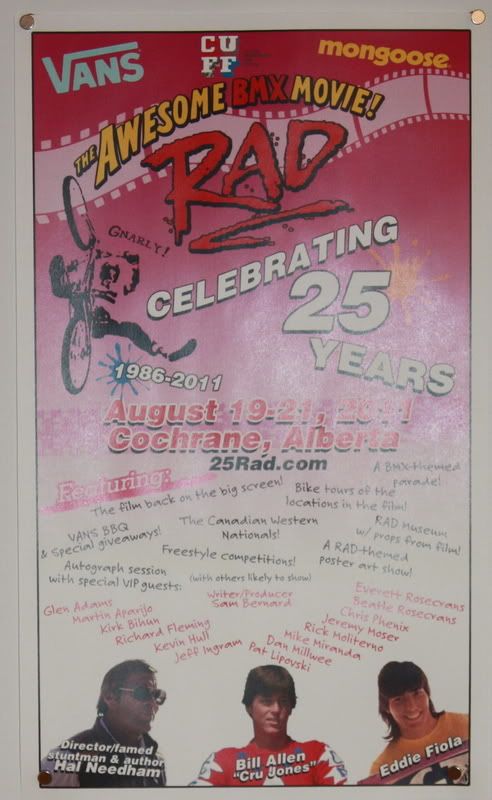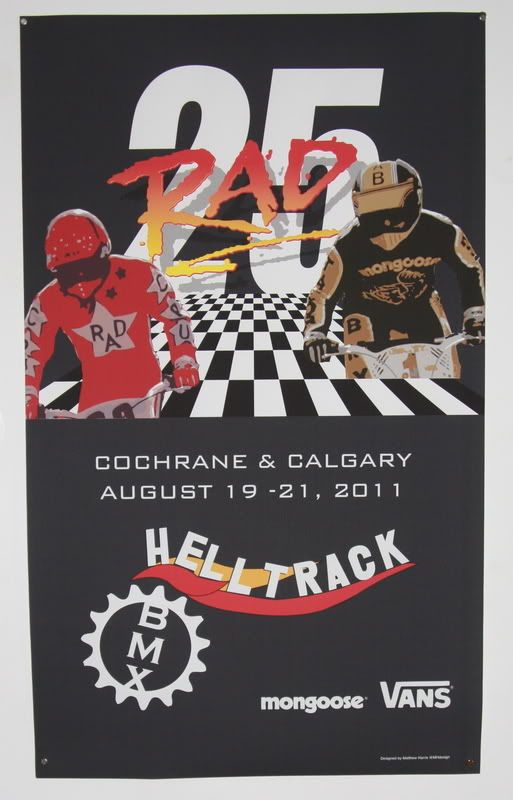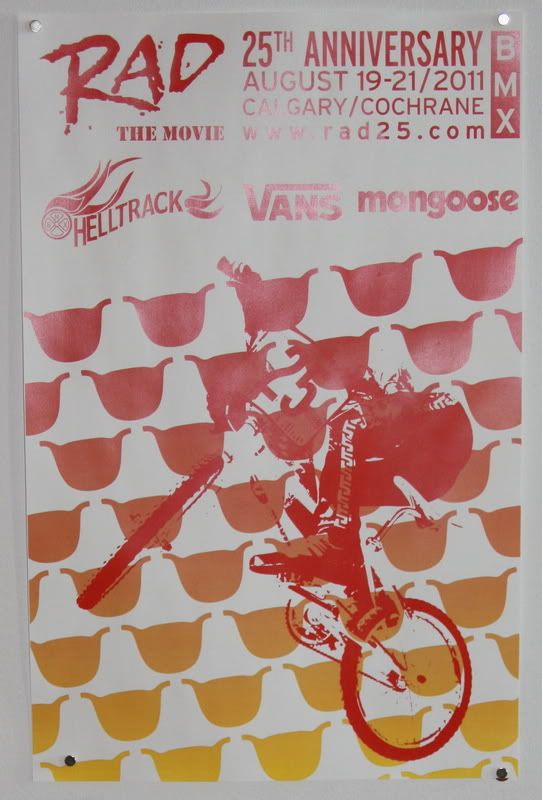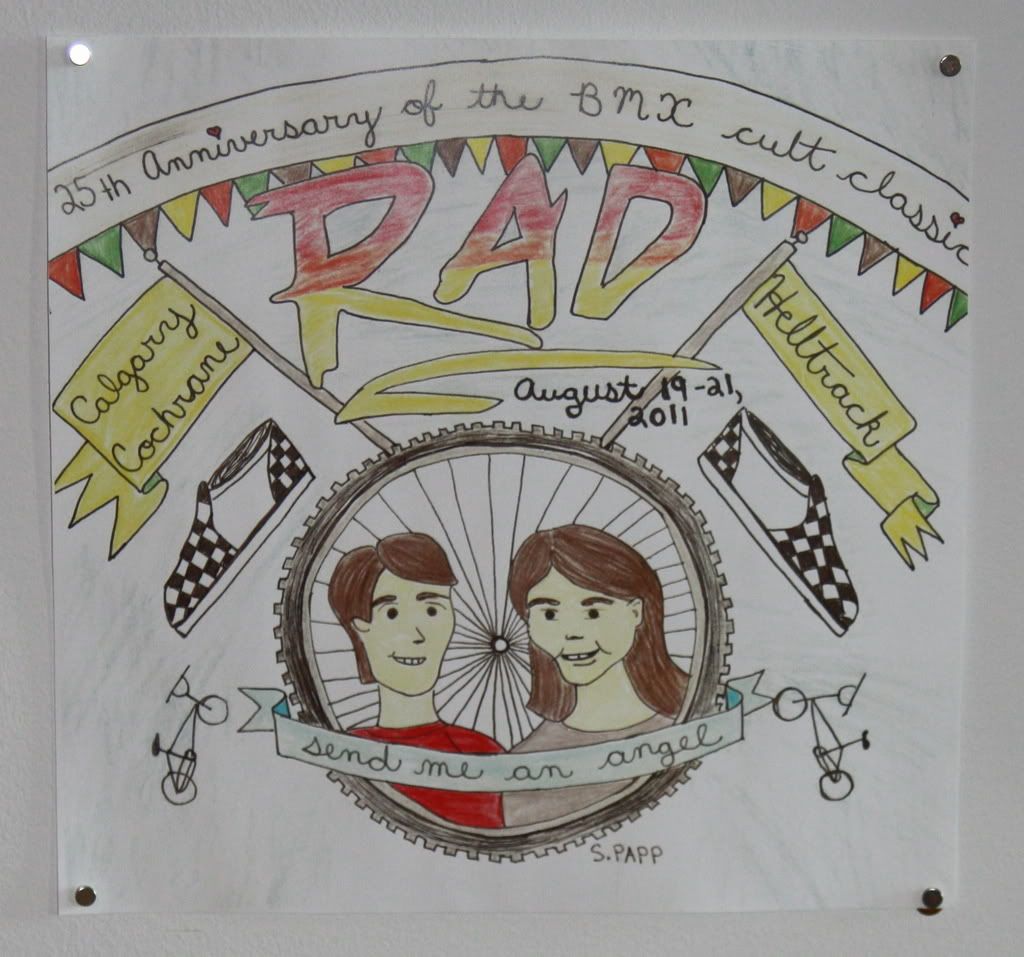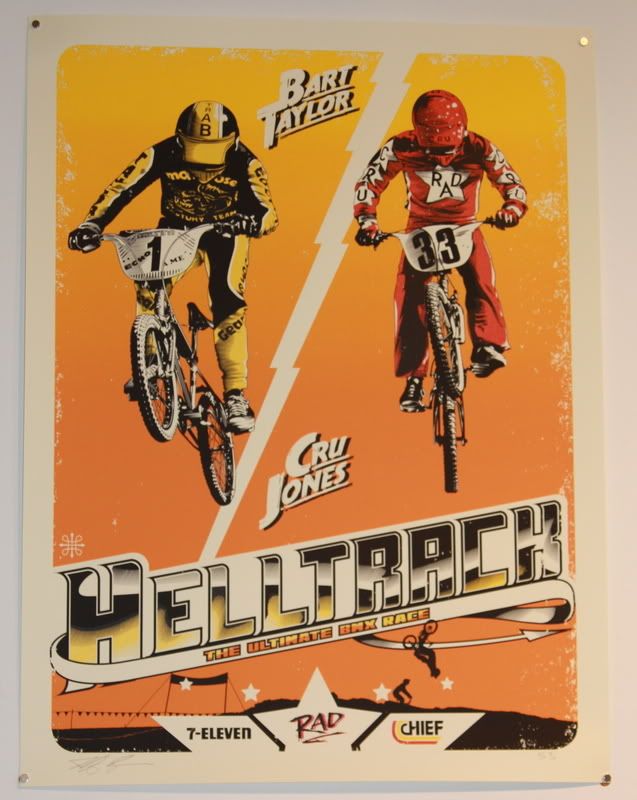 About 30 minutes after we arrived at the shop, in came Eddie Fiola, Martin Aparijo, Beatle and Everett Rosecrans. Ev was trying to help Martin get rid of a headache with a little acupressure.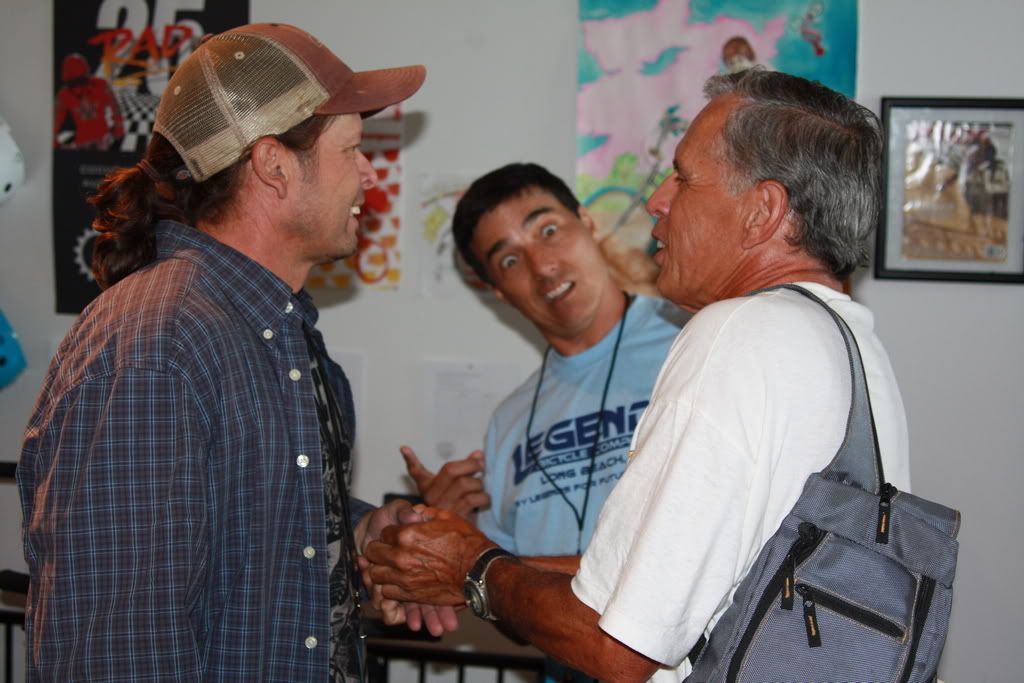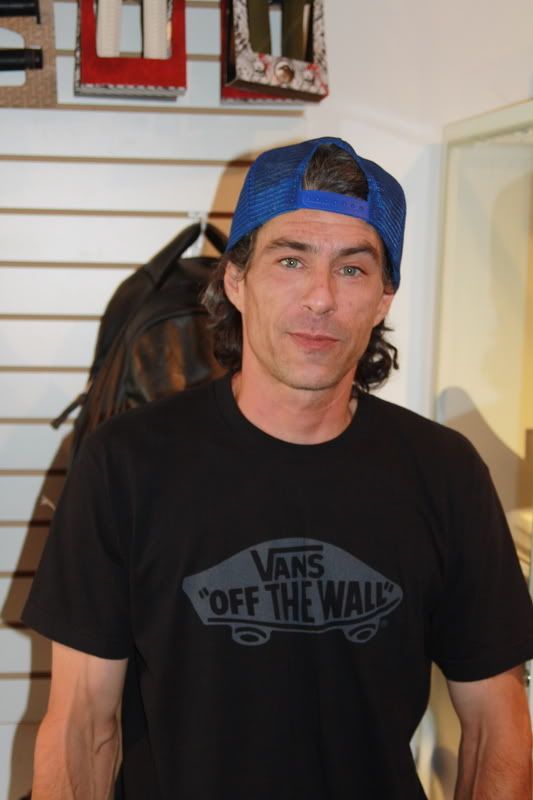 The blue and white Redline is Martin's and the raw and red Redline is Eddie's.
One of the coolest things done for the real VIP's was their personalized VIP pass.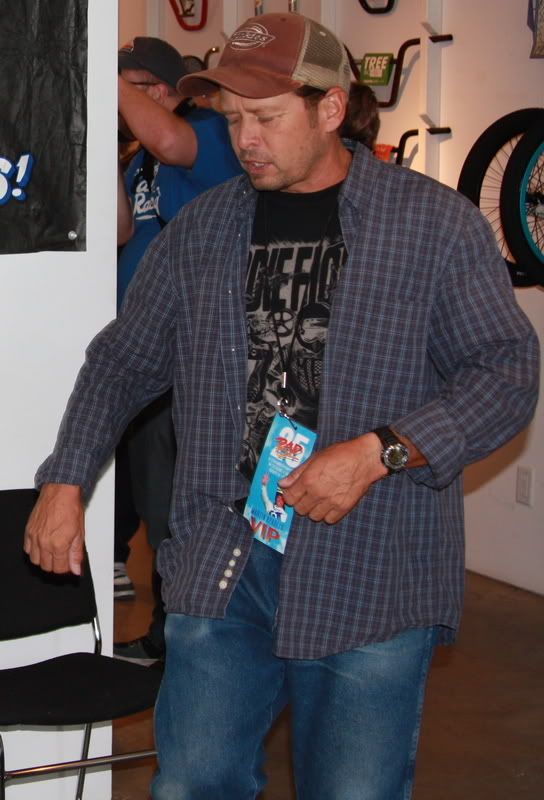 Actual pictures from the movie!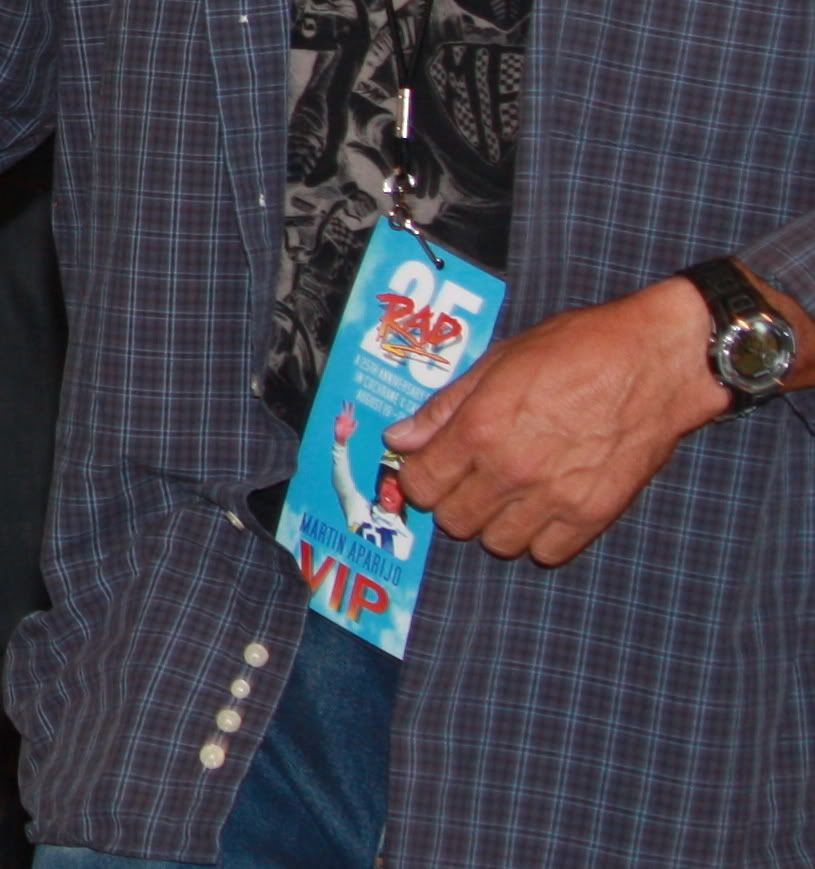 I met several new people on this trip including Alexander and Tonya from [b]Serbia[/b]! They traveled for two days to get to Calgary and camped (no hotel) when they got there!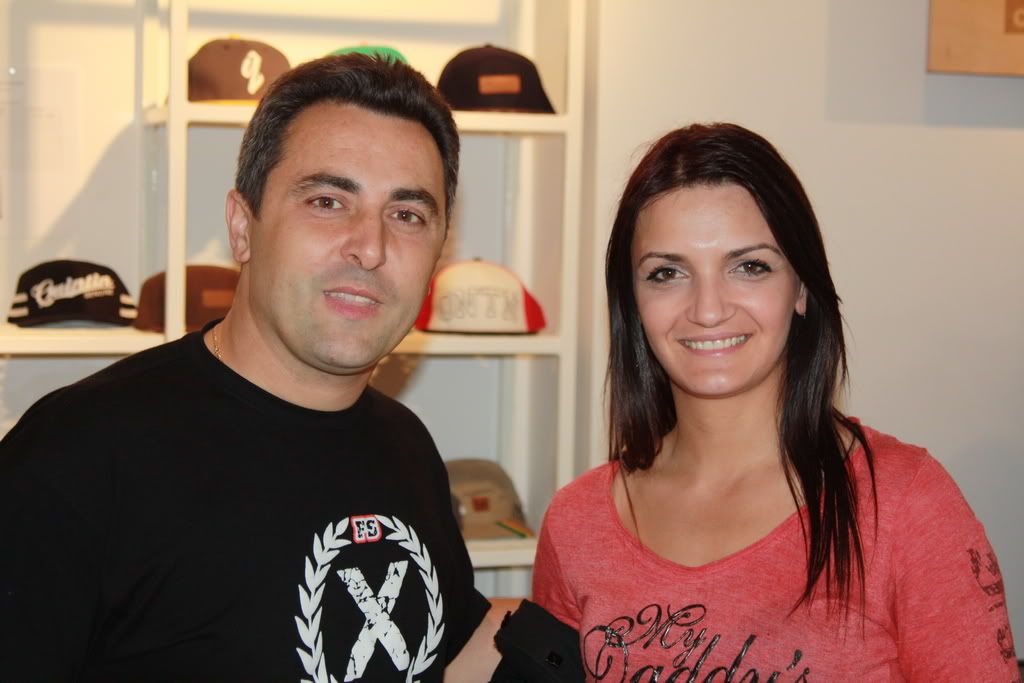 They've been running a BMX shop in Serbia for ten years now.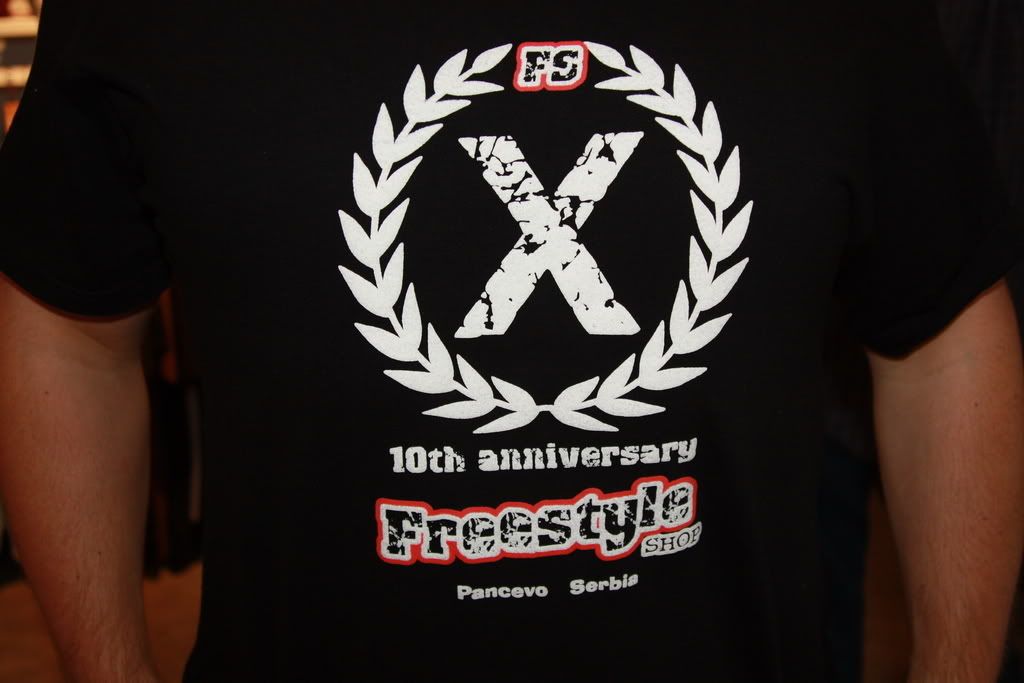 If you're ever in Serbia, check 'em out, or click here: [url]http://www.freestylepancevo.co.rs[/url]

We hung out at the shop until Eddie, Martin and the Rosecran's said they were heading up to the theater. I asked if I could tag along and they said sure. It felt like one of those classic old school video moments you see where the pros are just ripping it up through some city downtown area. Little attention was paid to stoplights, crosswalks or other cars. I shot some video of this ride from my GoPro mounted on my forks (which I'll get posted shortly).
At the Uptown were the Vans tour bus and the Rad Documentary motor home.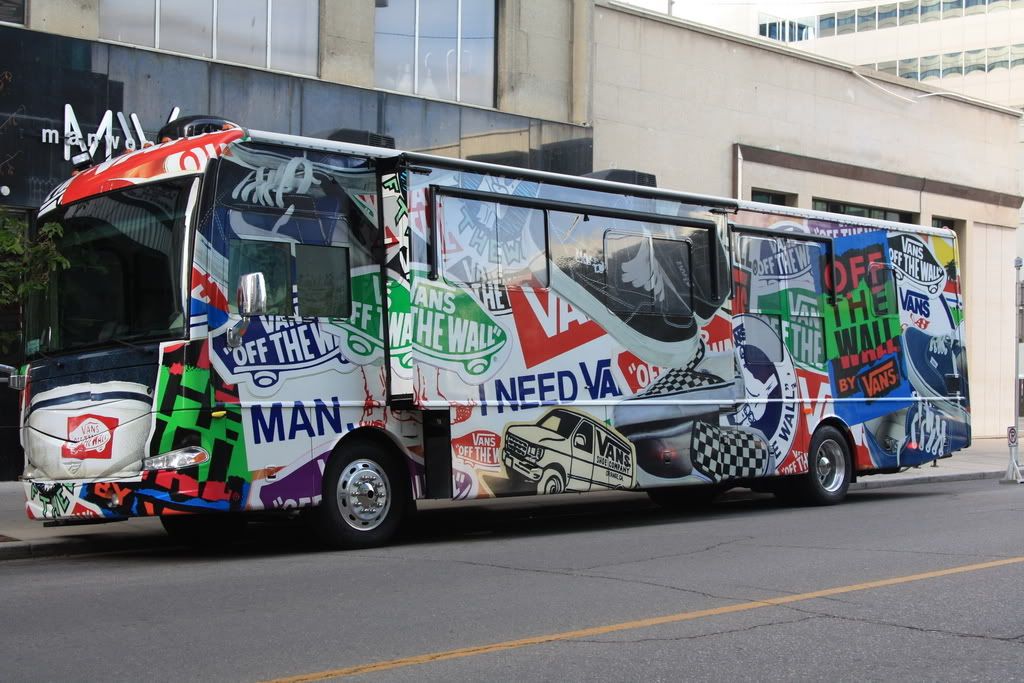 Several bikes were already being added to the racks outside (which were being watched by security guards).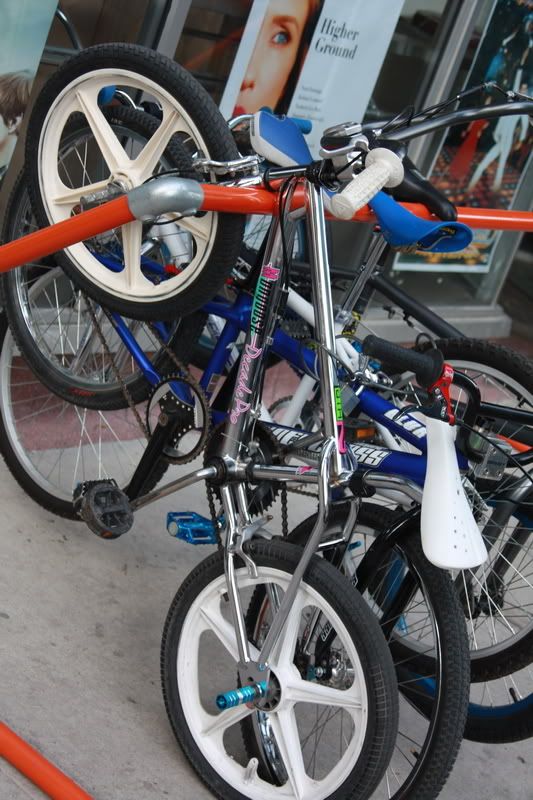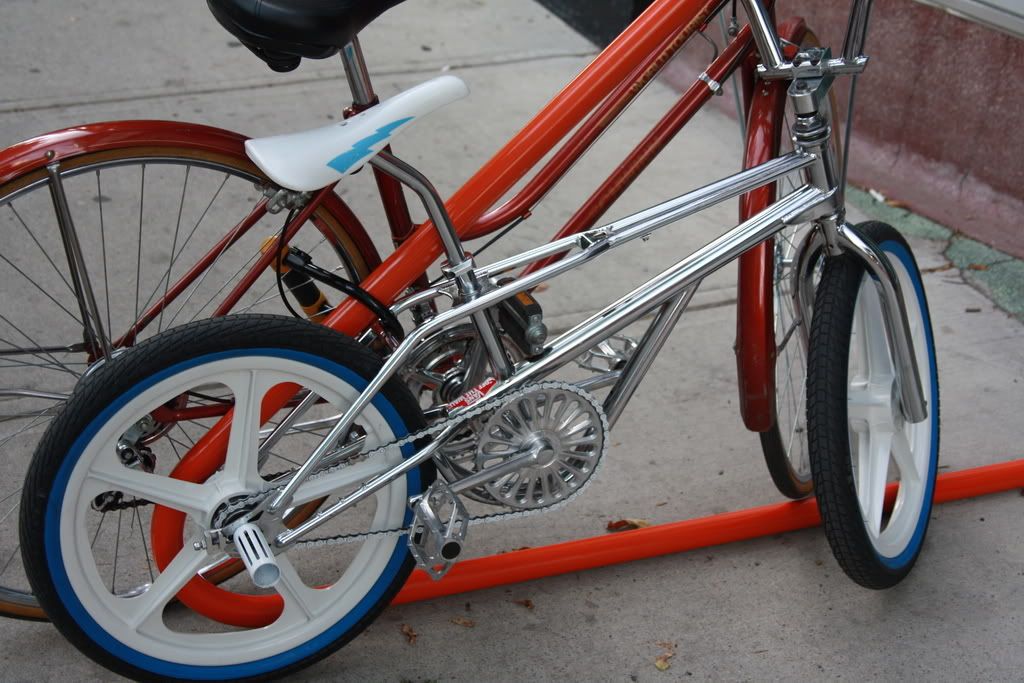 Axle10 volunteered the whole weekend working inside the theater and driving the VIP bike van. An awesome Museum member and downright cool guy.
At his table were the Rad Racing shirts and these replica number plates.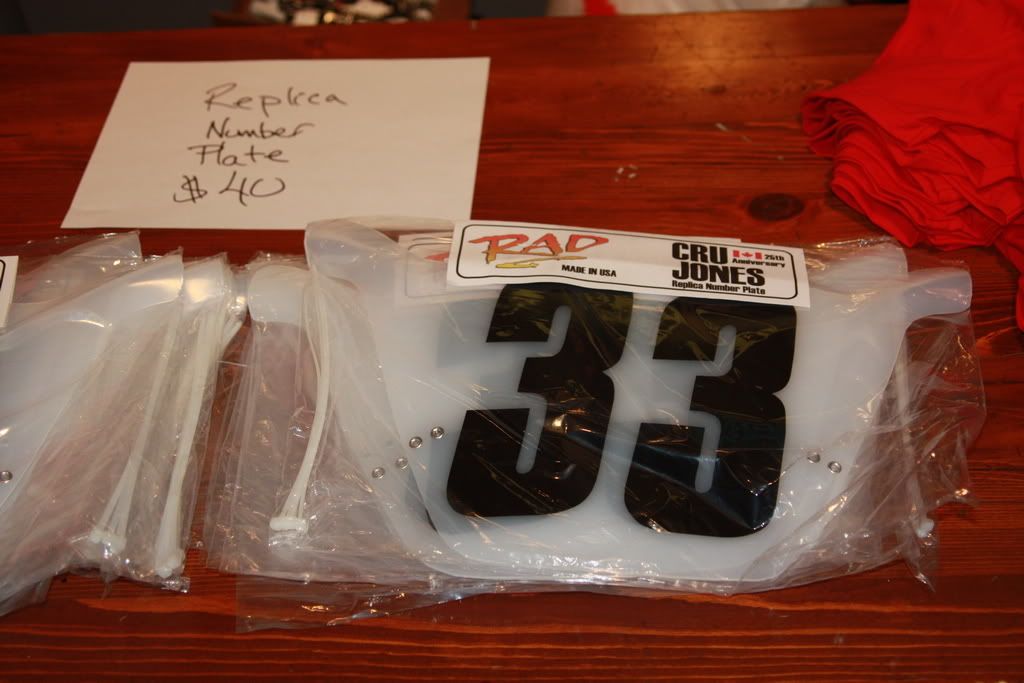 Before the first screening at 7:00 PM several of us spotted Hal Needham and couldn't pass up a chance to get a photo with him.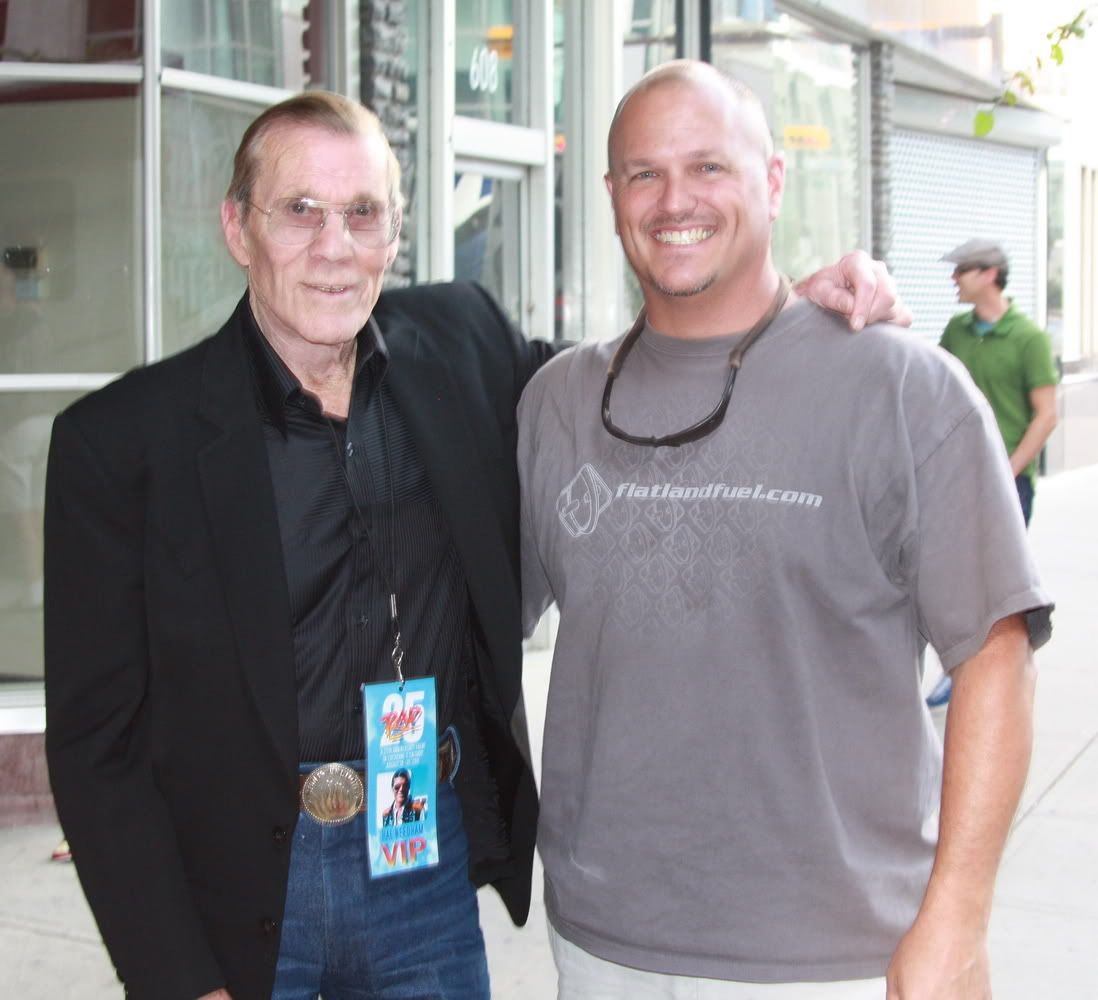 Shortly before the first showing inside the VIP room.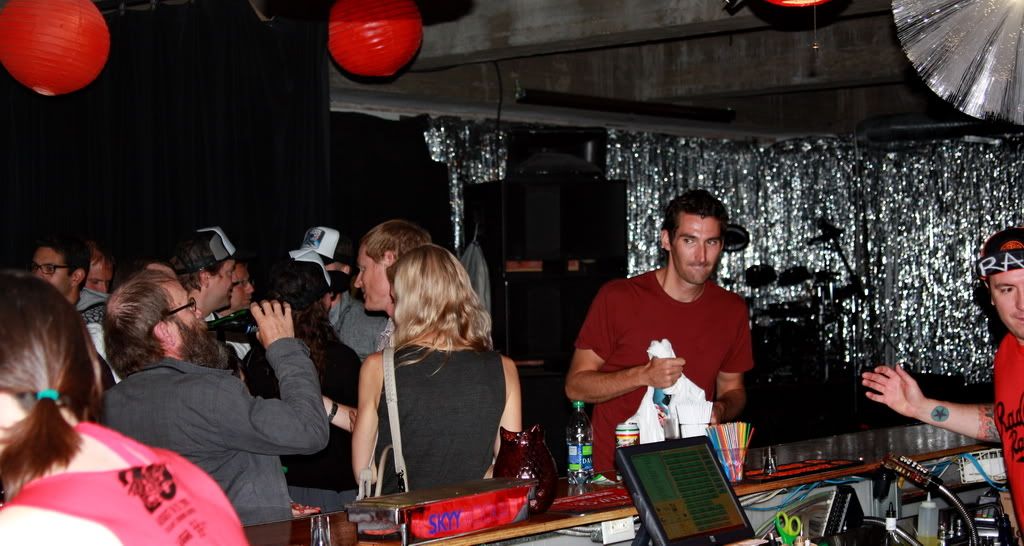 Just a couple shots as the 7:00 PM show was filling up.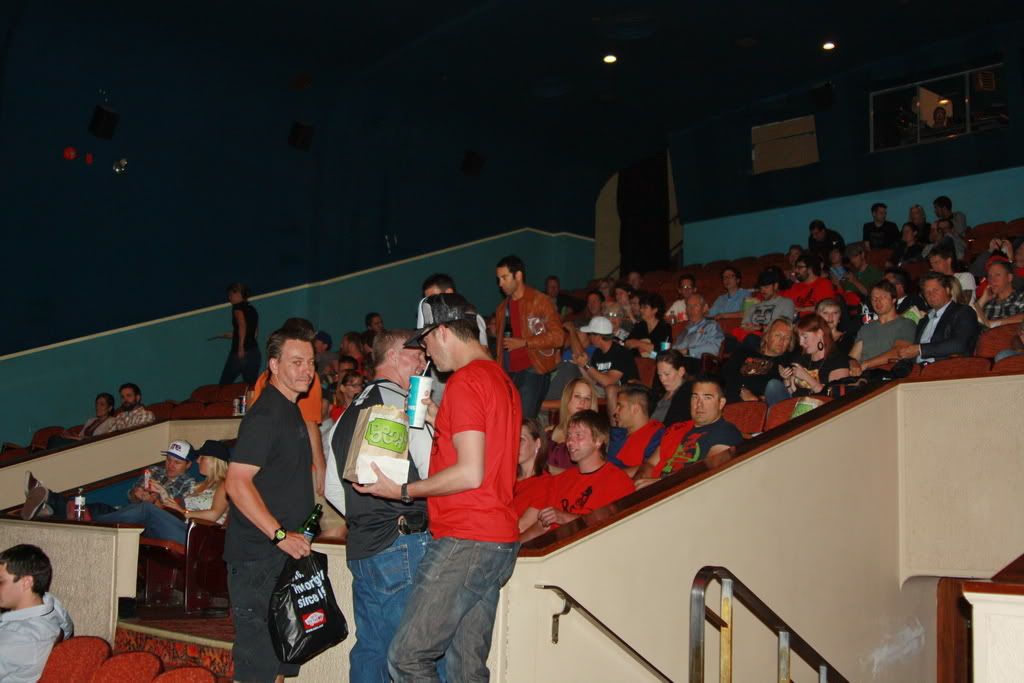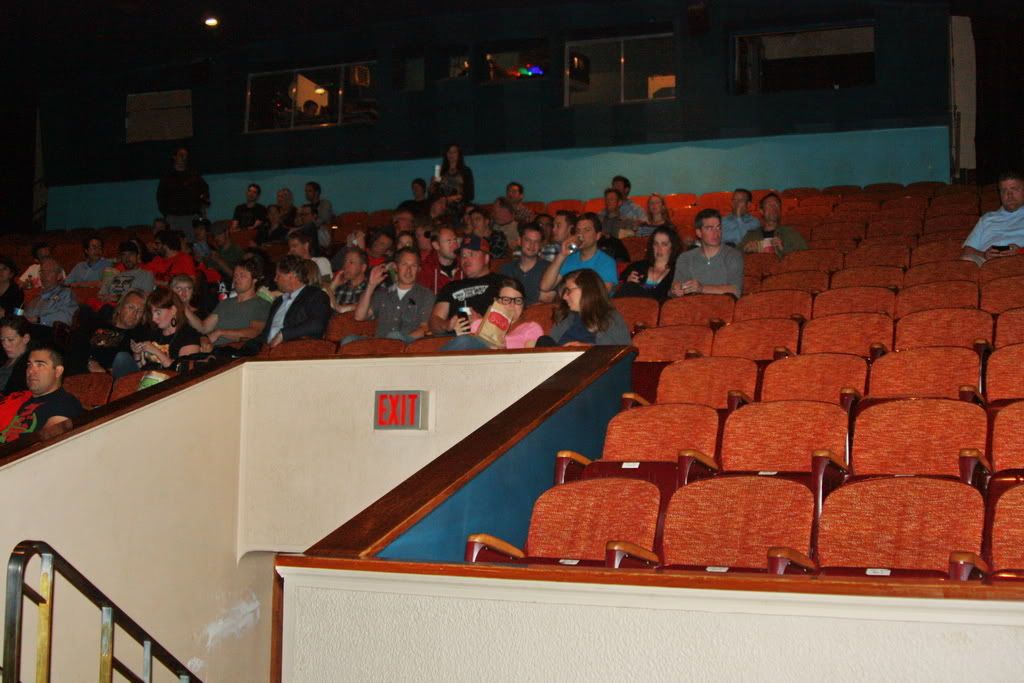 During the first screening the crowd participation was awesome. Funny comments and pieces of trivia were spouted throughout. After it ended Martin, Eddie, Sam Bernard, Jamie Clarke (Luke), Hal Needham and Bill Allen came up to the stage for a Q&A session.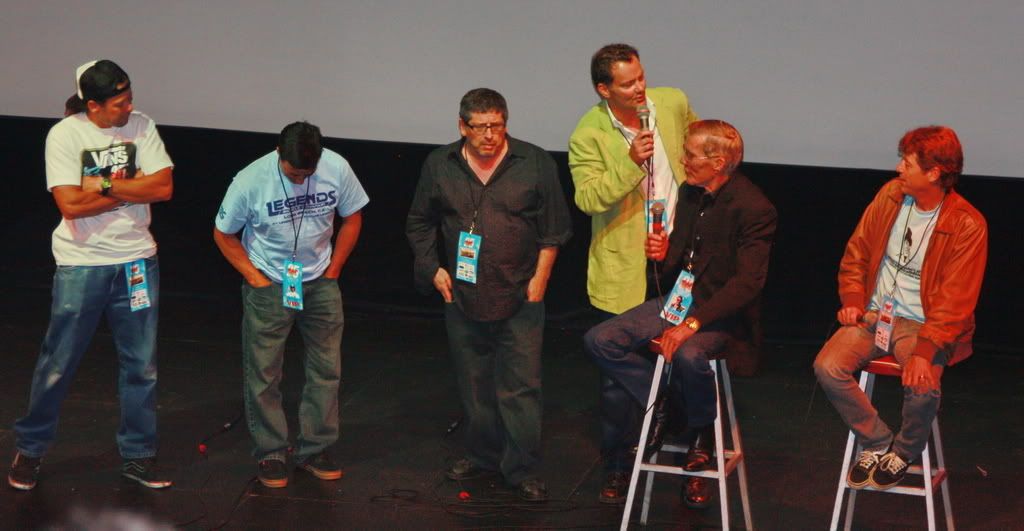 I had nothing better to do so I stuck around and sat through the 9:00 PM screening as well. A little more heckling during this one but it was all good to make it to the end for the 2nd Q&A, which was a little shorter. The Q&A turned into a freestyle demo by Martin and Eddie, performing a lot of the tricks they did in the movie. What a treat to see them ride in person!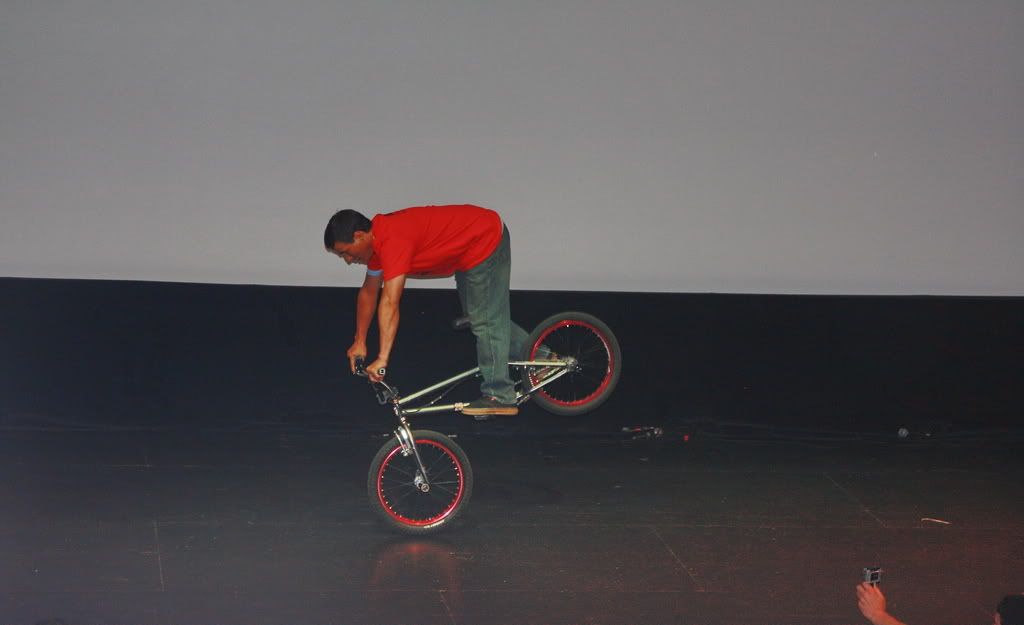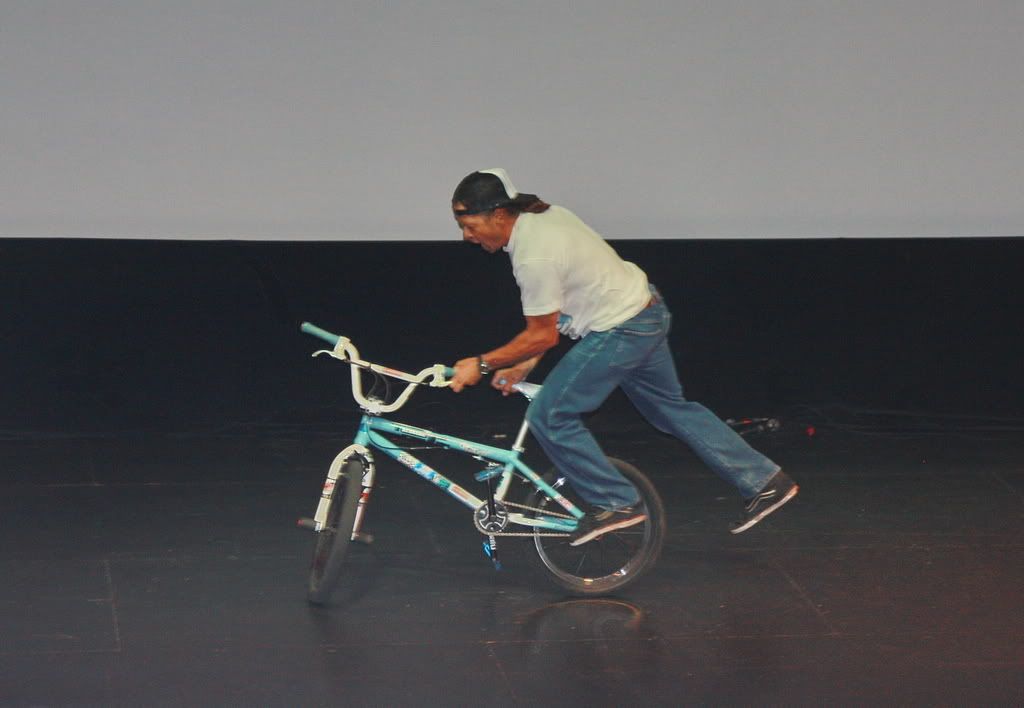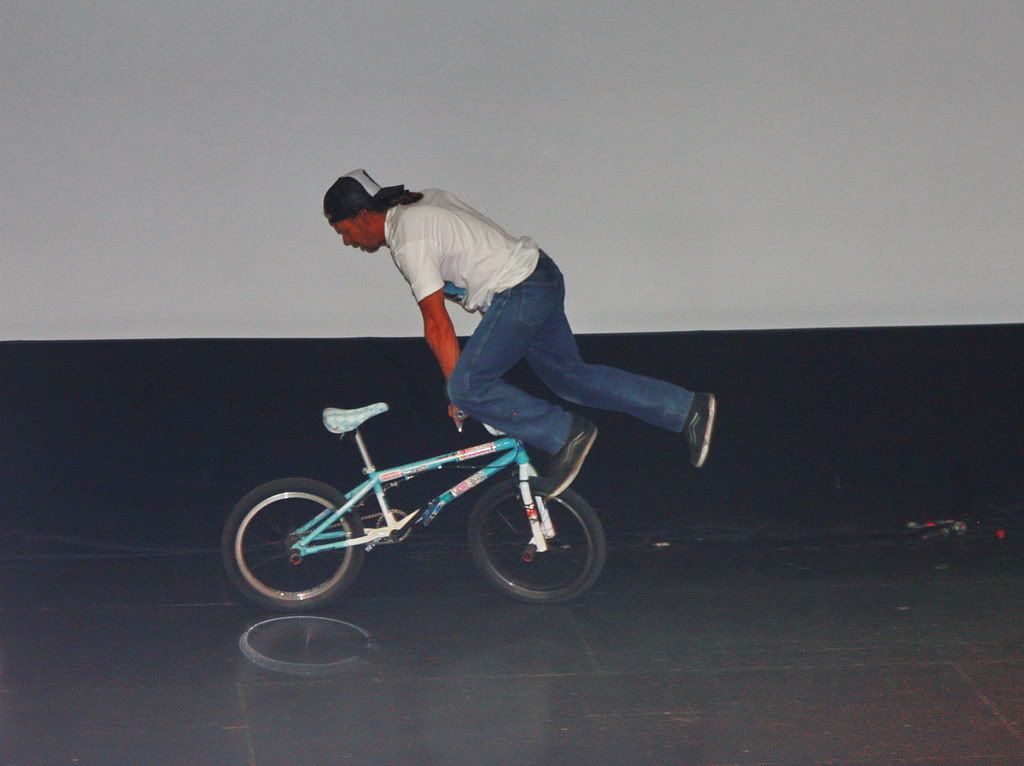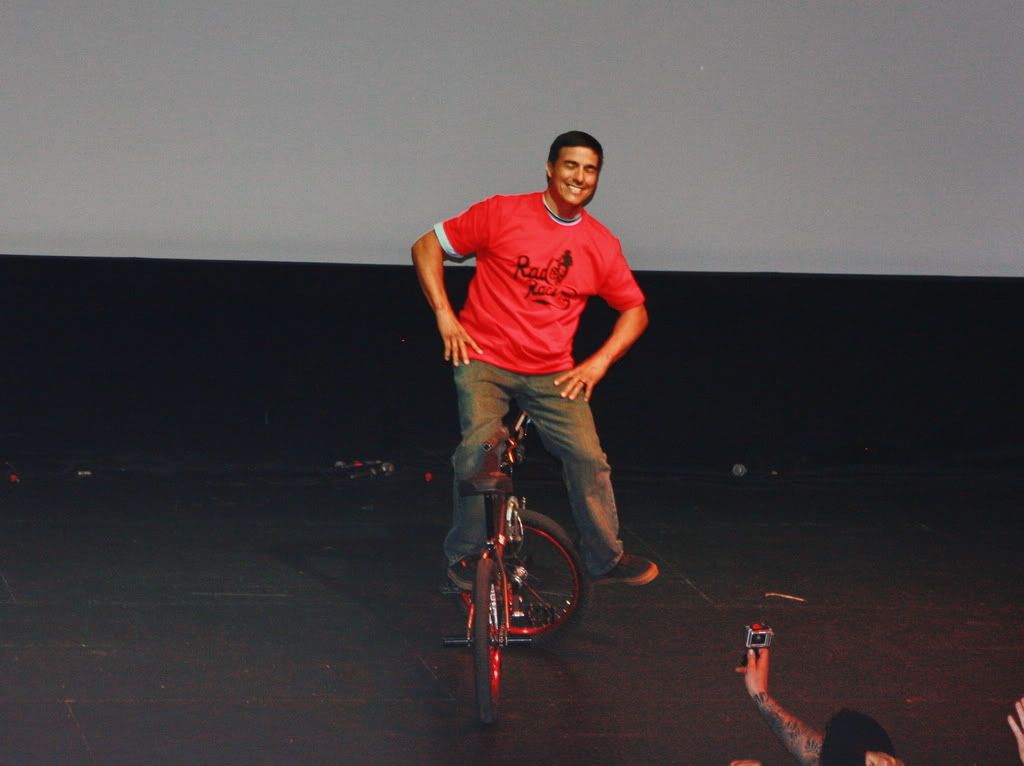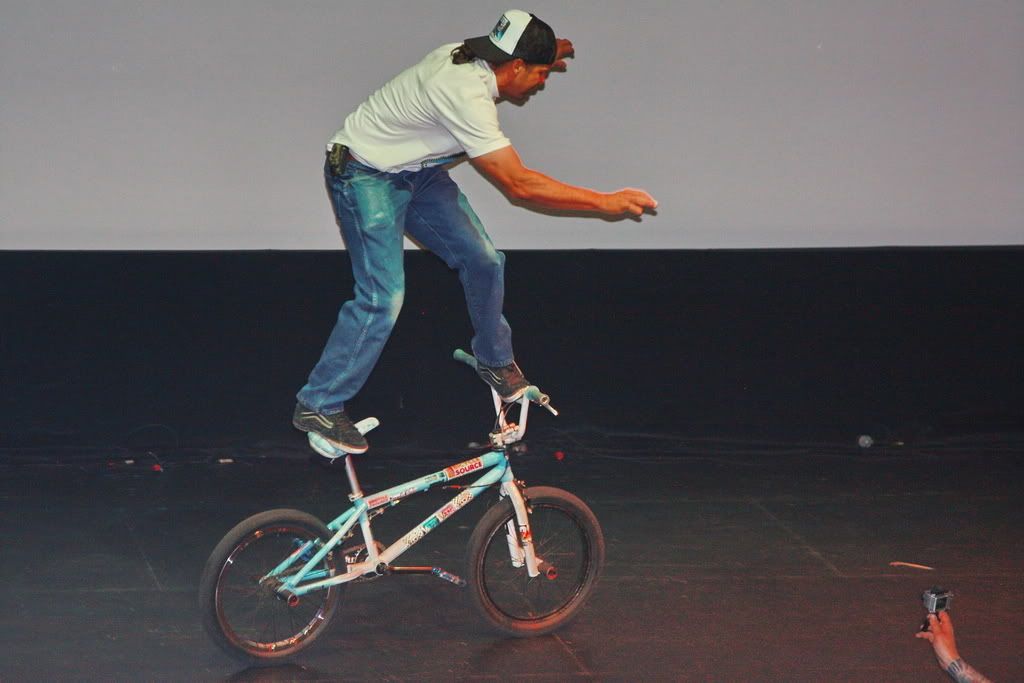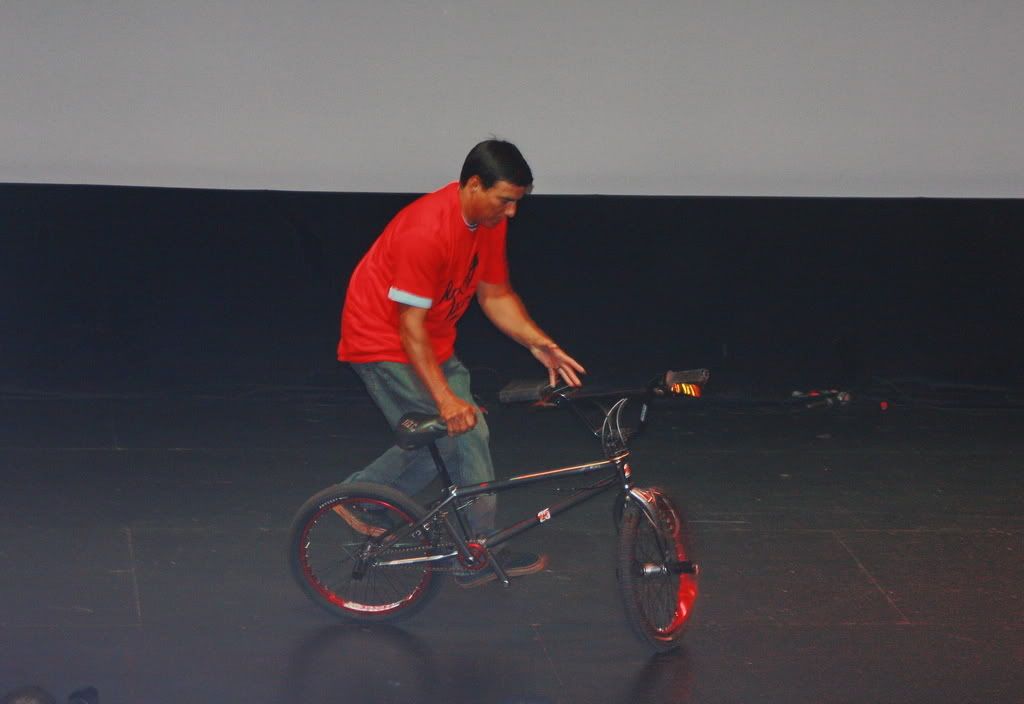 If you've never seen Eddie's famous moonwalk, it is really cool. Here is a YouTube video with he and Martin riding where he does it: [url]http://www.youtube.com/watch?v=D0Fr7ZRkT1U[/url]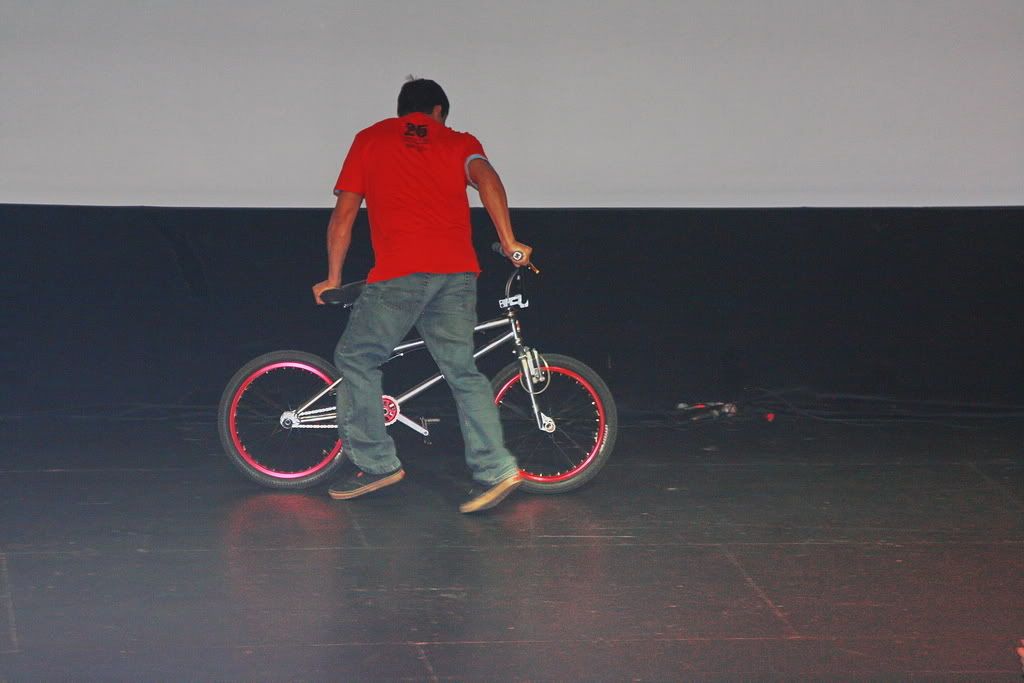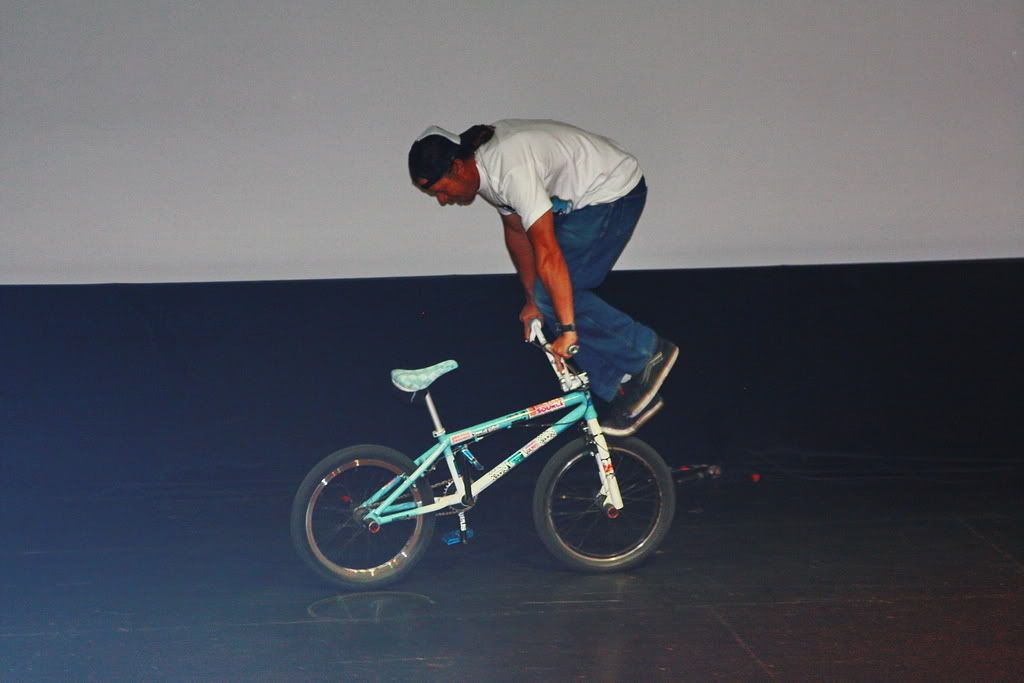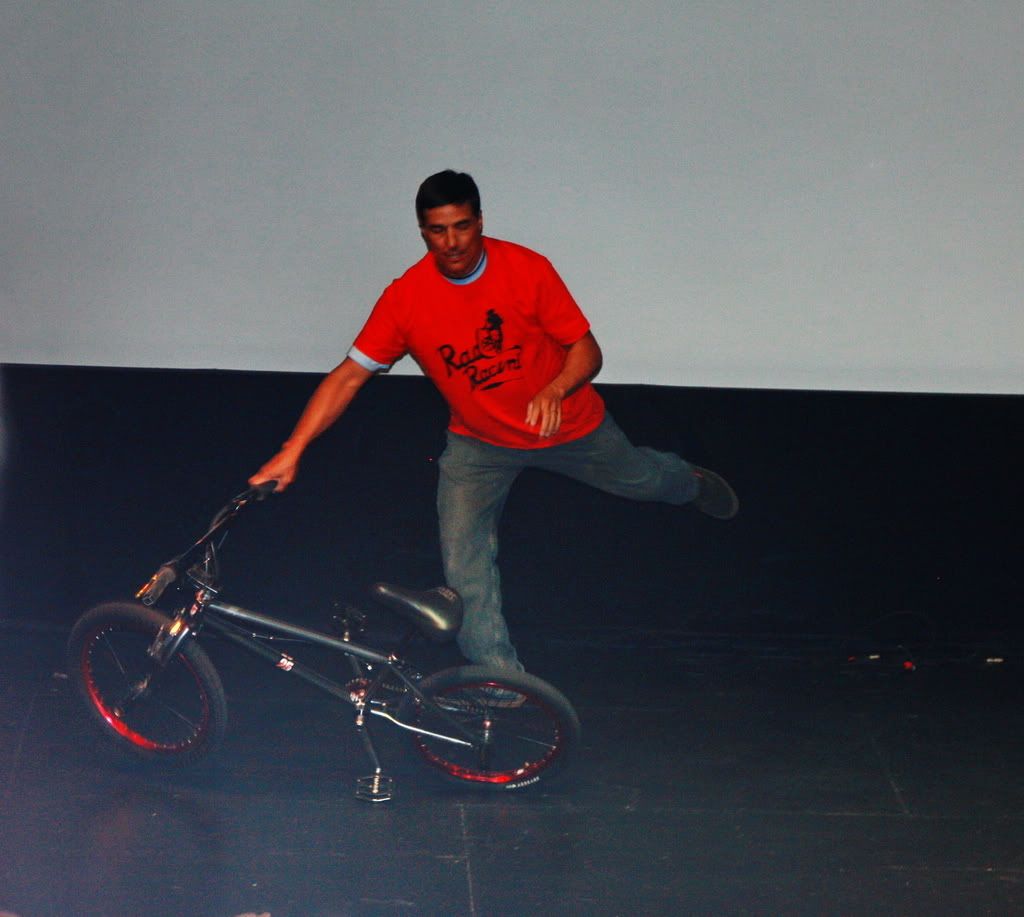 _____
I have to start Day 2's post thanking Museum member glenn1011. He came from downtown Calgary to pick me up at my hotel and drive me up to Cochrane and back. I blew out my chain while there and he also shuttled me to Bike Bros. and back. Thanks again brother! :cool:
On the way to Cochrane we passed the Olympic bobsled run and ski jumping towers.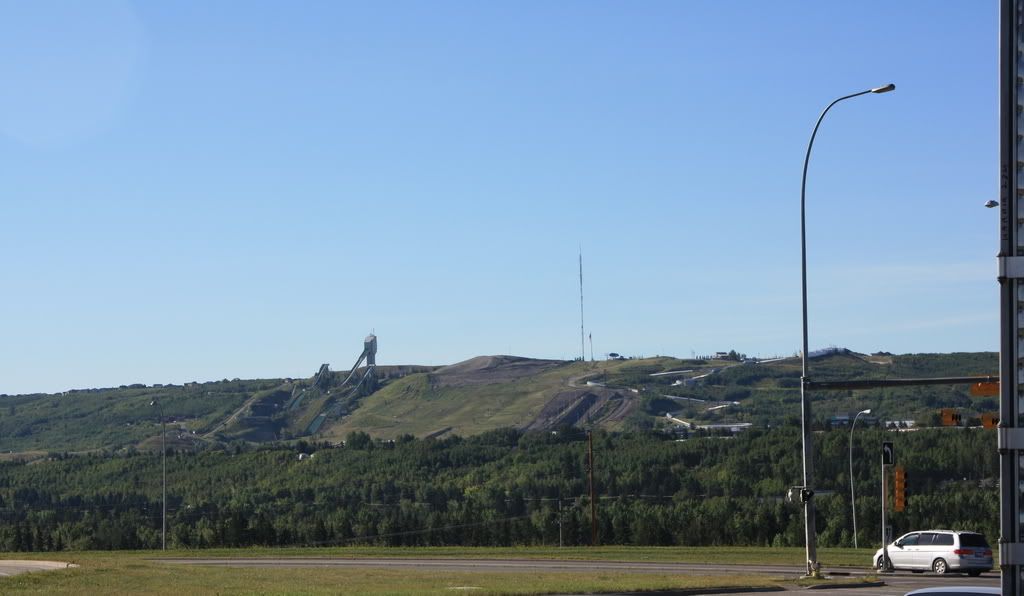 Here is Cochrane today. A lot more grown up than in the movie.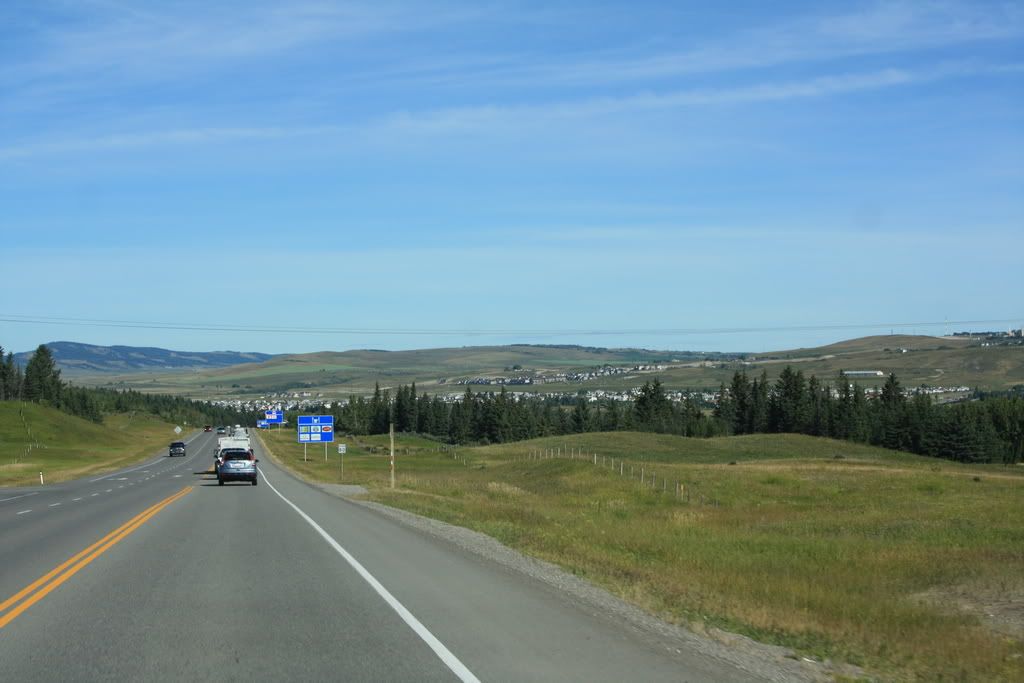 The lumber yard is still there.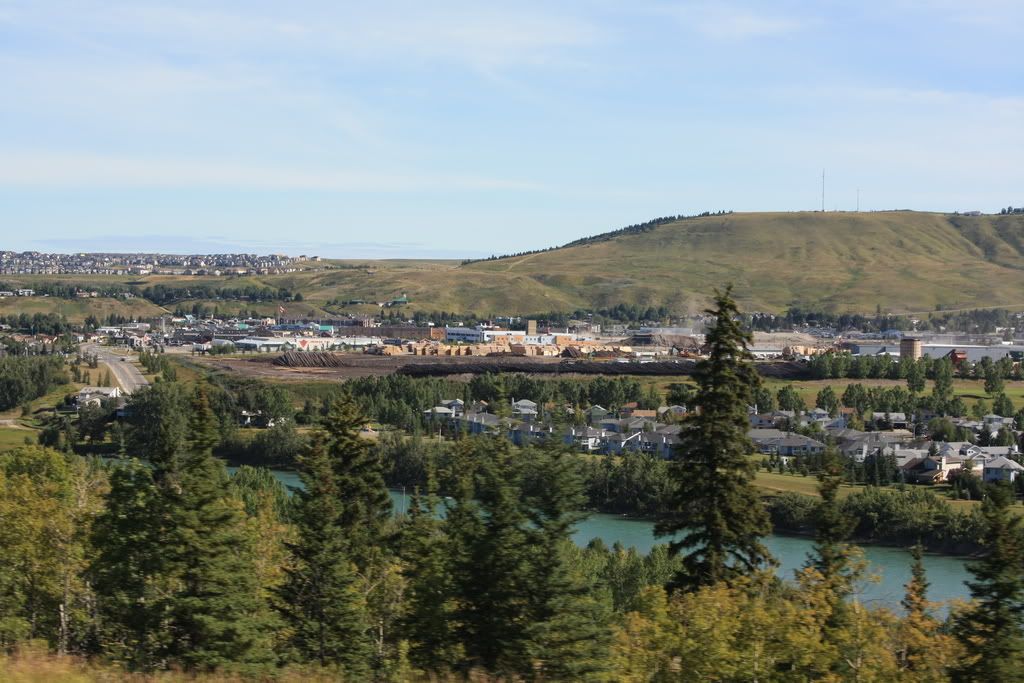 Ahhh, arrived and parked at the Cochrane skatepark.
Glenn with his cool find on Kijiji (the Canadian Craigslist), a Kuwahara Laserlite.
We peddled from the skatepark over to the Cochrane movie theater (and didn't even get tired ;) ). People were already pulling in, setting up their bikes and just hanging out.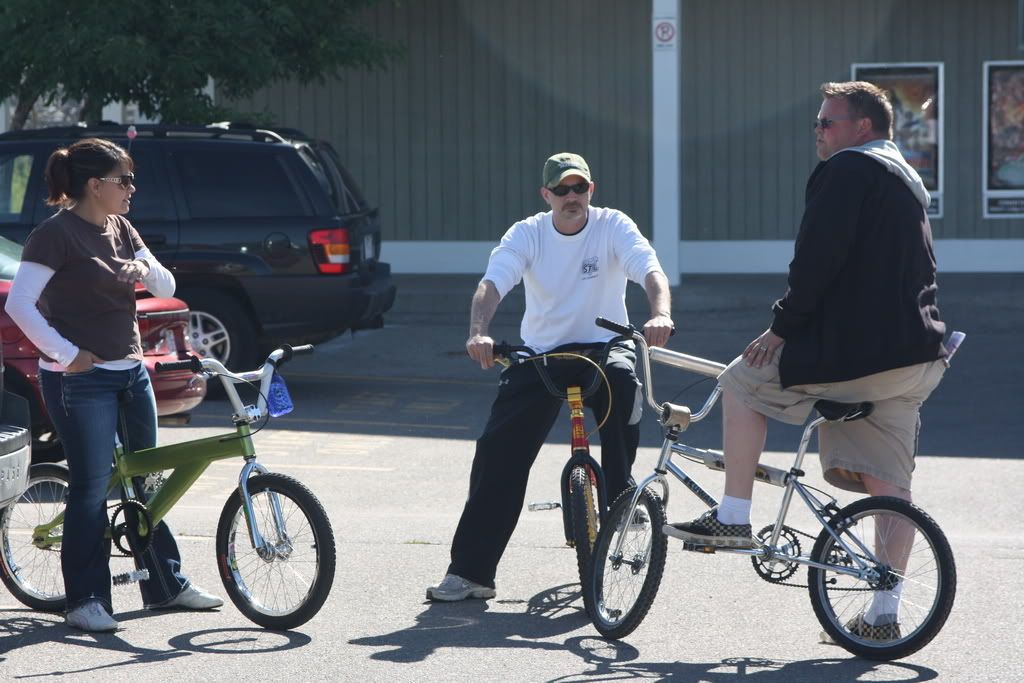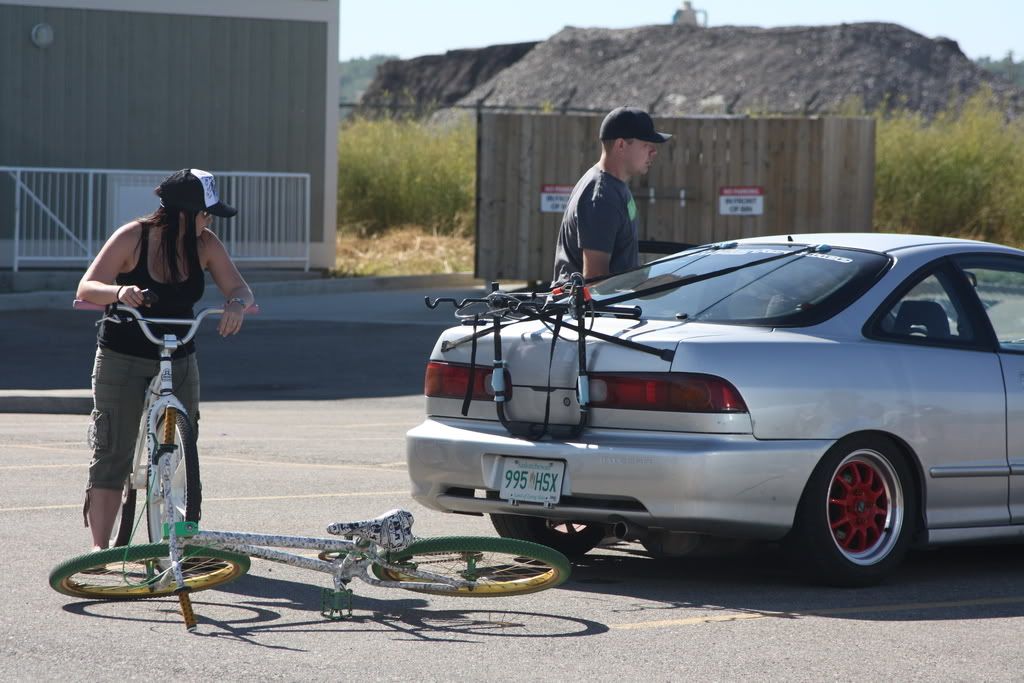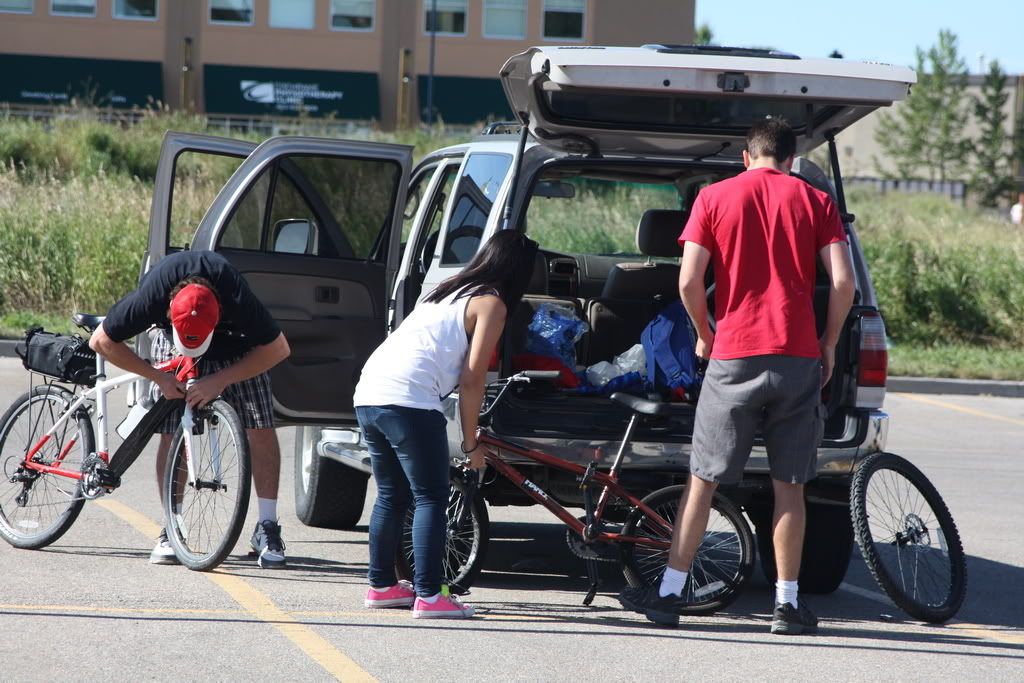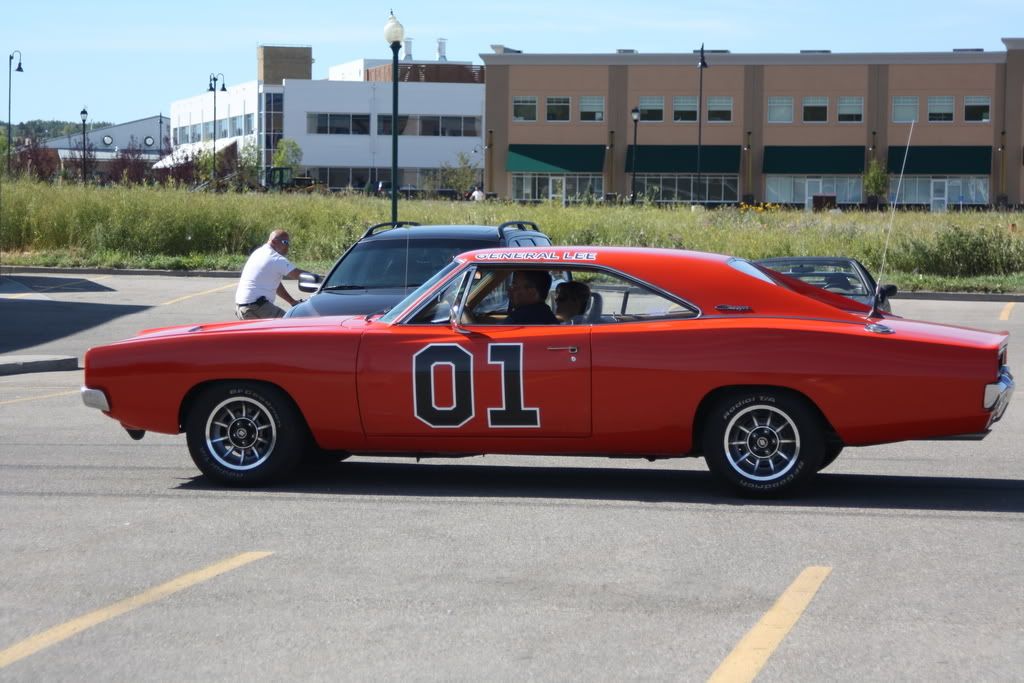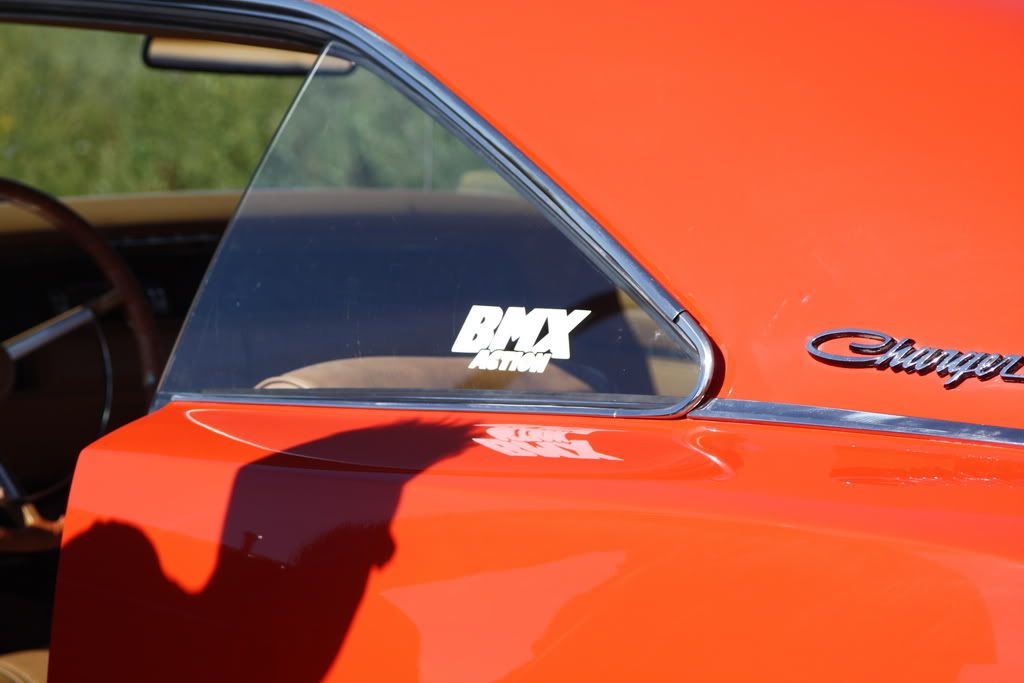 Autographs went wherever they would fit this weekend.
Someone said this little guy gets the record for the longest manual of day 2.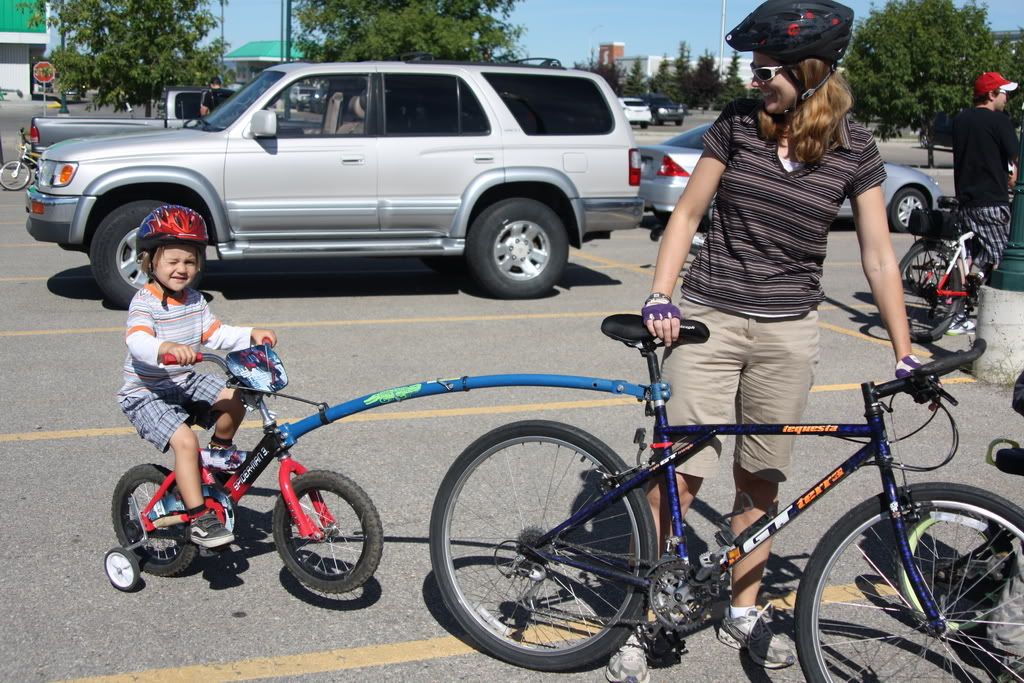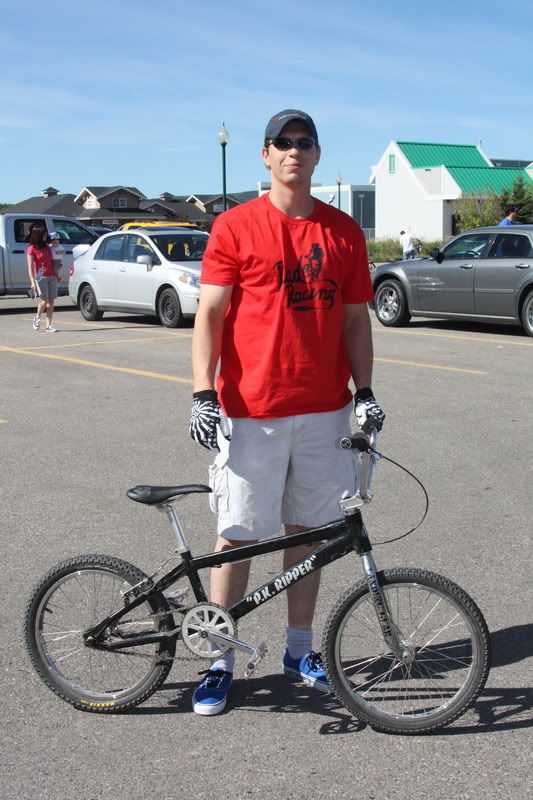 I met both of these guys but only remember Chad (intrikat) on the right from Long Beach, CA.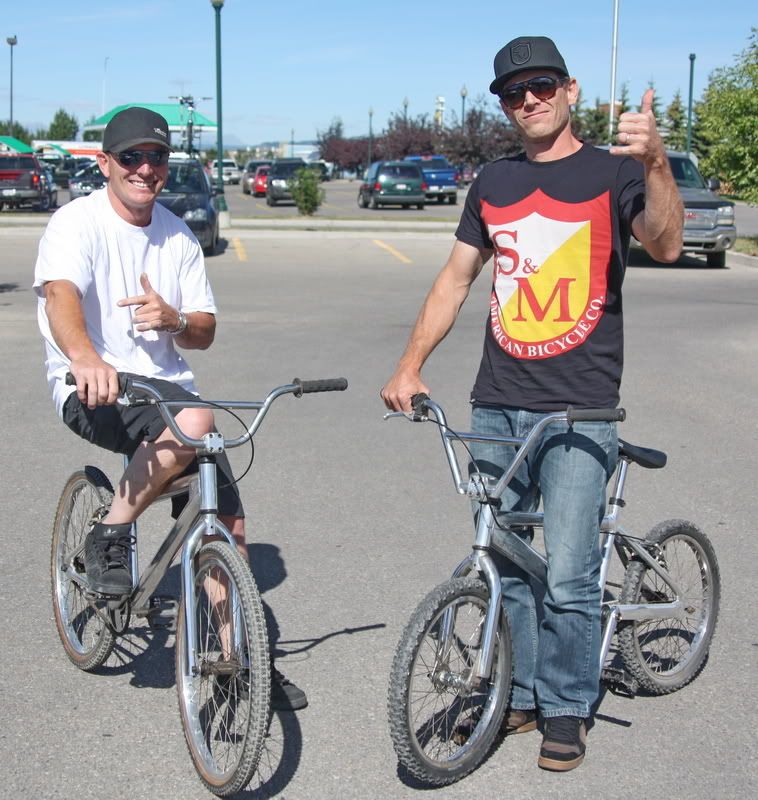 Kurt_Rad, his wife Nichole and their baby girl.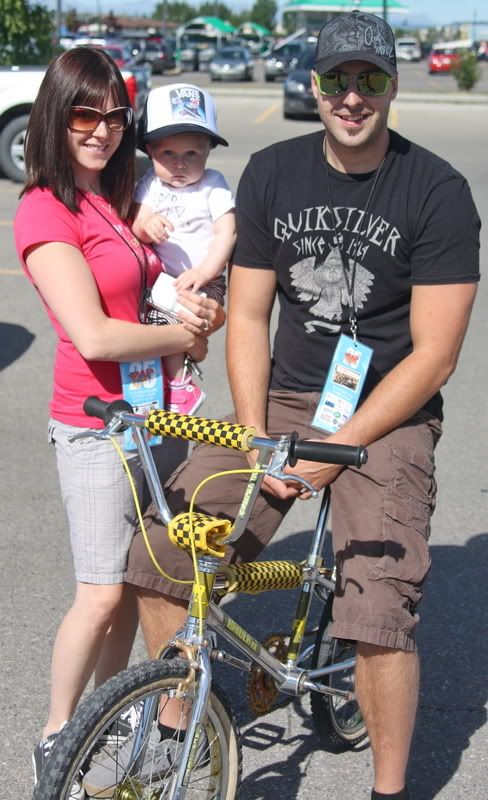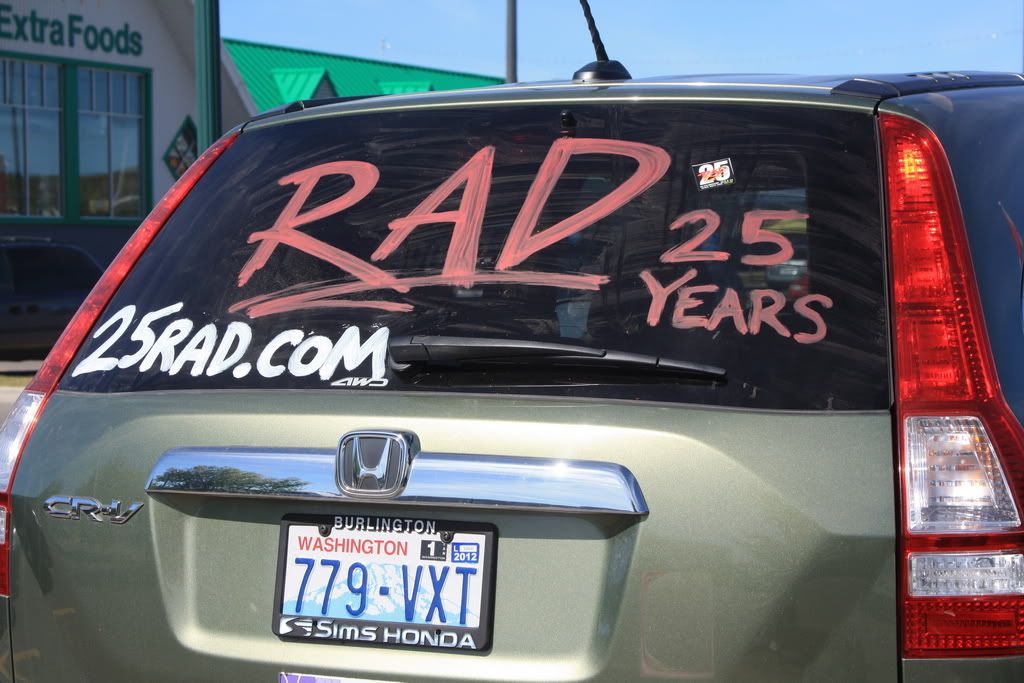 Eddie started a jam circle borrowing an old school GT.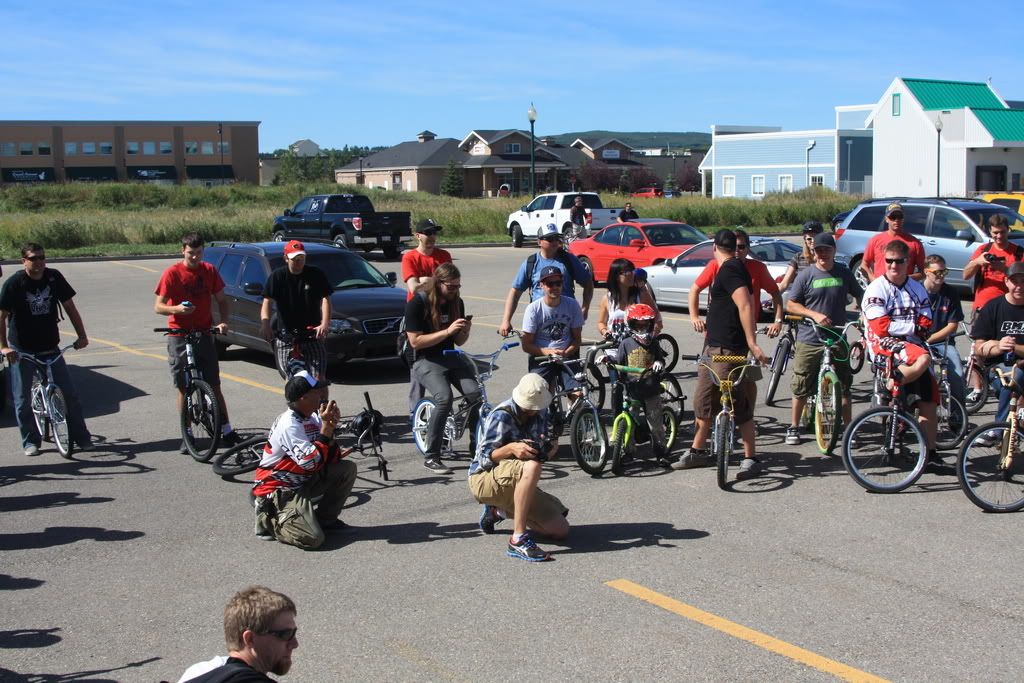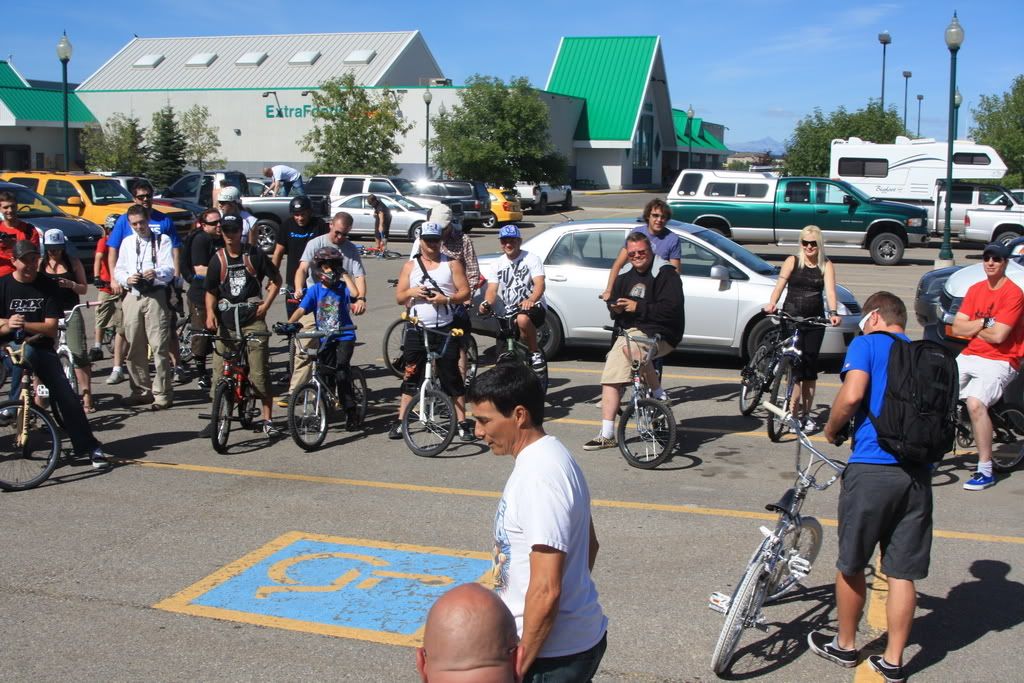 spanky4130 (Mike) was the only one brave enough to drop in. He threw a very clean boomerang! :cool: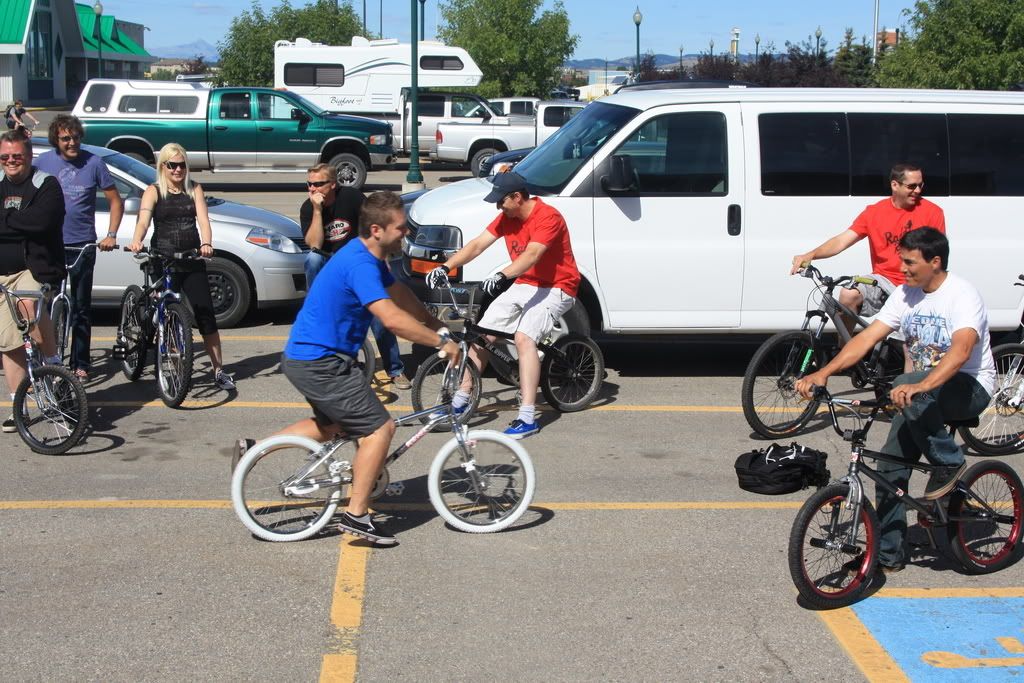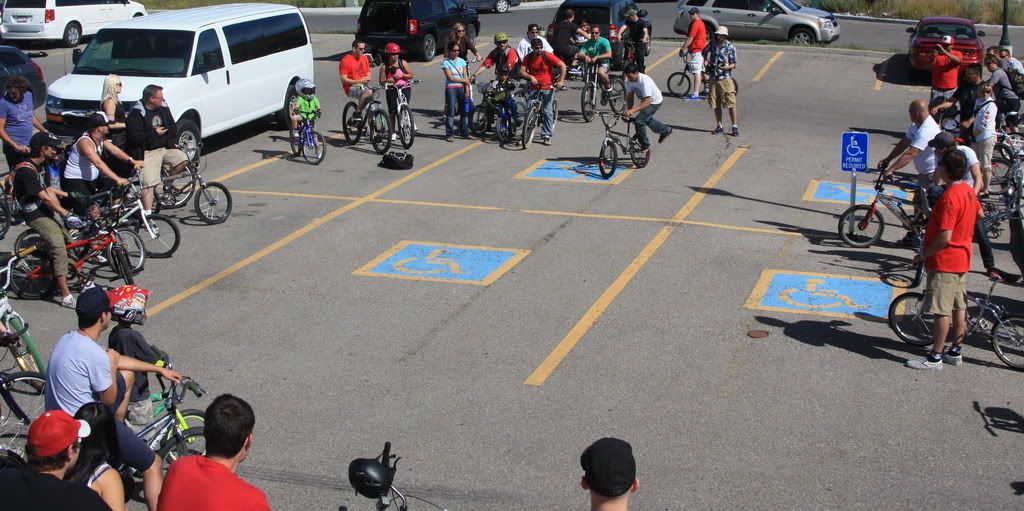 Click here for the large version:
[url]http://i98.photobucket.com/albums/l258/GHS_Wired/rad25/Rad25_2011-08-20_025_groupshot_LG.jpg?t=1314049746[/url]

Click here for the large version:
[url]http://i98.photobucket.com/albums/l258/GHS_Wired/rad25/Rad25_2011-08-20_026_groupshot_rowdy_LG.jpg?t=1314050328[/url]
Just before the pack of bikes left for the tour of Cochrane, writer Sam Bernard, Producer Robert L. Levy and writer Geoffrey Edwards were kind enough to pose for a shot together.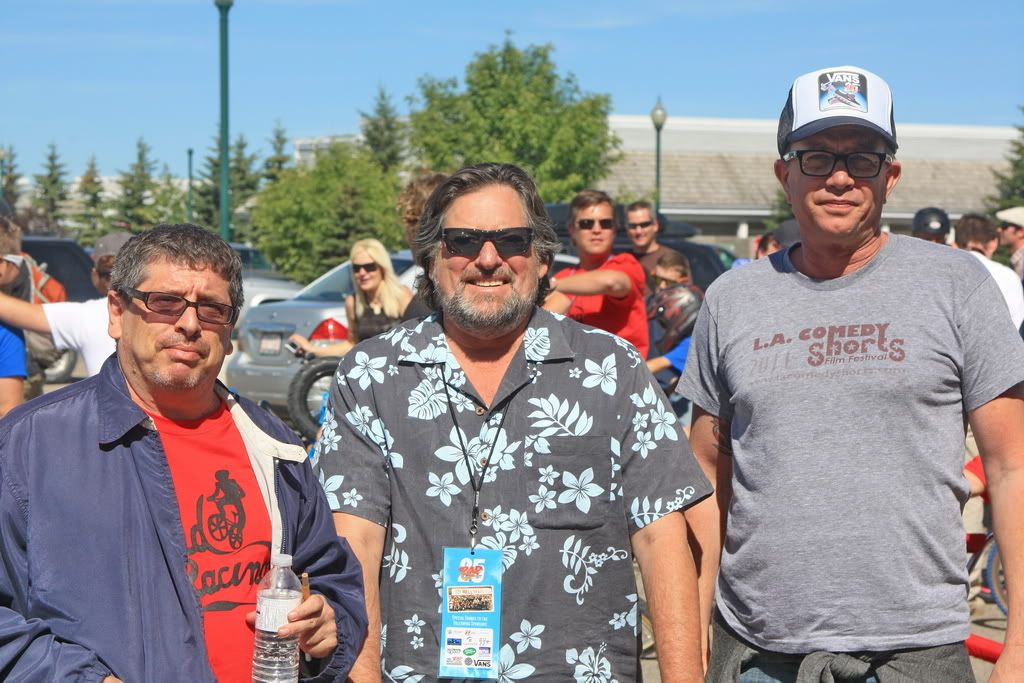 I count roughly 84 heads in the group shot but I think we had close to 100 riders in the pack when we took off. It was huge and long once we got going and we literally stopped traffic wherever we went. Once the pack started turning a corner we all went despite stop signs or traffic signals. Not that anyone was ever belligerent or rude, it just happened. Most people were cool with it and just waited the 30 seconds it took for us to go by. Once in while we would have some colorful words and thoughts shared with us... ;) We just laughed them off!
The first stop was the actual firetruck from the movie. You can barely make out Bill Allen's shoes up front but he let people take pics of him in front of it. Bill, by the way, does still ride a BMX and told me it's a Supercross. :cool: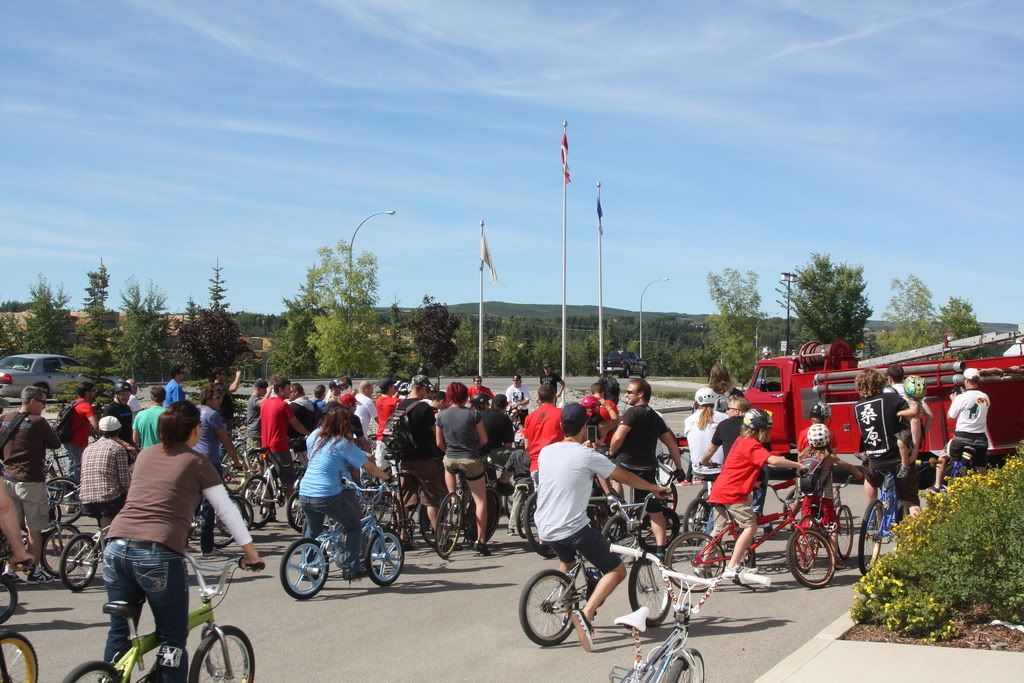 The next stop was in the middle of town where the parade went through. It's all been nicely modernized with trees and new building facades so it looks very little like the movie anymore.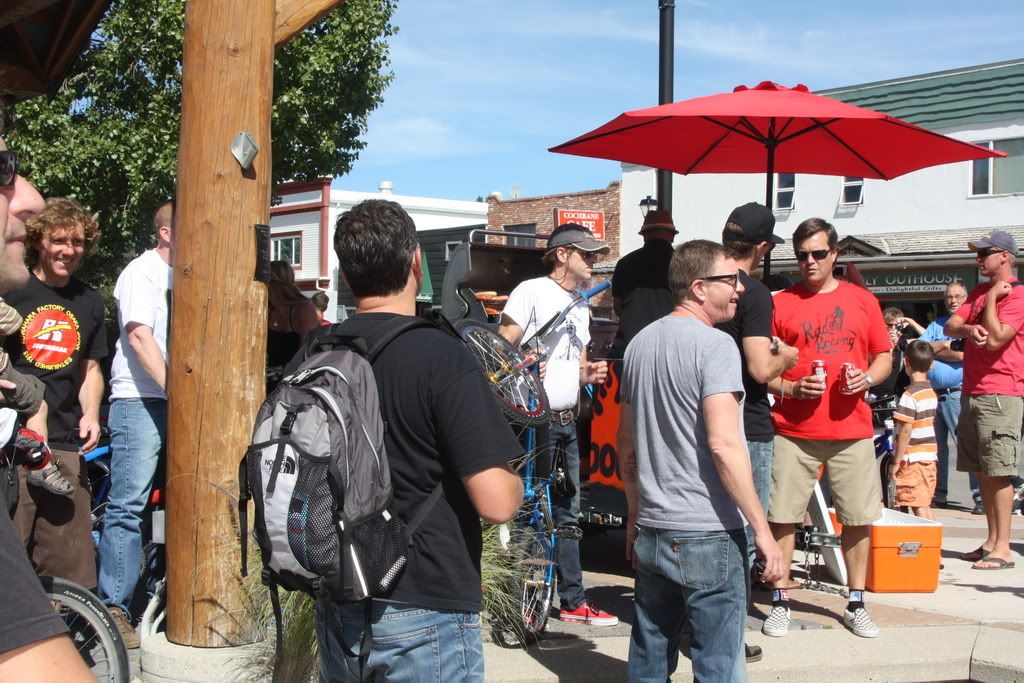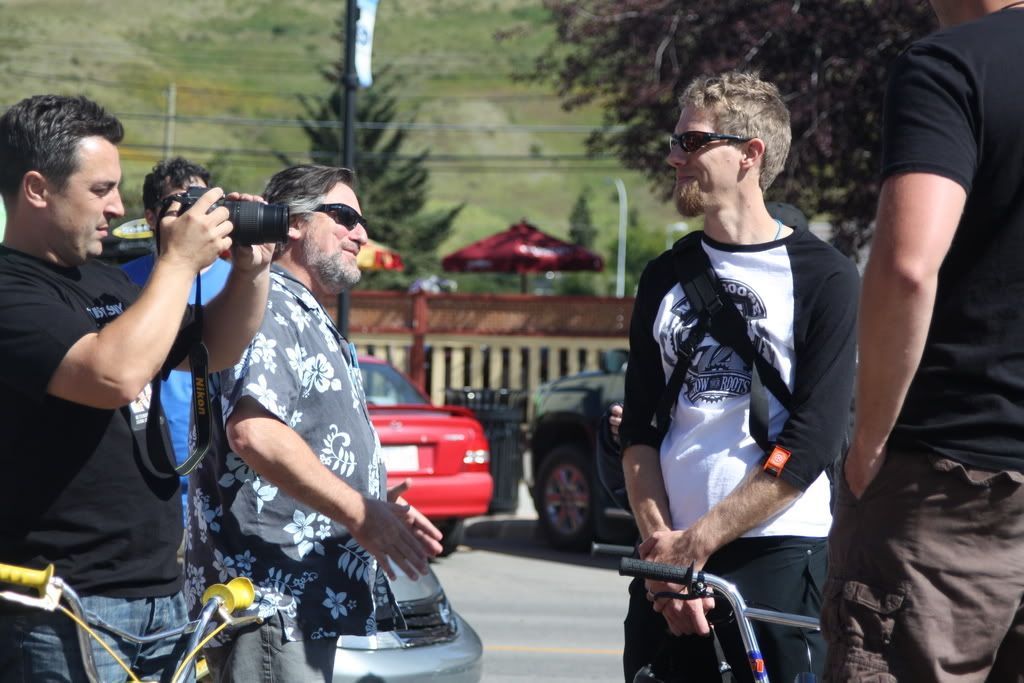 Kirk Bihun.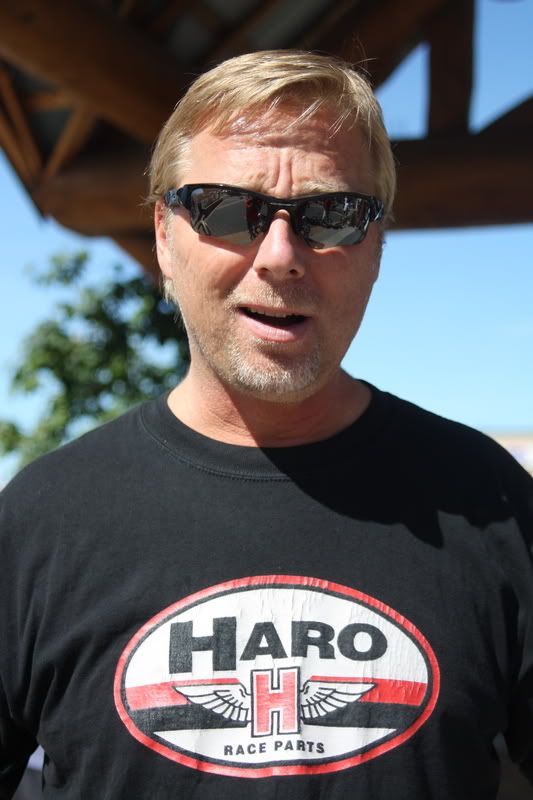 Jeff Ingram.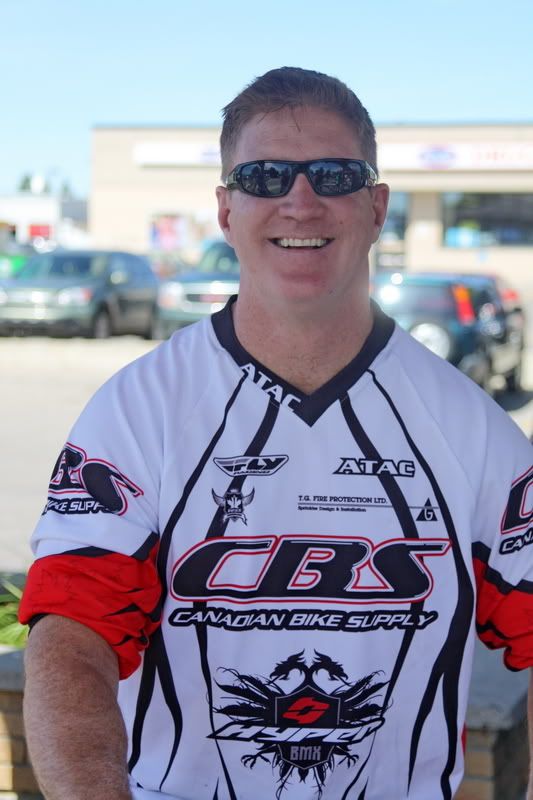 Kevin "Sheepdog" Hull.
Beatle Rosecrans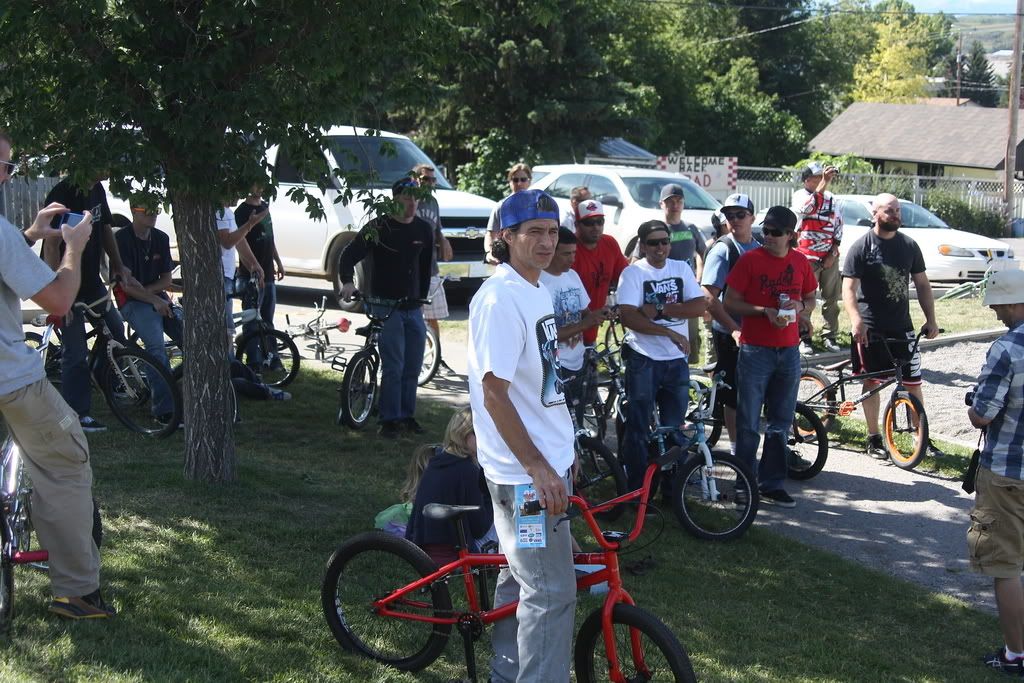 We stopped at the park where Cru's backflip ramp and quarter pipe were set up.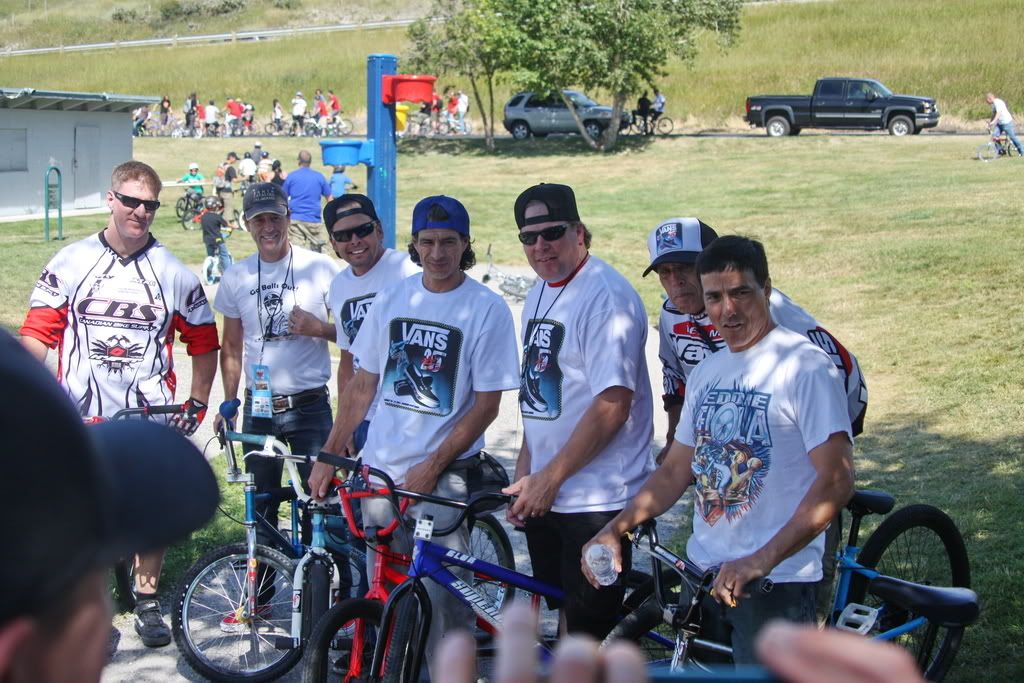 Next stop was the storefront where Ray Walston got the coffee knocked out of his hand on the bike.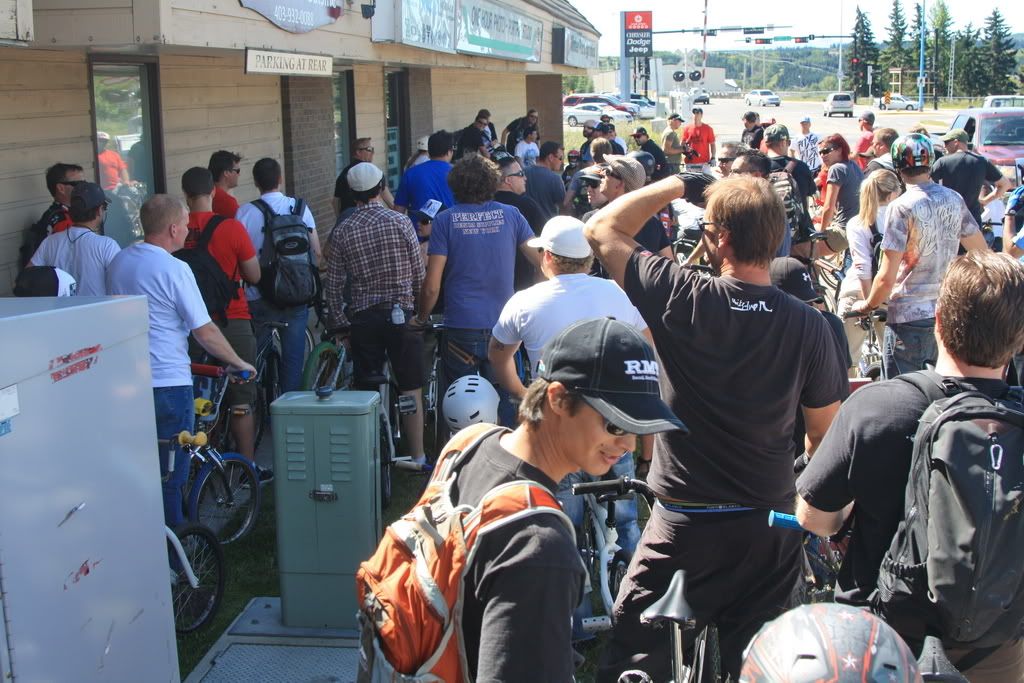 Back to the theater parking lot where people hung out for a little while longer.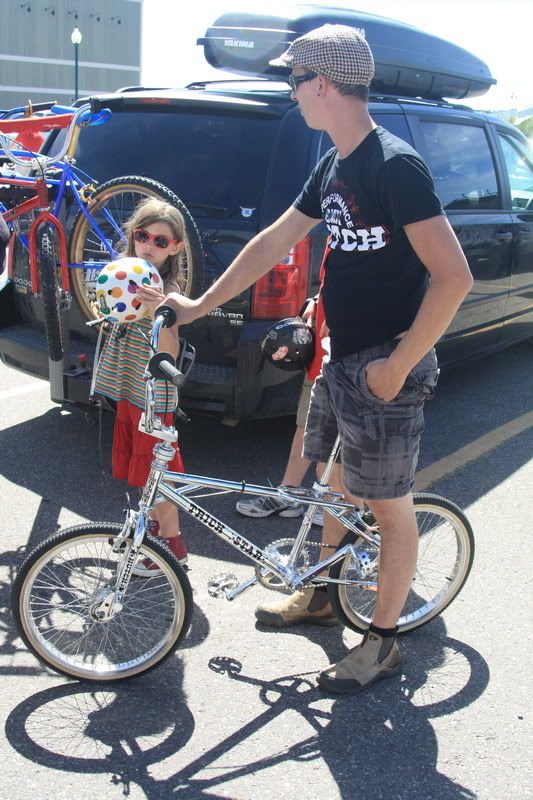 A very pregnant Mrs. spanky4130 but still made the whole ride with the pack!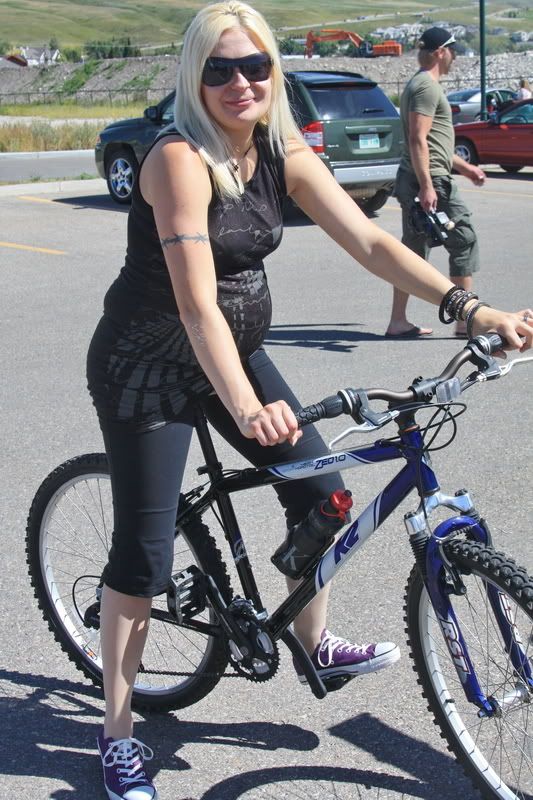 The Martin and Eddie freestyle show continued... :D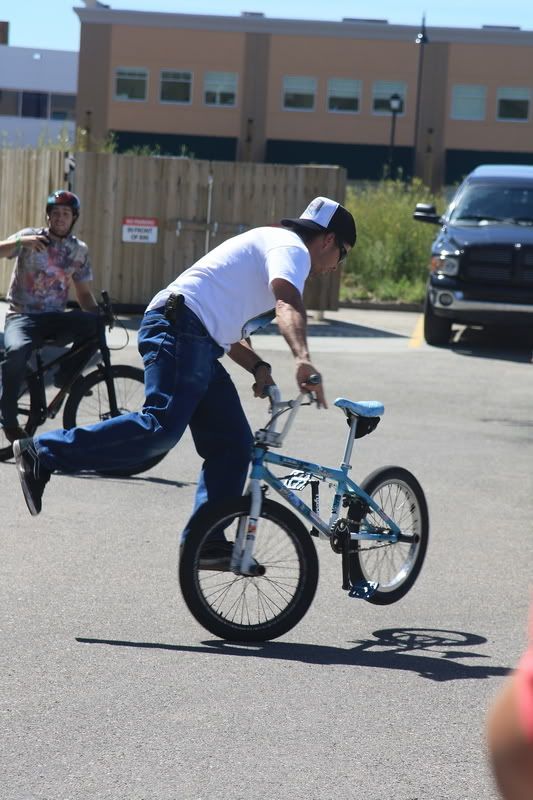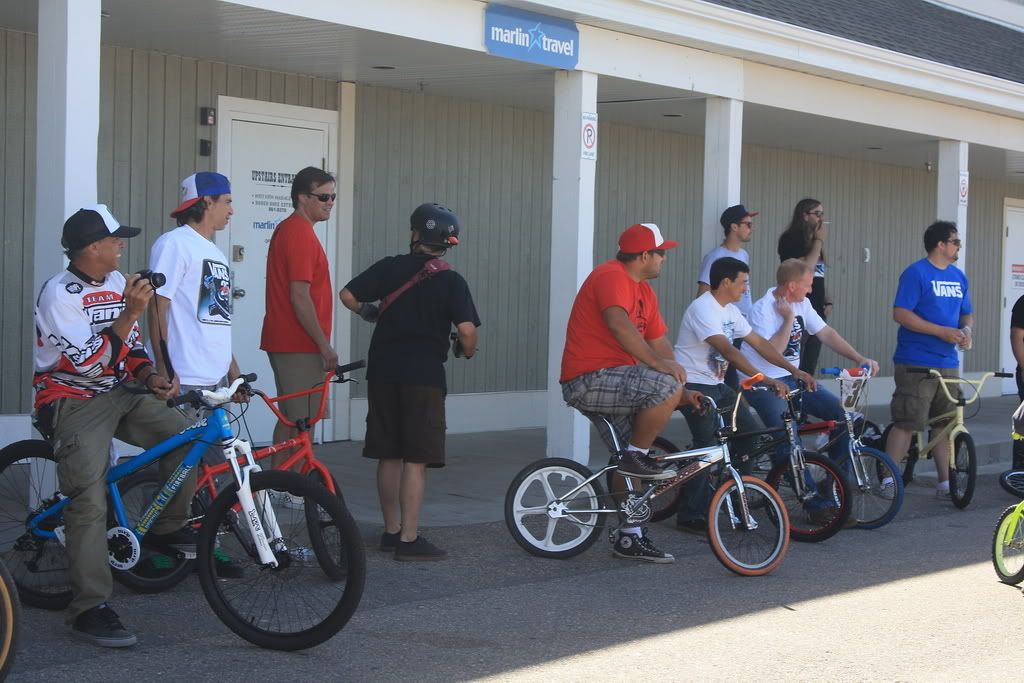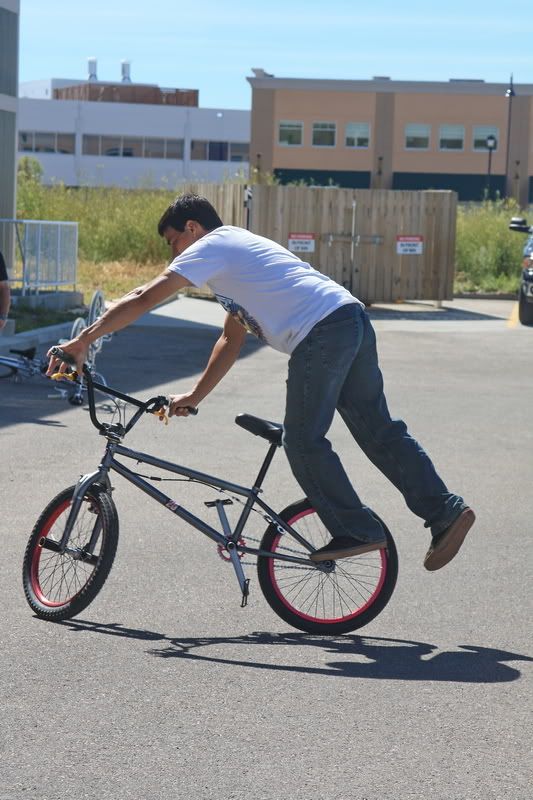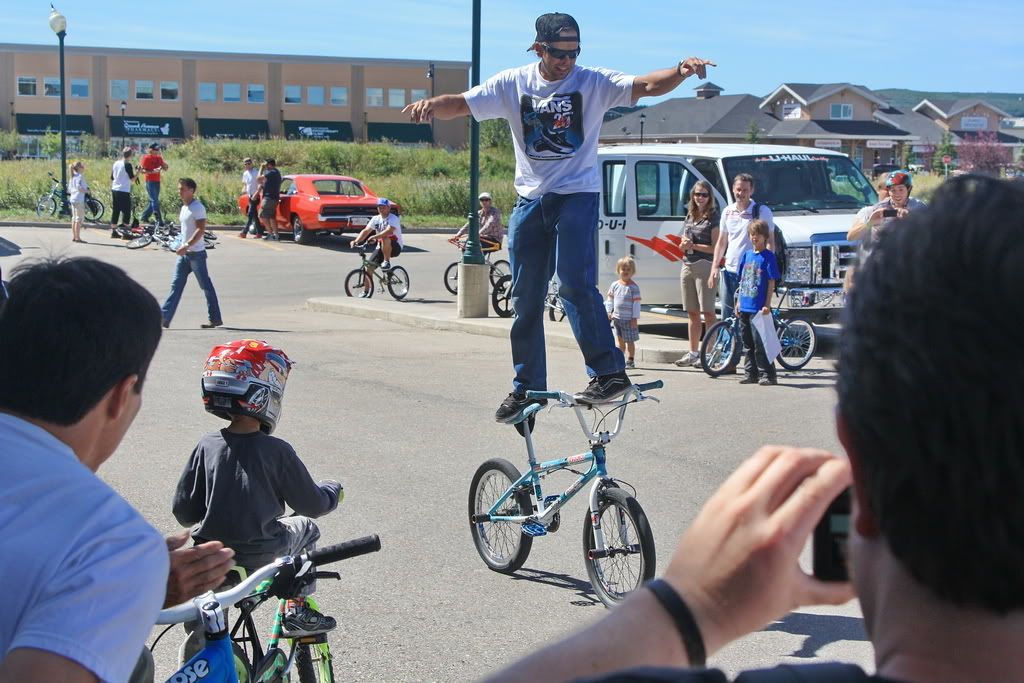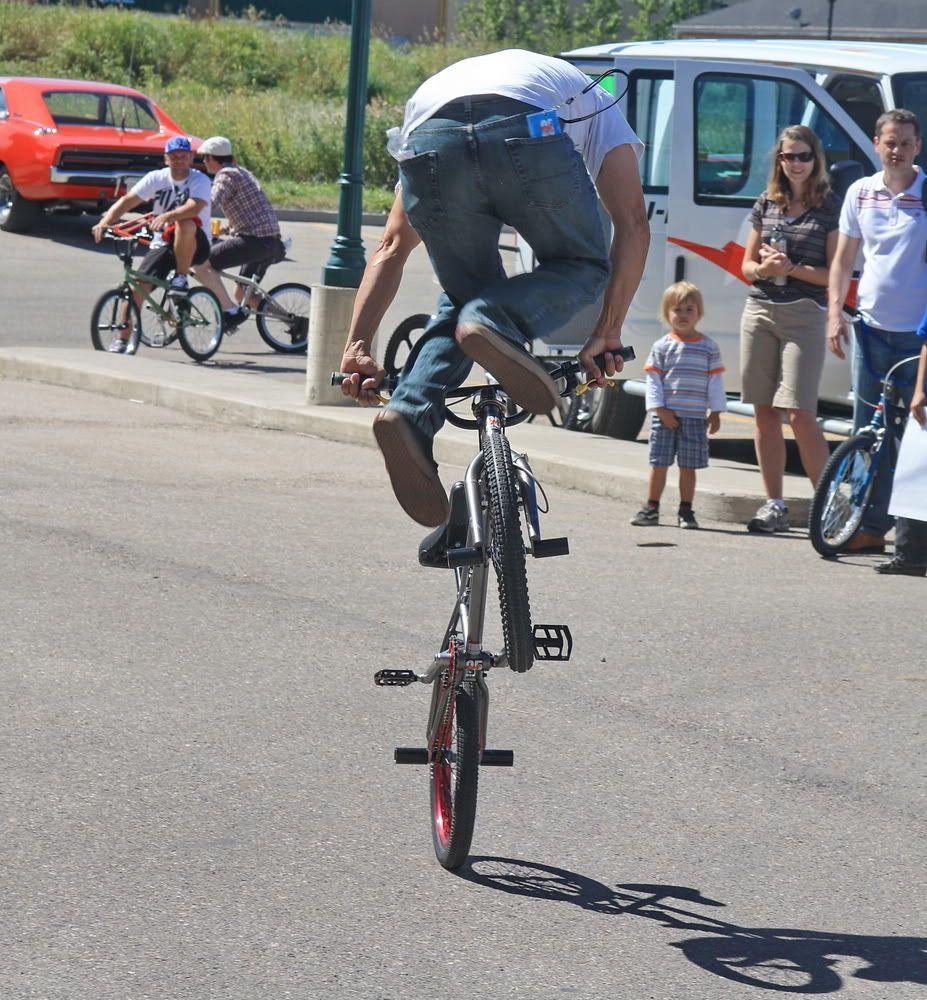 One of the coolest parts of the trip for me was meeting other BMX Museum members. I am the owl...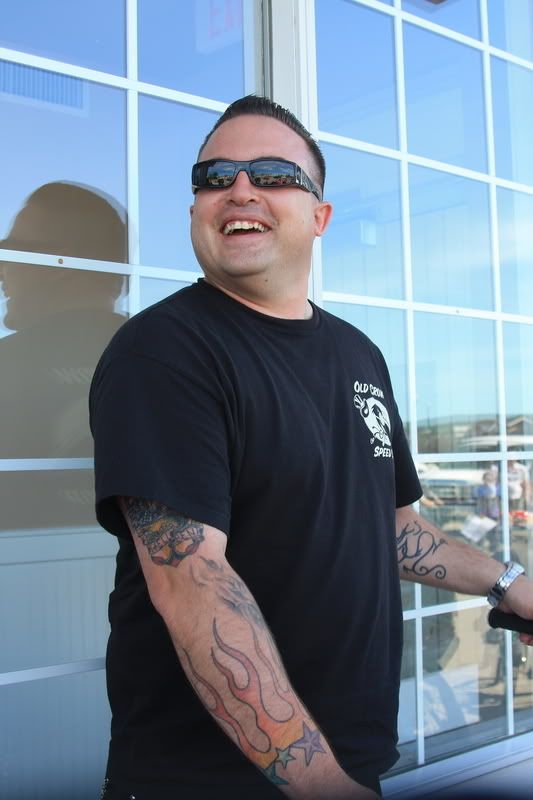 and Leatherman.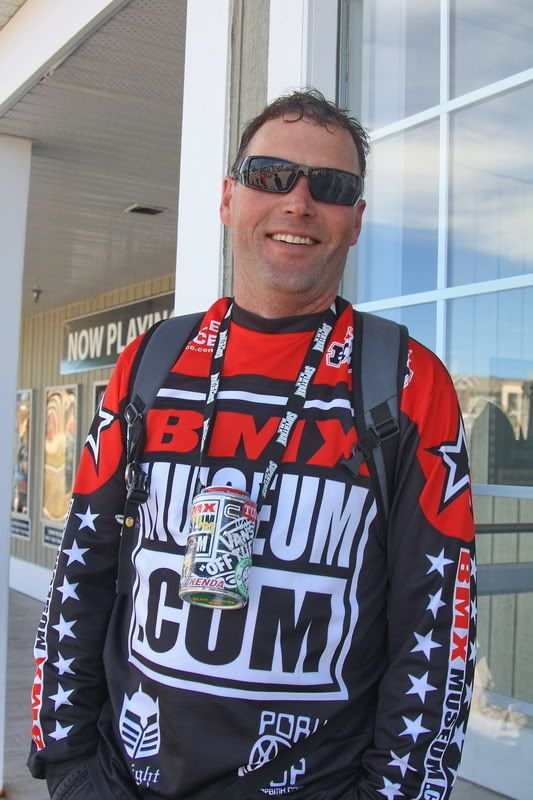 After the ride concluded we peddled back over to the Cochrane skatepark. Leatherman grabbed a hold of a pickup truck and got towed over at about 40 miles an hour (~ 64 kilometers an hour for you Canadians :lol: ).
[b][i]My 2 second rant[/i][/b]: why don't we just switch to the metric system? It is so much easier! One of the most confusing things of my trip was trying to interpret distances and temperatures on the fly. Do you know how hot 30 is? Yeah, go look it up like I had to...
Back to the skatepark...

arnieman23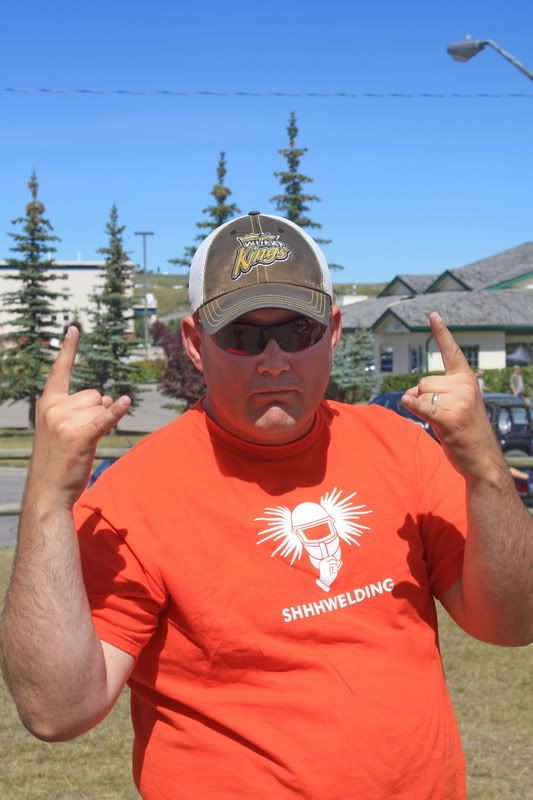 All the stars came back to the skatepark as well. Another bonus was getting to see Eddie ride a skatepark again. Last I saw was 1987...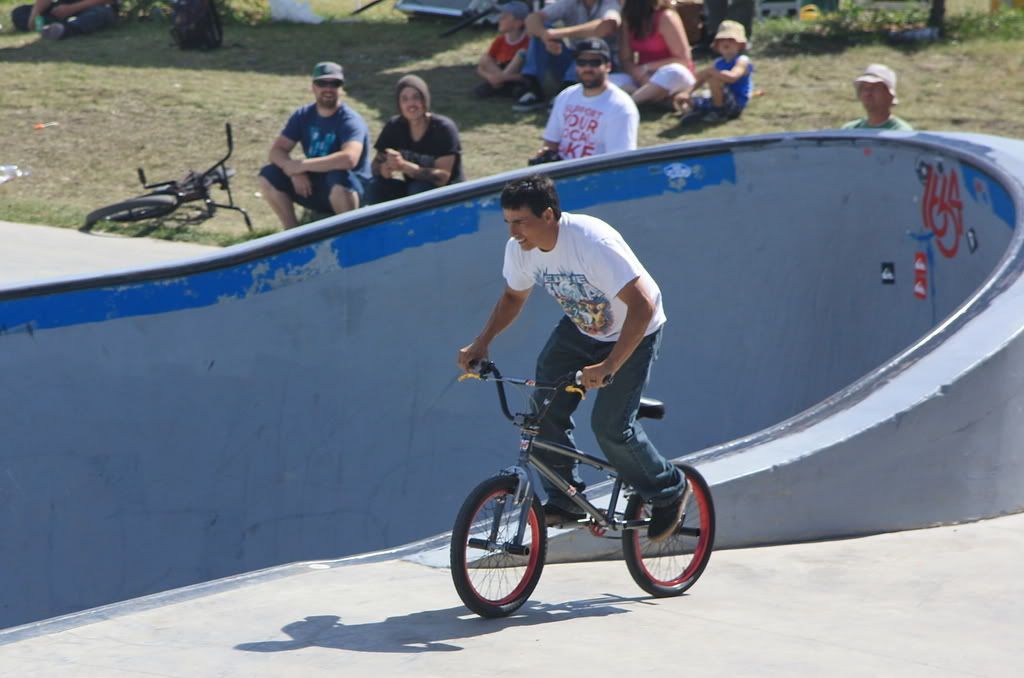 STUPID AUTOFOCUS!!!!! Hulk Hogan eat your heart out!
Old school BMXer Wade Nelson on a new school bike. Yep 25/9 gearing, graphite Tuff wheels and all titanium components. :cool: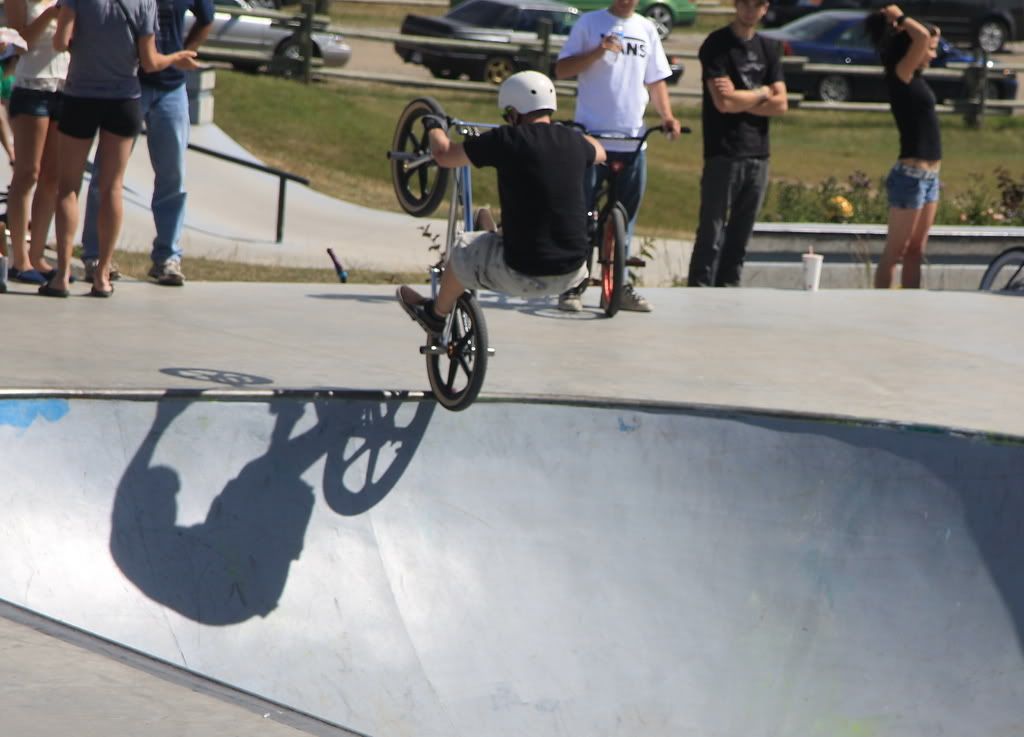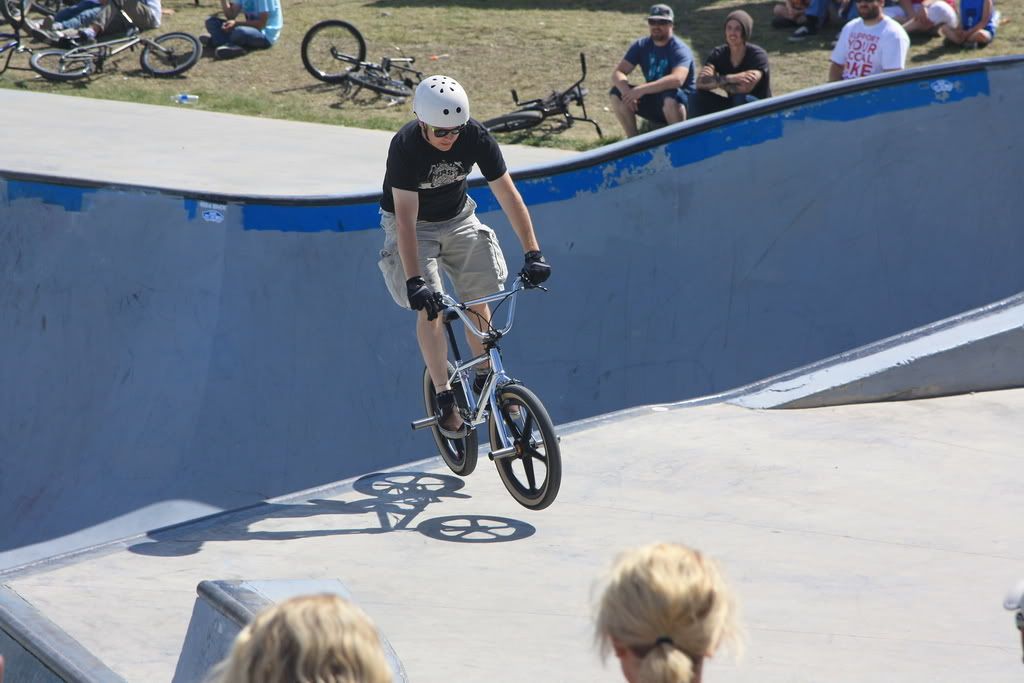 Edit: Is this the same Wade Nelson at the Old School Reunion this year? On the left is Mark Eaton then Dr. Wade Nelson.
Picture from this thread here: [url]http://bmxmuseum.com/forums/viewtopic.php?id=314612[/url]
Probably the oldest bike I saw being ridden. A 1970's something by Bad Brad.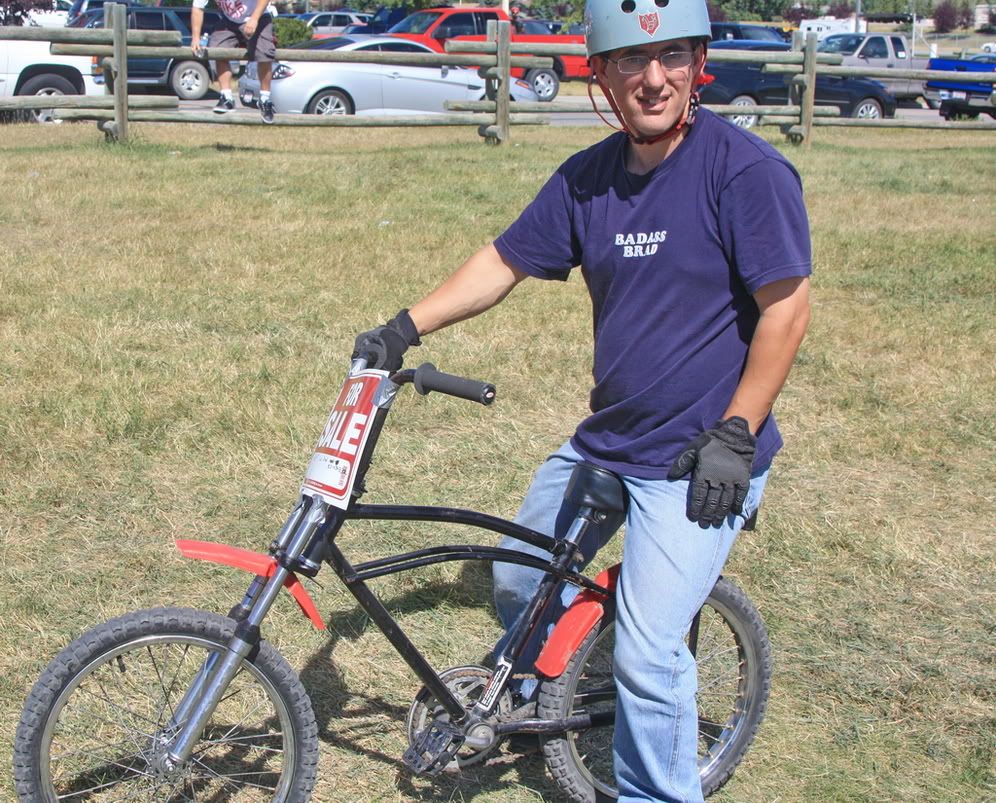 Mongoose is now a sponsor of the Rad documentary and was giving out free t-shirts and posters.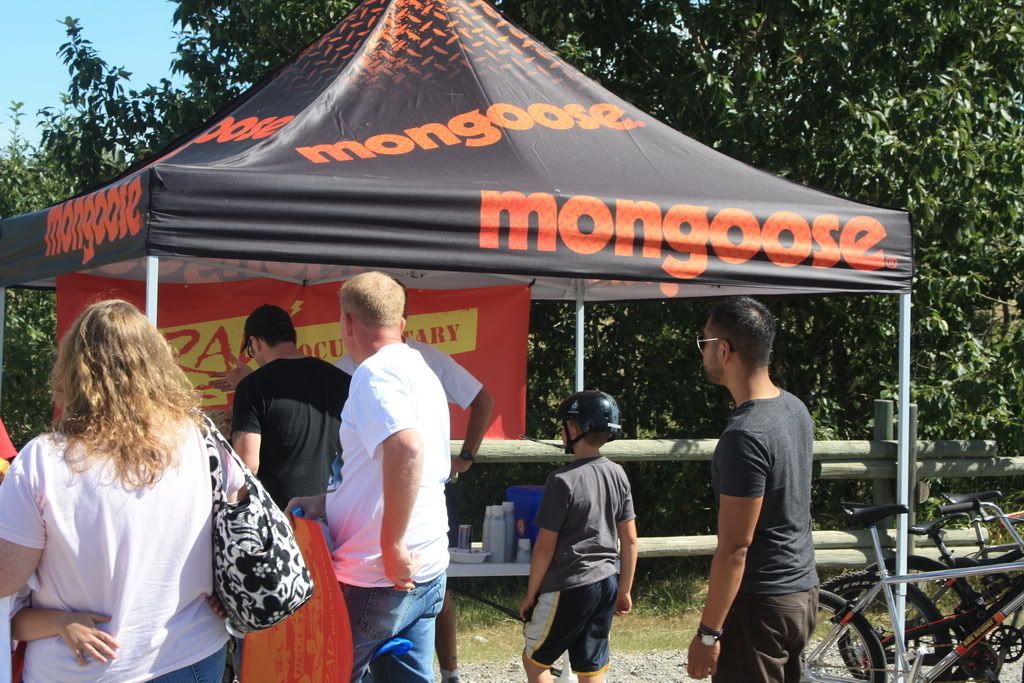 Chris Phenix's (Director of Photography for the Rad Documentary) in-laws manning the booth. They were really cool to chat with.
The rest of the day was hanging out, getting a sunburn and watching the local talent rip up their park at this contest. If you know any rider names just PM me and I'll give them full credit.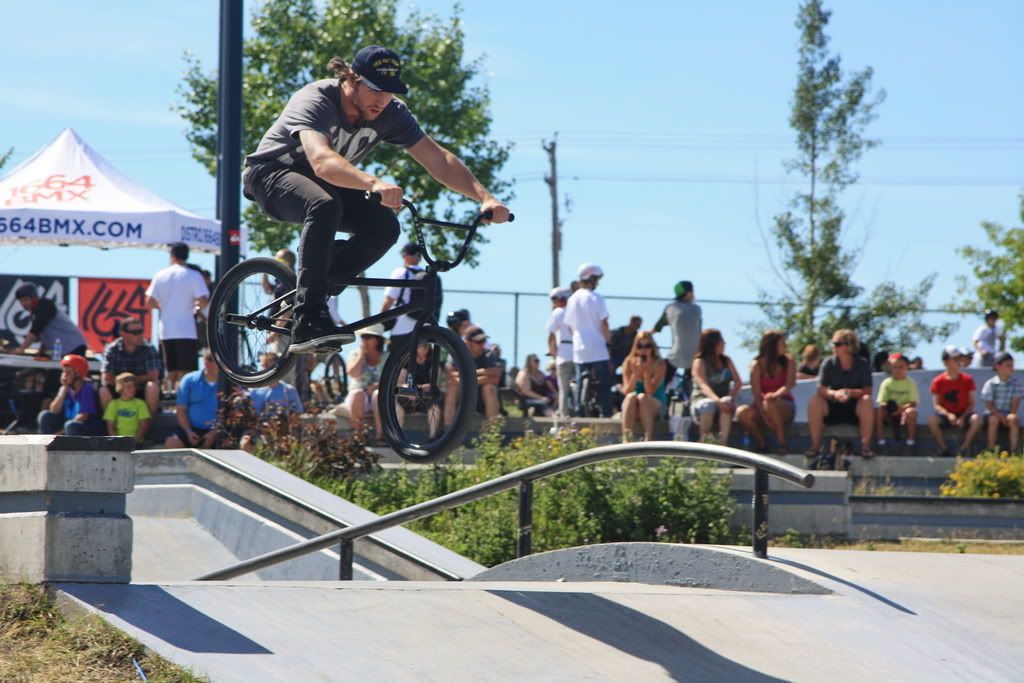 Big Al and Brennan Passidney from Sherwood Park, Alberta. Big Al used to work for Jay Miron in Vancouver when Jay started Macneil Bikes and Brennan was an old school freestyler from BITD.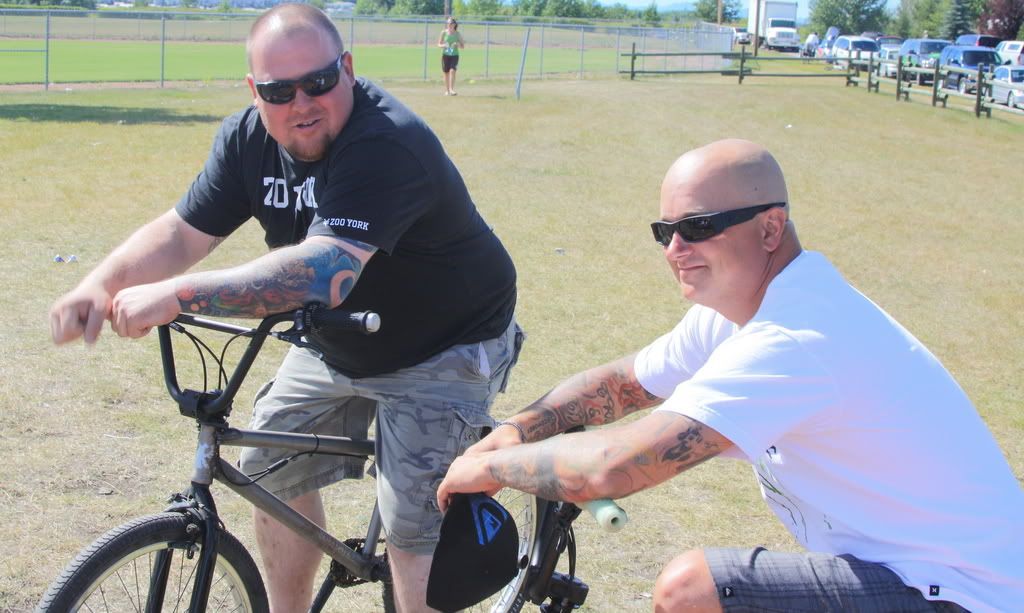 Eddie just hung out and chatted with folks. A real class act.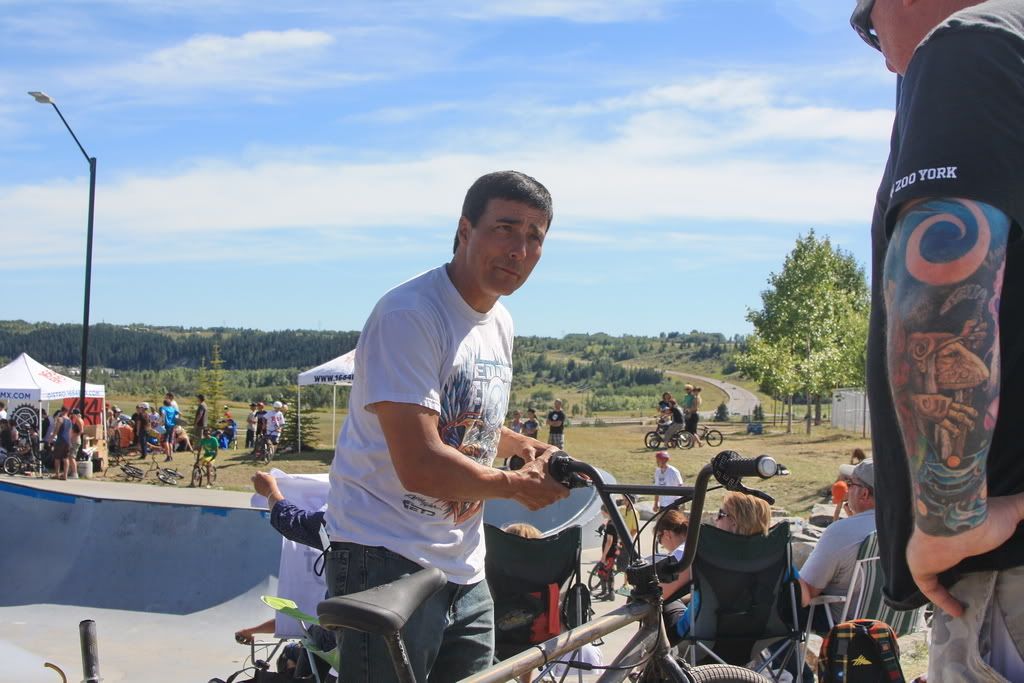 bearingboy007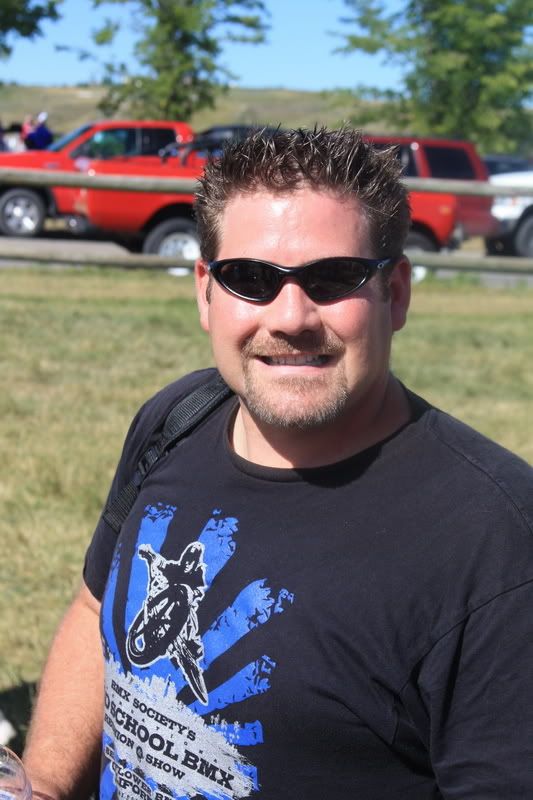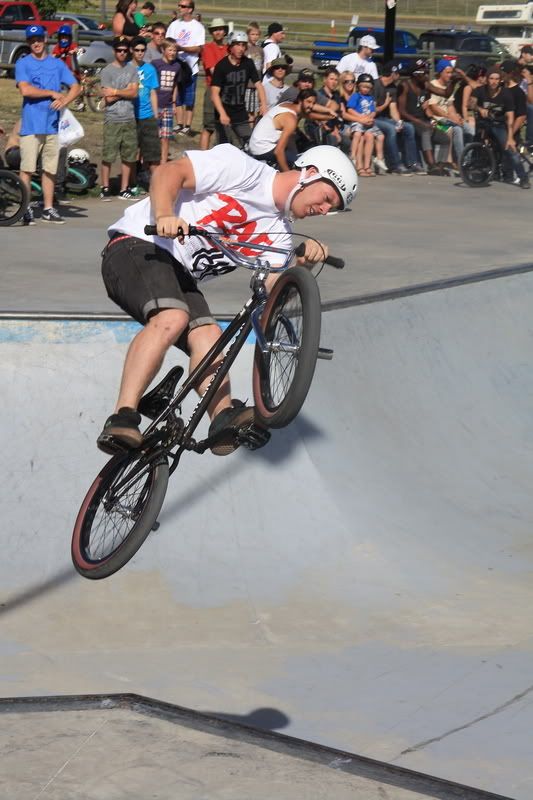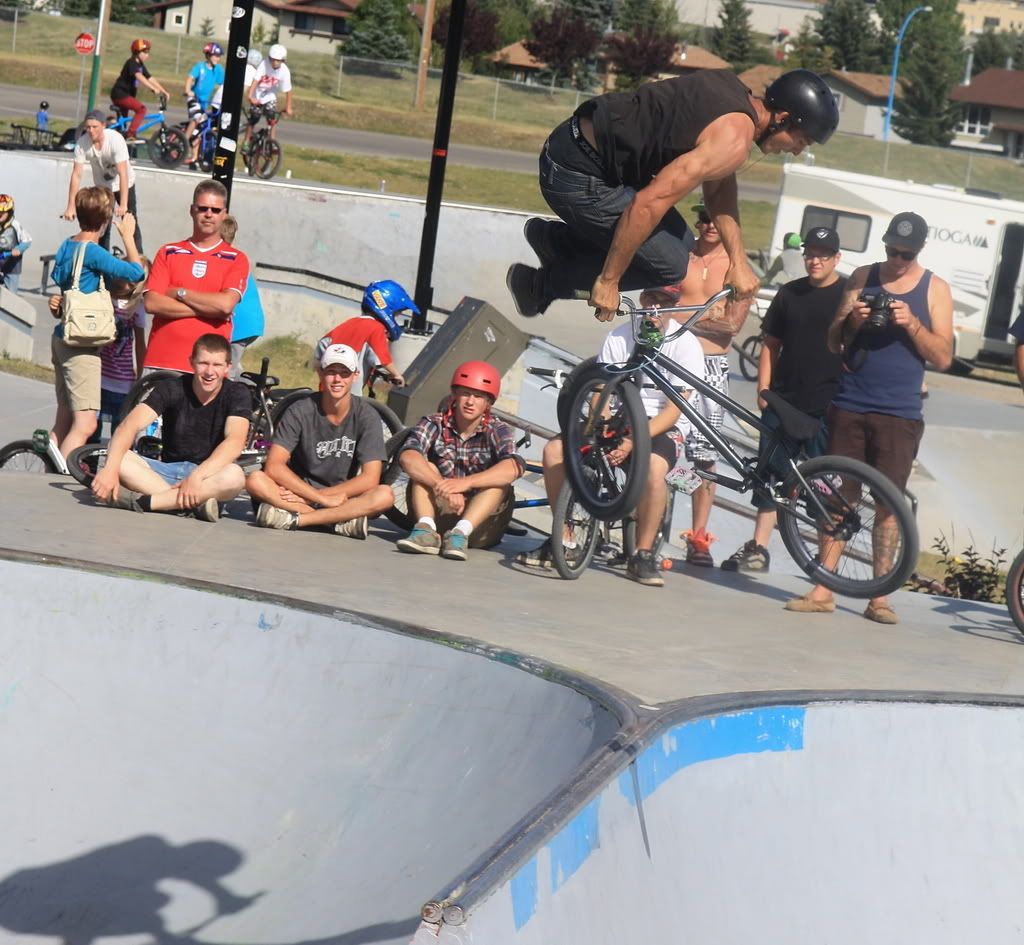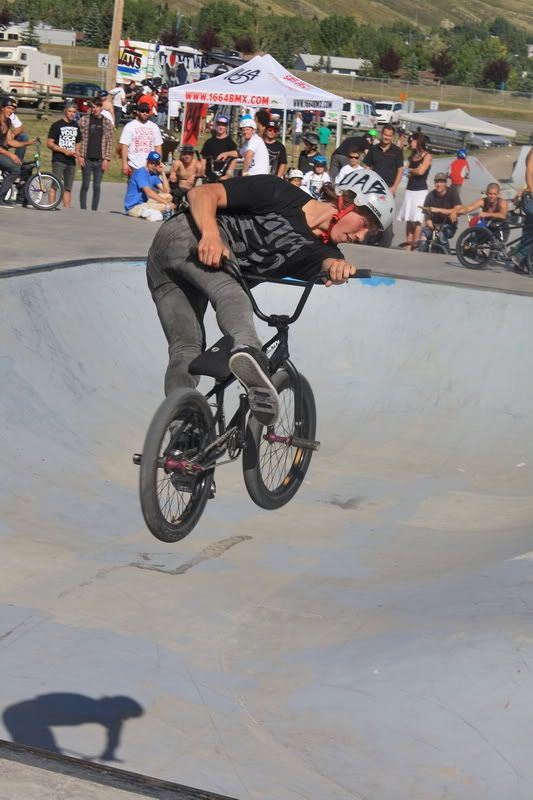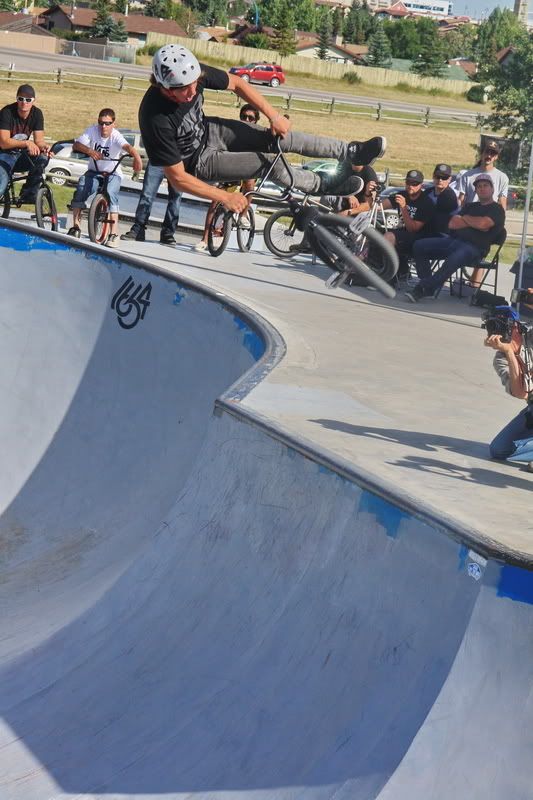 In case you're wondering, this guy had to wear this outfit on a bet.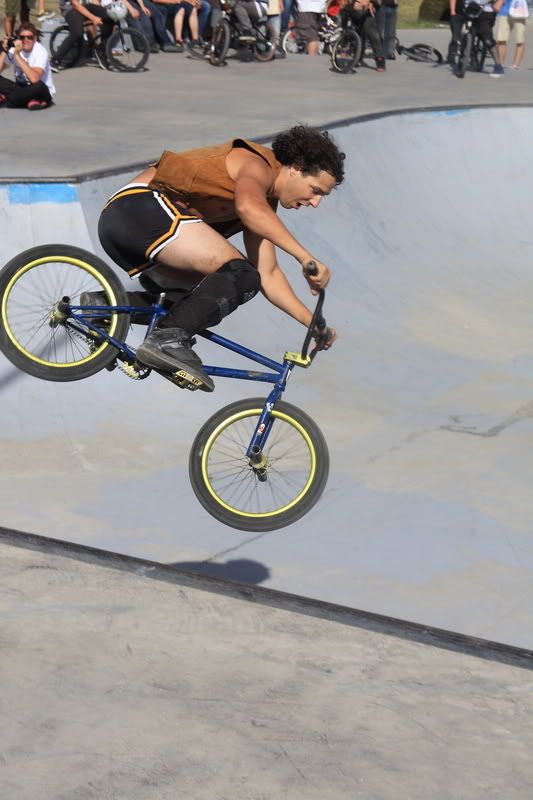 Jamie Clarke (Luke) and his family hanging out with the crowd.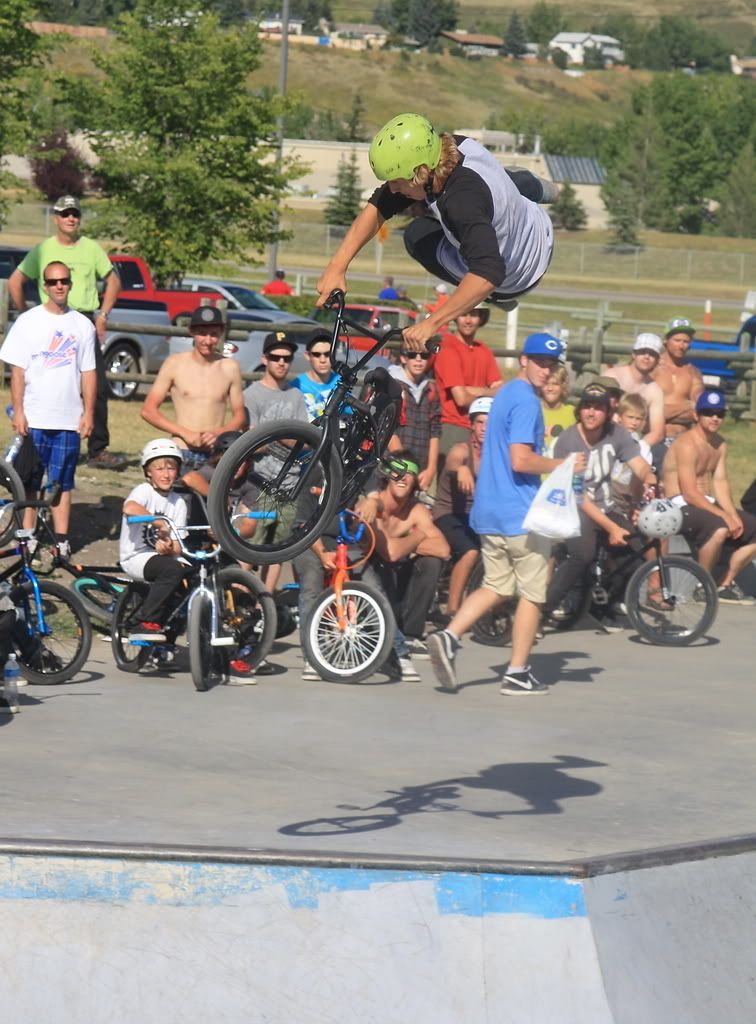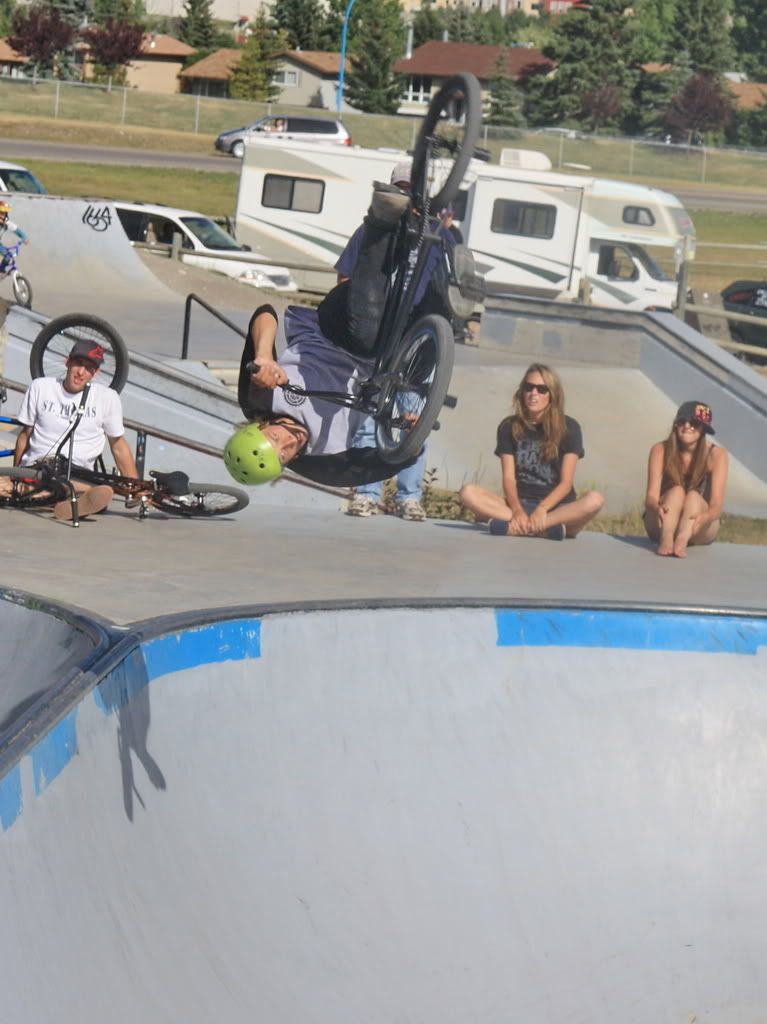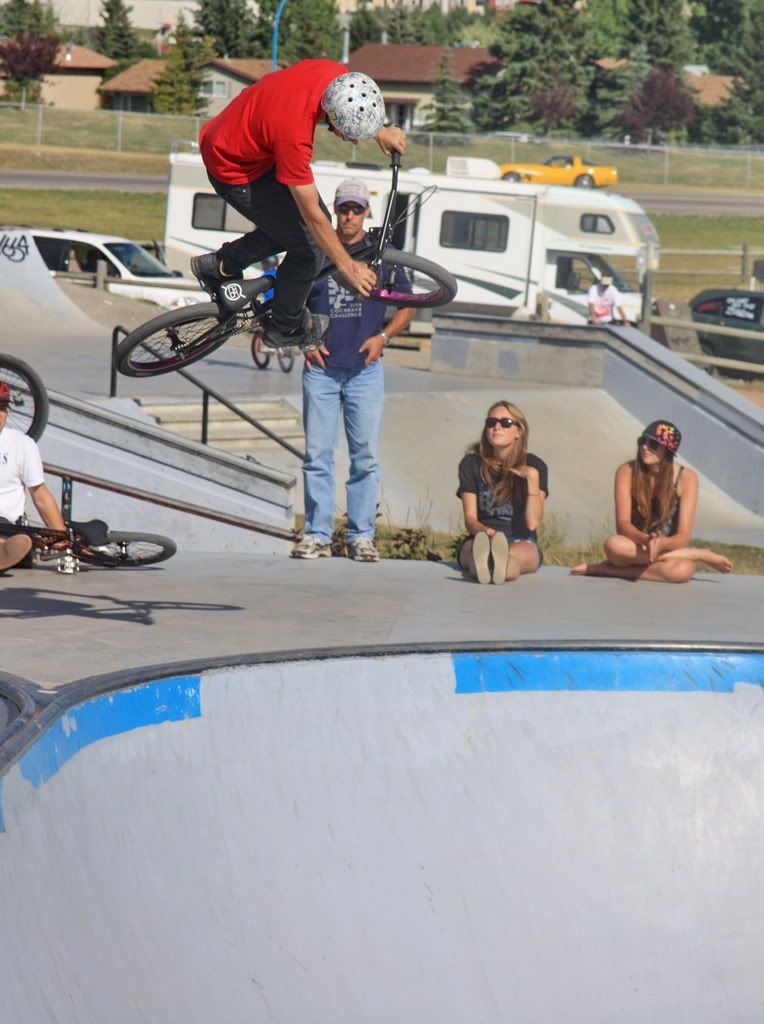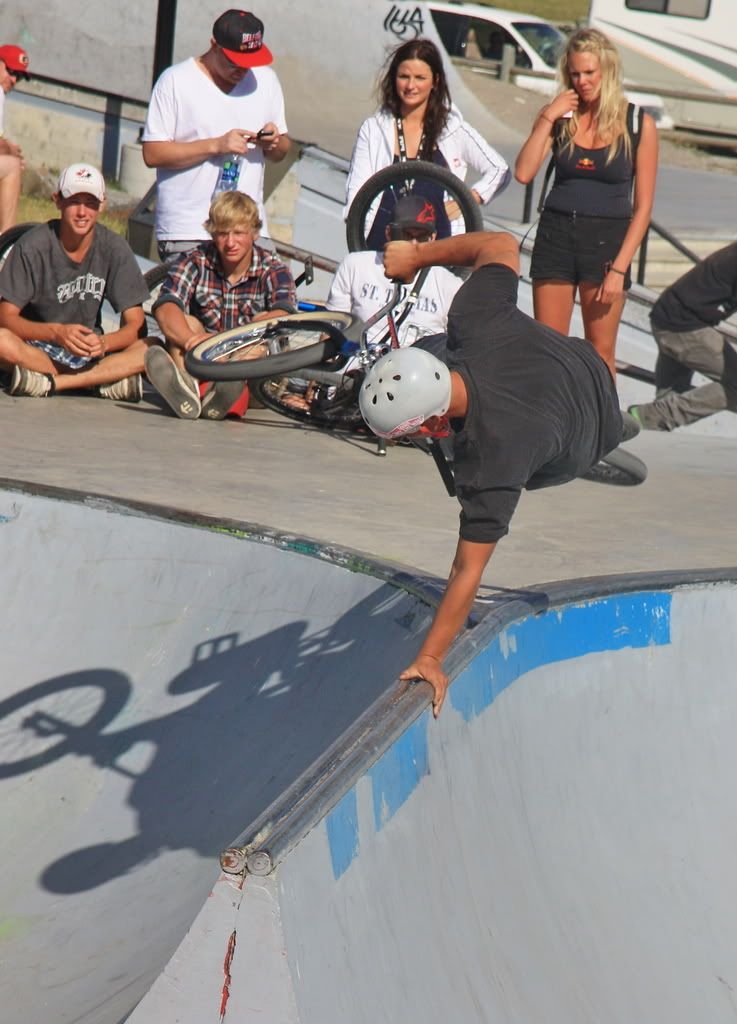 Old school racer Maxwell Petes in black on the left talking to Kirk Bihun in black on the right. Not sure who the others are yet (if you know, let me know).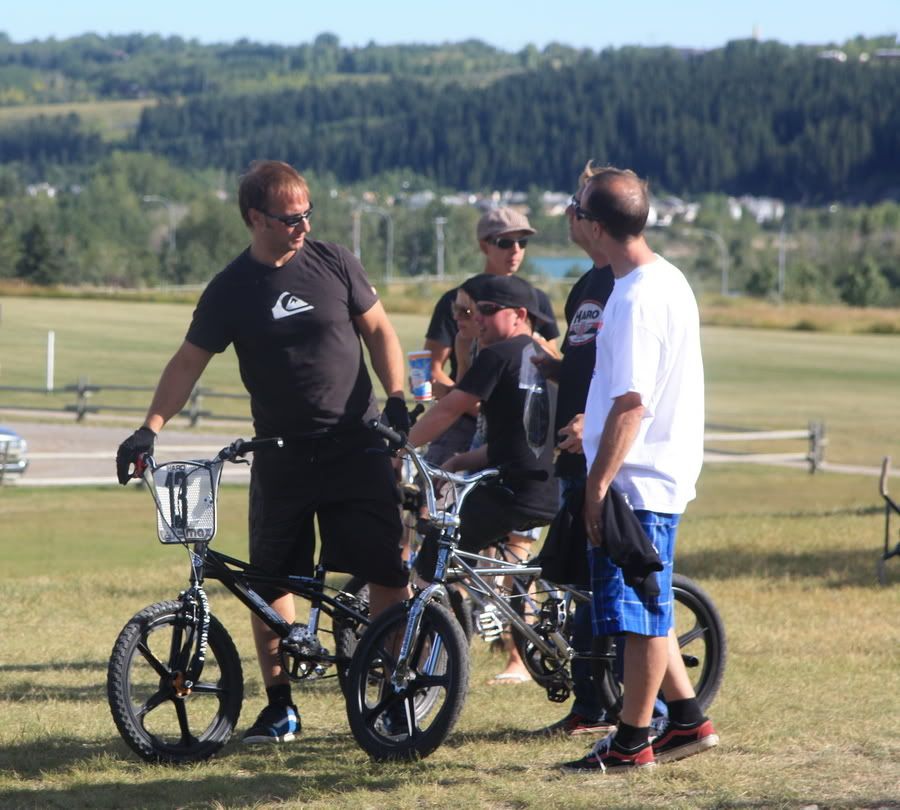 My last tourist shot as we left Cochrane was from the hill Cru and Christian walked up before going ass sliding.

______
We left Calgary about 9:30 AM to be a little early for the 11:00 AM start and pulled into Bowness a little after 10:00 AM.
We seemed to be the first to arrive so we pulled our bikes out of the truck and took off for the bike shop we spotted on the way into town. This is all I could see from the outside so I wasn't expecting much.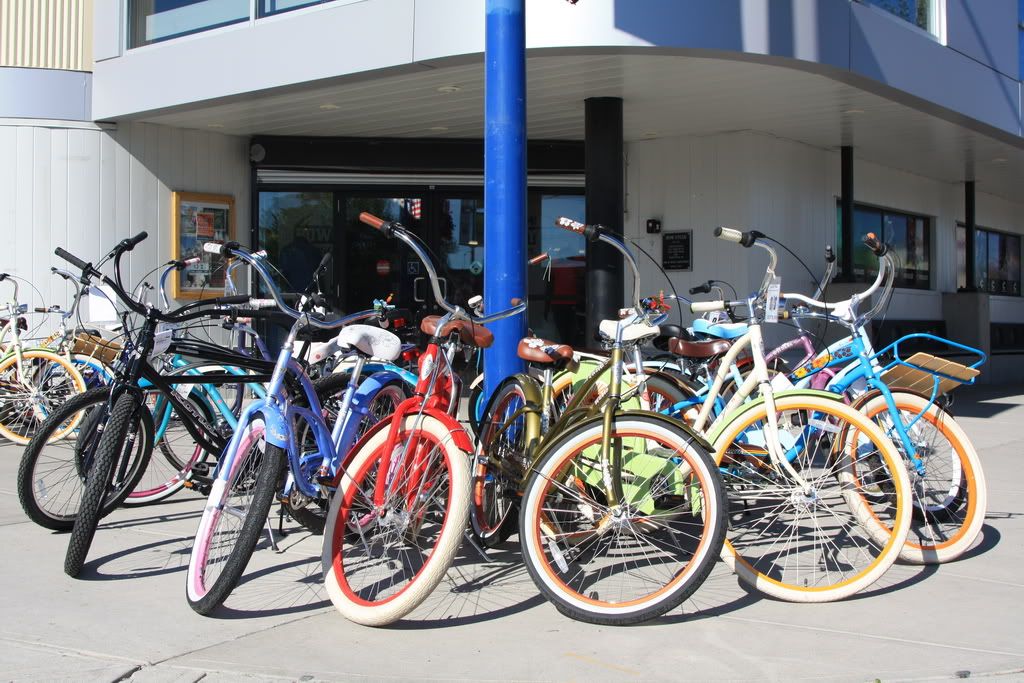 When I walked through the door I said "Holy Cow!" and could see several sales people turn and look. They must get this a lot as this place is deceivingly huge inside!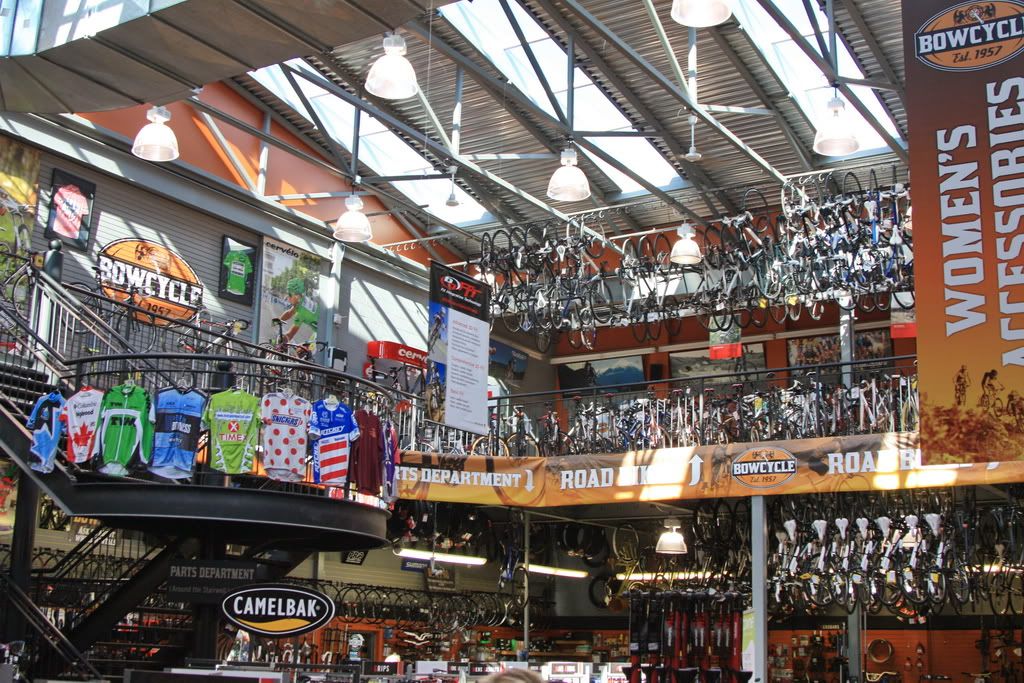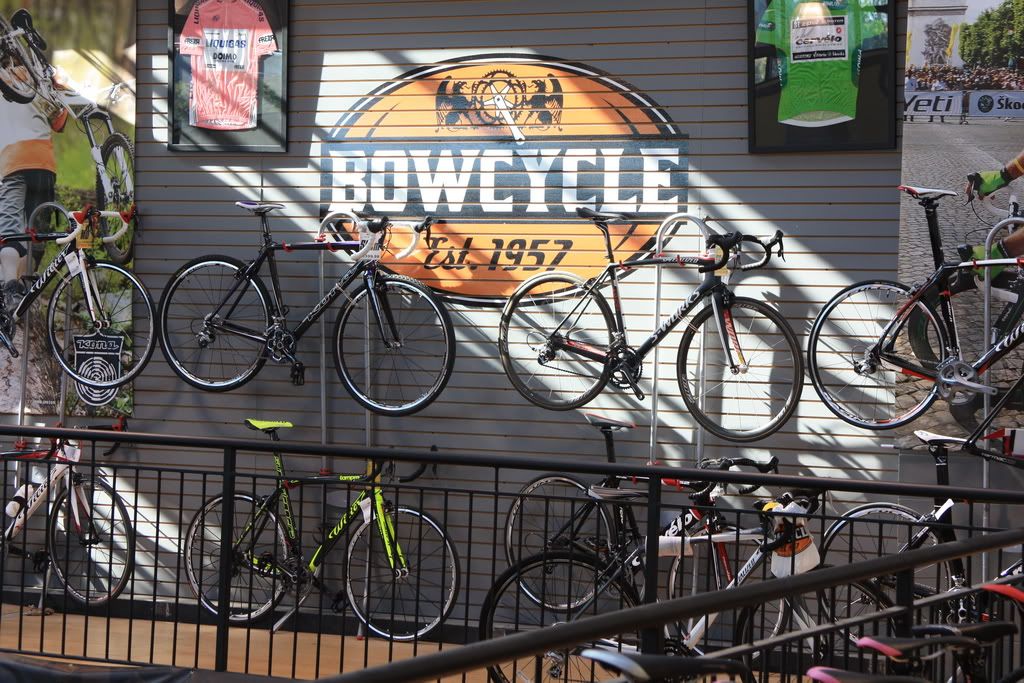 They have a nice BMX section but said they were at about 10% stock since it was nearing the end of the season.
We headed back down to the coffee shop where we were supposed to meet everyone and people were starting to arrive. More autographs were given between sips of coffee.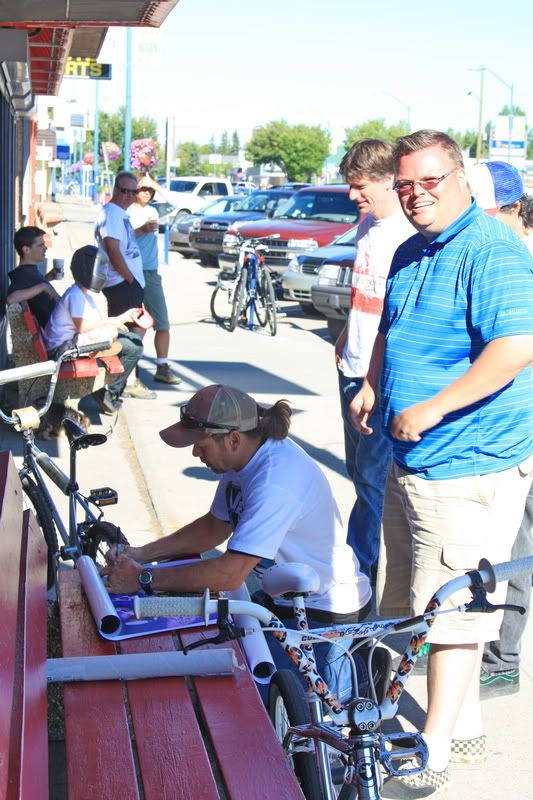 I got my bars autographed be several on day 1.
Even on the third day no one seemed to mind posing for more pics.
This was a nice originally owned rider that showed up that morning.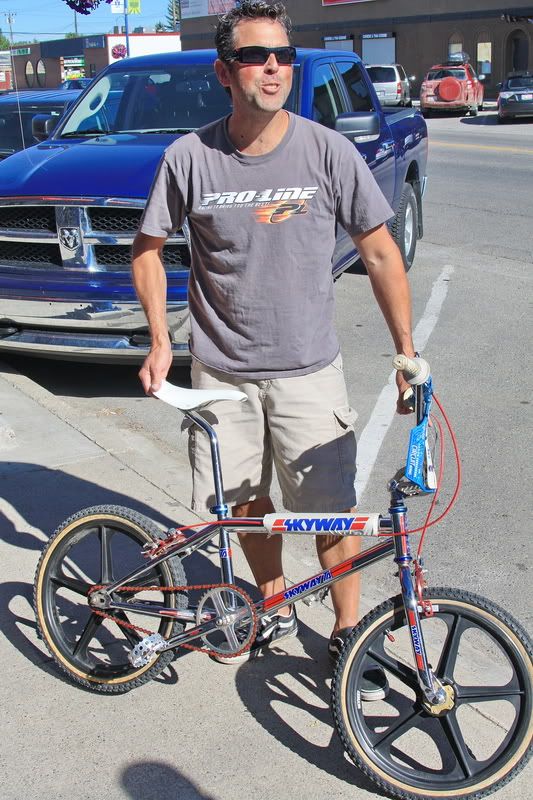 I'm guess the pack was 60-75 on day 3.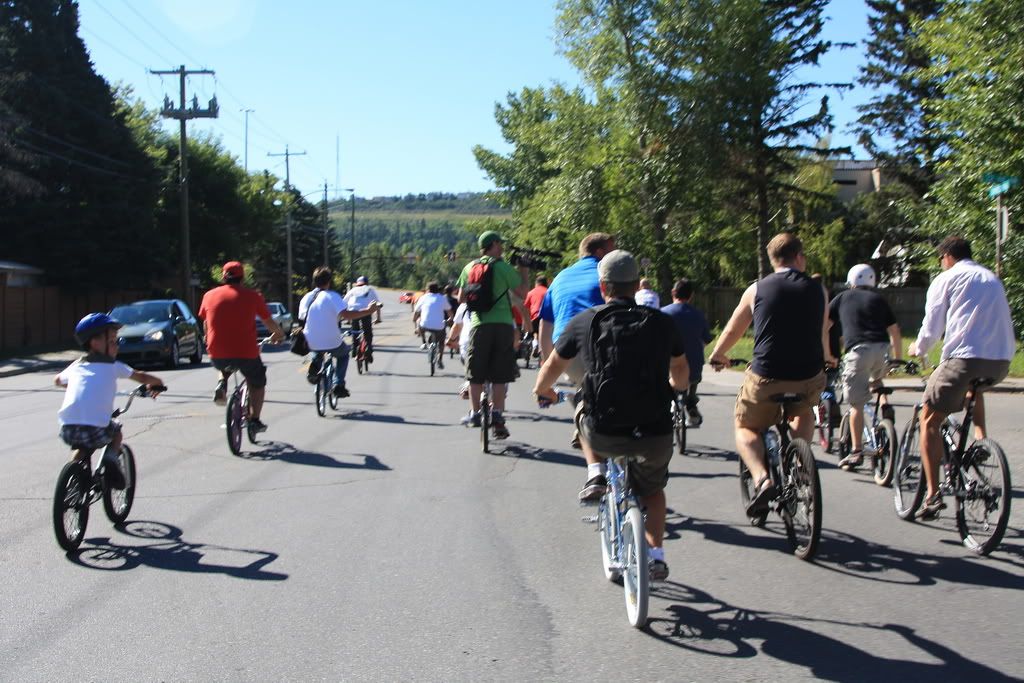 First stop was near the river where Becky throws the newspaper to the guys fishing in the boat.
Off to spot number 2.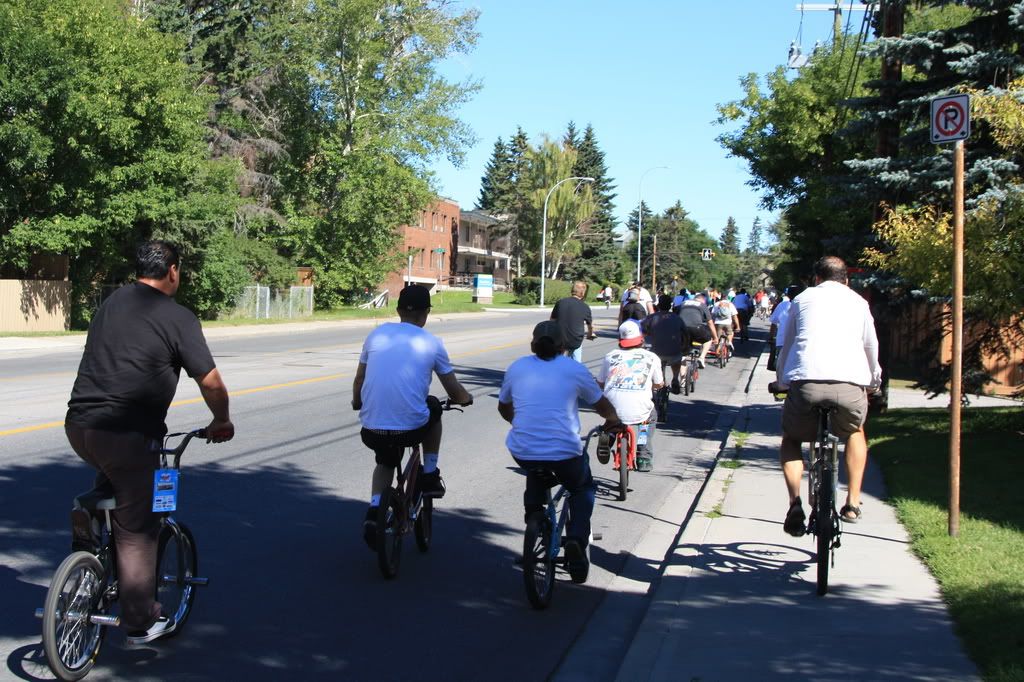 Jamie Clarke joined the ride.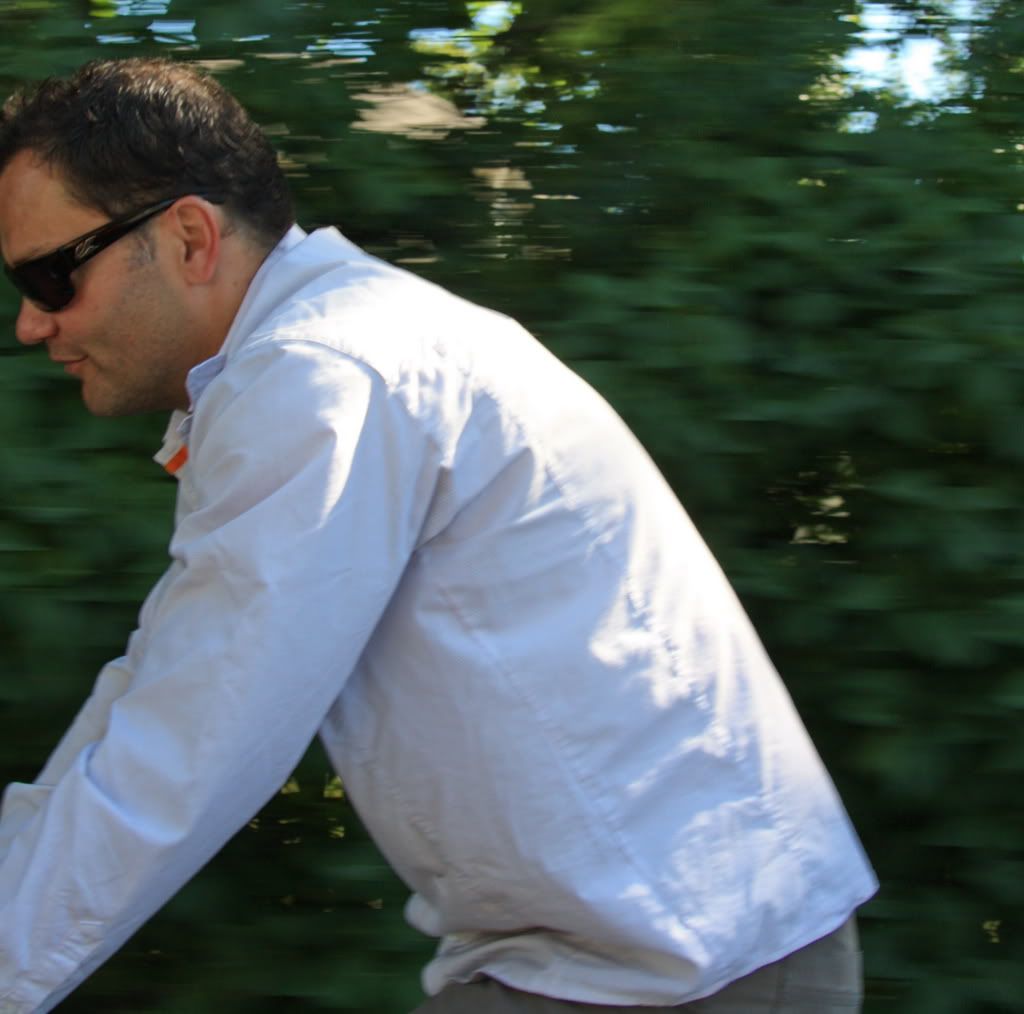 We reached the 7-11 and our mob filled the parking lot.

A lady customer came out the front door and was so flustered by the large crowd she didn't know what to do. I could see her lips mumbling "What the ???, what the ???" as she turned left, then right, then left. She eventually made a bee line for her bike and peddled away. :lol: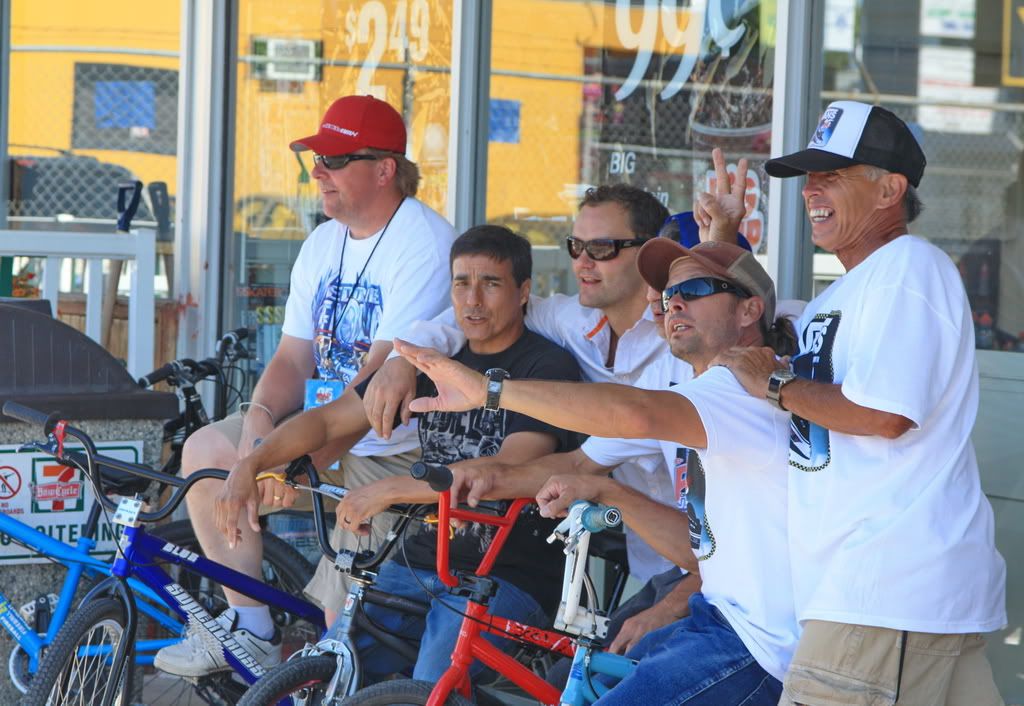 The next stop was in front of the house where the old man says "Porch! Can't you make it on the porch?!"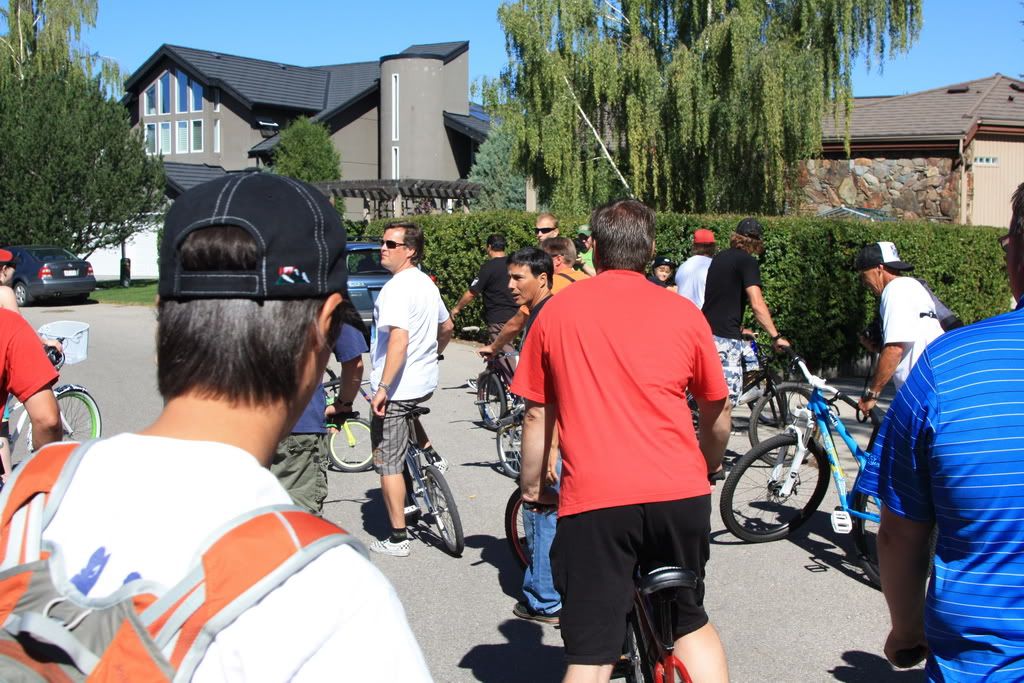 When we rolled up this girl was just parking in the driveway. She was a little bewildered at the large crowd of bikers and film crew in front of her house. Eddie then graciously explained that her house was in Rad and the significance of the line. She actually repeated it for us and we all blew up with excitement and applause! :P I think it made her day and ours.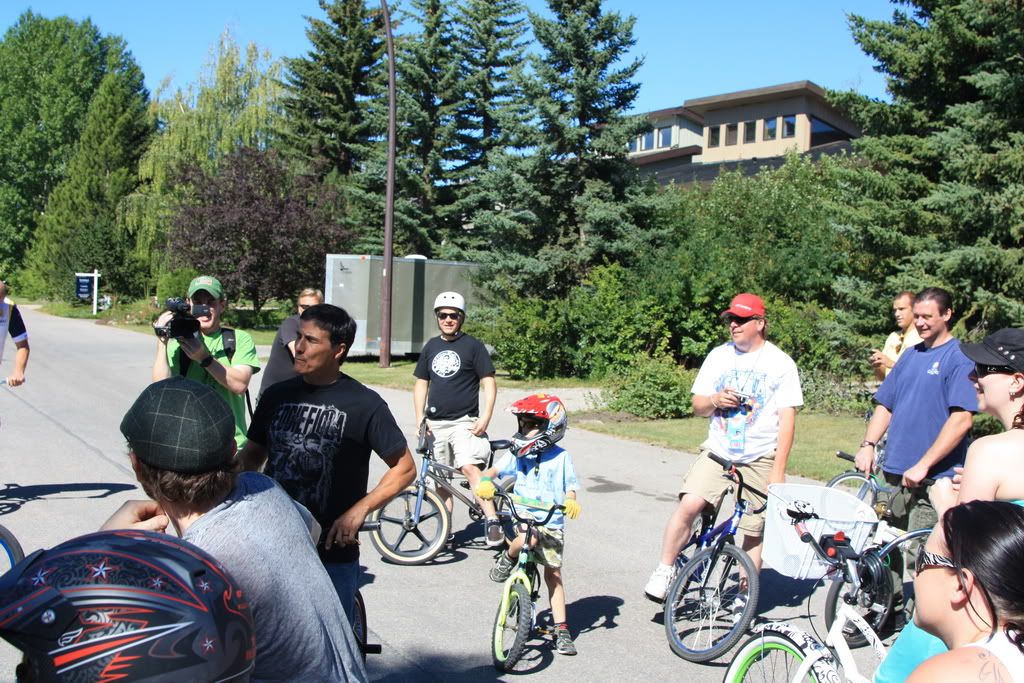 Next up was the school where Cru tried to impress Katie with his freestyle moves. Eddie stopped at the corner to direct traffic.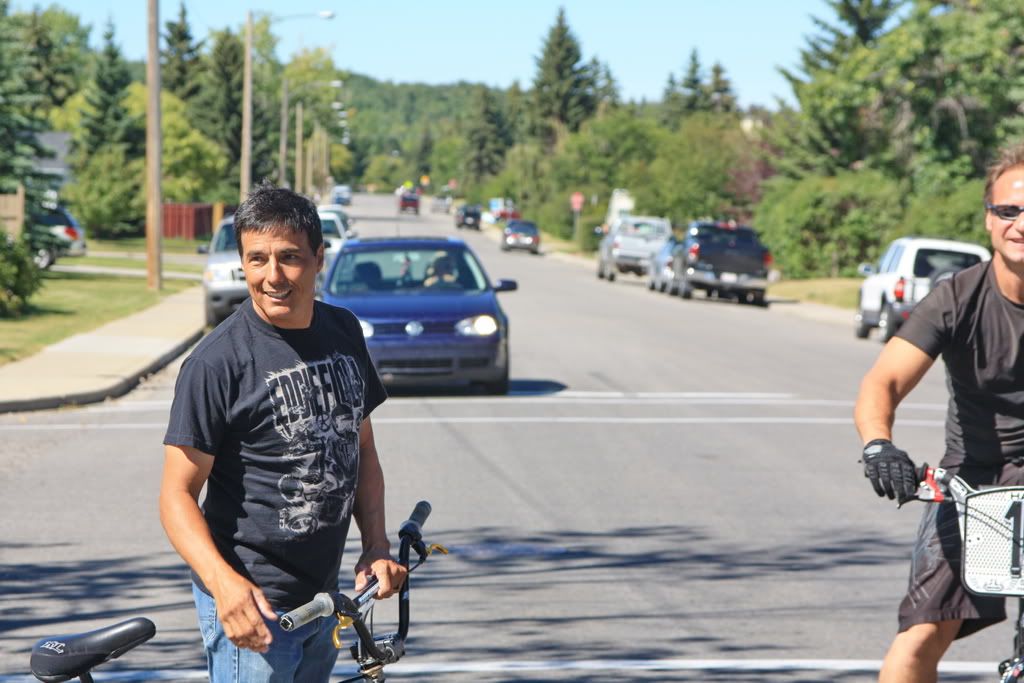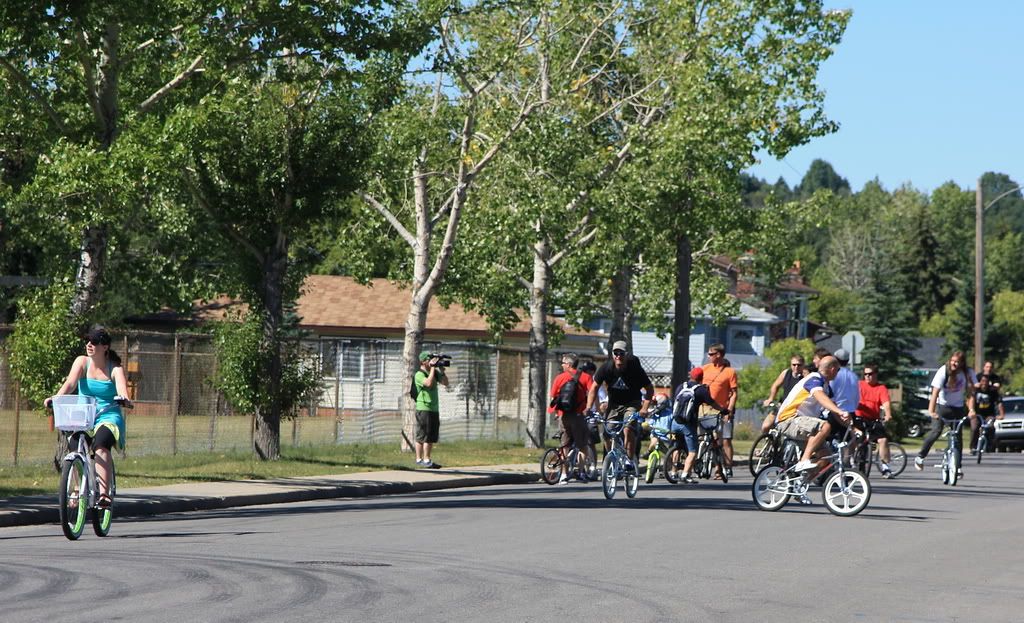 Beatle cruised right along in the crowd.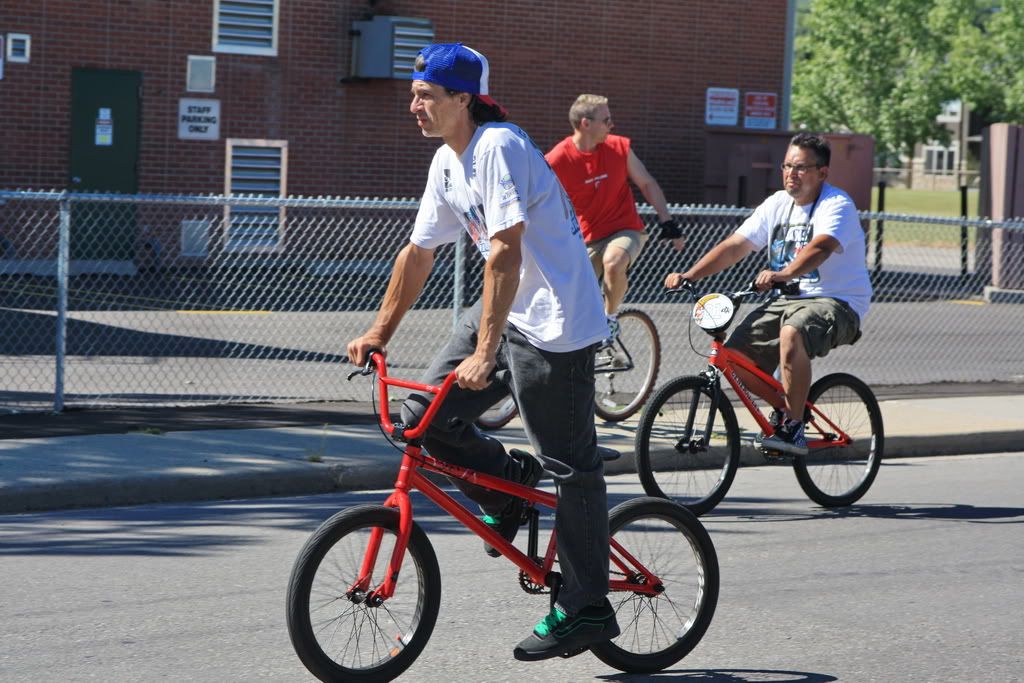 It was really amazing how many of the places looked just like they did in the movie twenty five years ago.

Eddie did all the tricks from the film for us.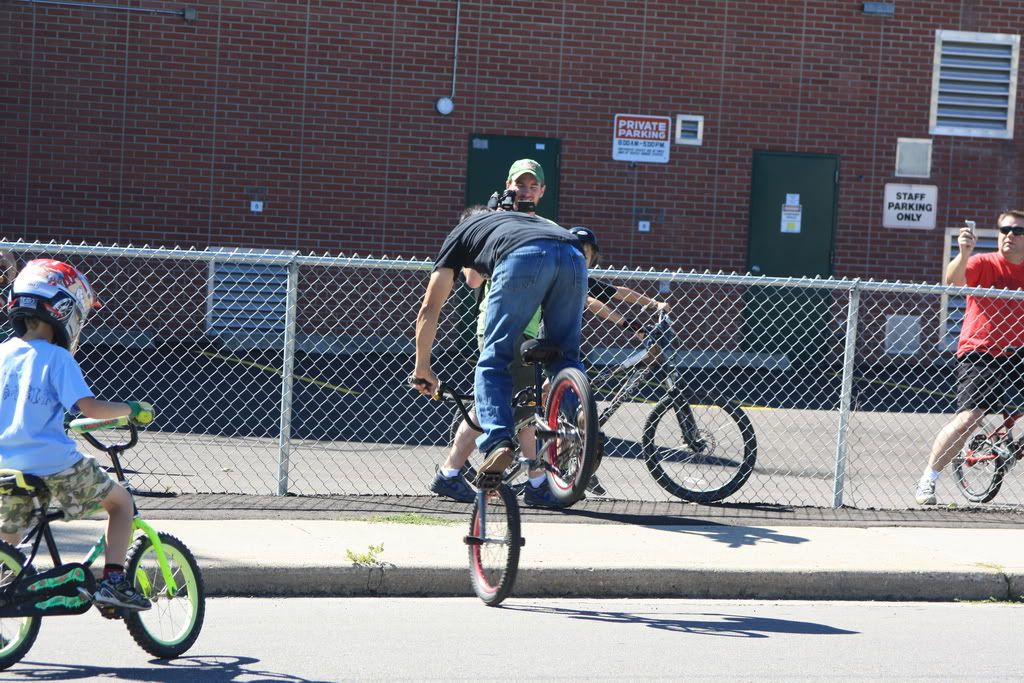 Other scenes were talked about such as this is where the chemistry lab was where the Rad t-shirts were dyed and painted. Jamie also shared that they had to shoot the scene where he grabbed the girls butt in the hallway about twenty times. They had to keep re-doing it because the girl wasn't slapping the guy hard enough. This is Jamie demonstrating how the Director wanted it done.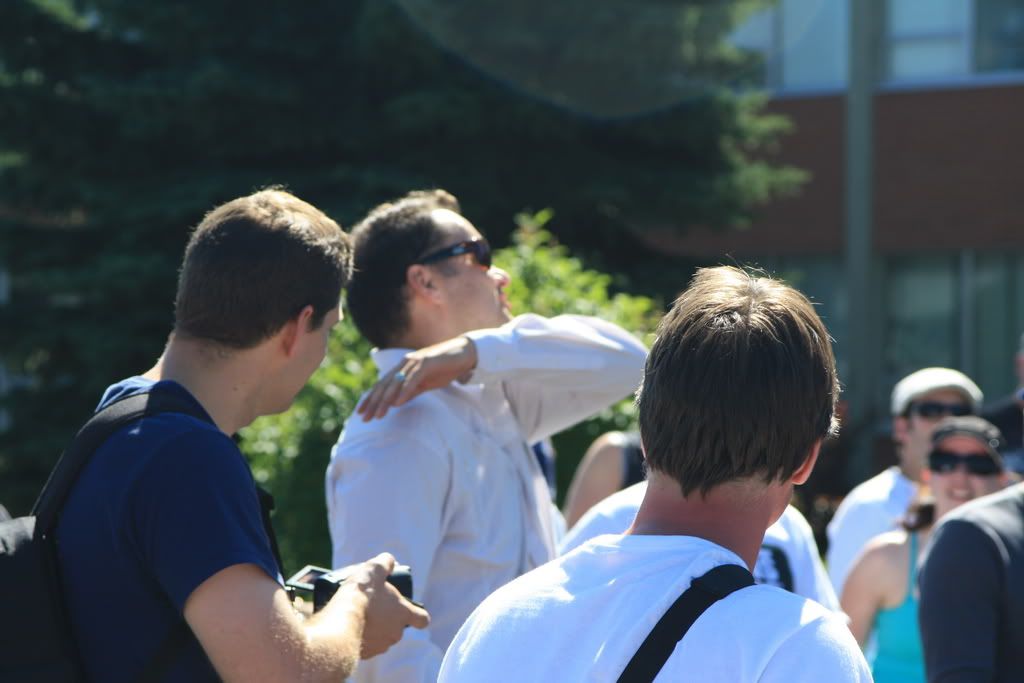 Leaving the school you can see the Olympic venues on the ridge.
We stopped in the shade again to talk about more scenes that were shot at the school. Another confused pedestrian was passing by and Eddie tried his best to explain Rad. The man just didn't get it... :lol: Someone from the crowd pulled out a Rad25 sticker and suggested he put it on his cane. It still wasn't making any sense to him so he just kept smiling and moved along slowly.
This is the "watering pink elephant" house.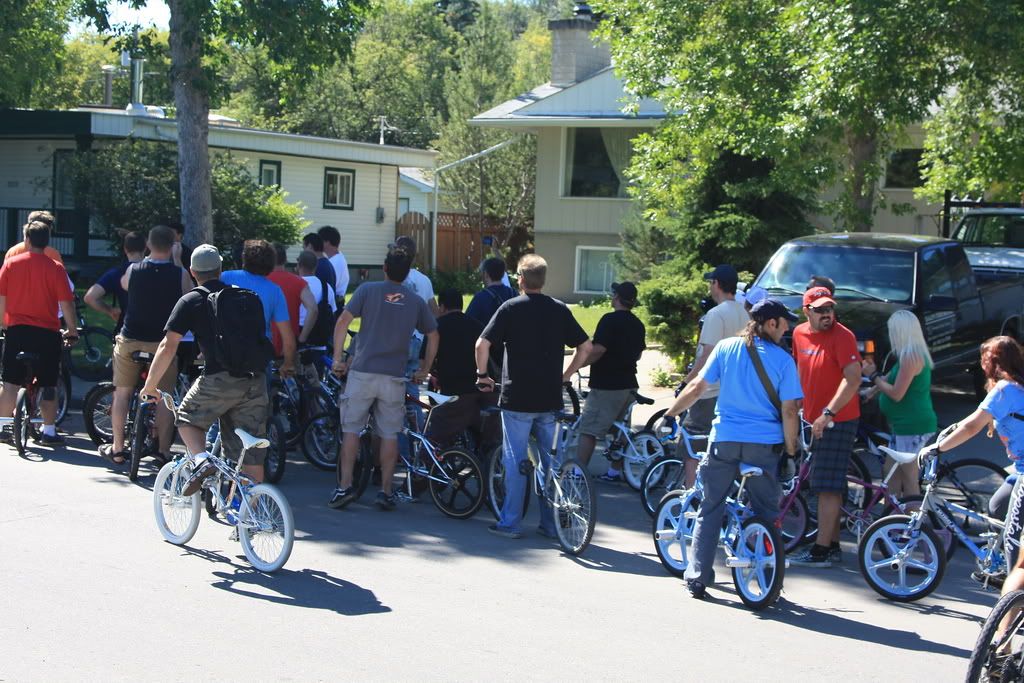 Martin actually walked up on the lawn and pretended to be the turning elephant with his arm stretched out like a trunk!
It was then a few minutes down some neighborhood streets to get to Bowness Park. This is probably the place where people were most annoyed by us. We were told it would be busy on a Sunday but didn't really believe it. It was. You can imagine 75 bikers coming down a single track path right at you. I heard one lady exclaim "Oh great, and the gaggle continues!" as my section rode by. :D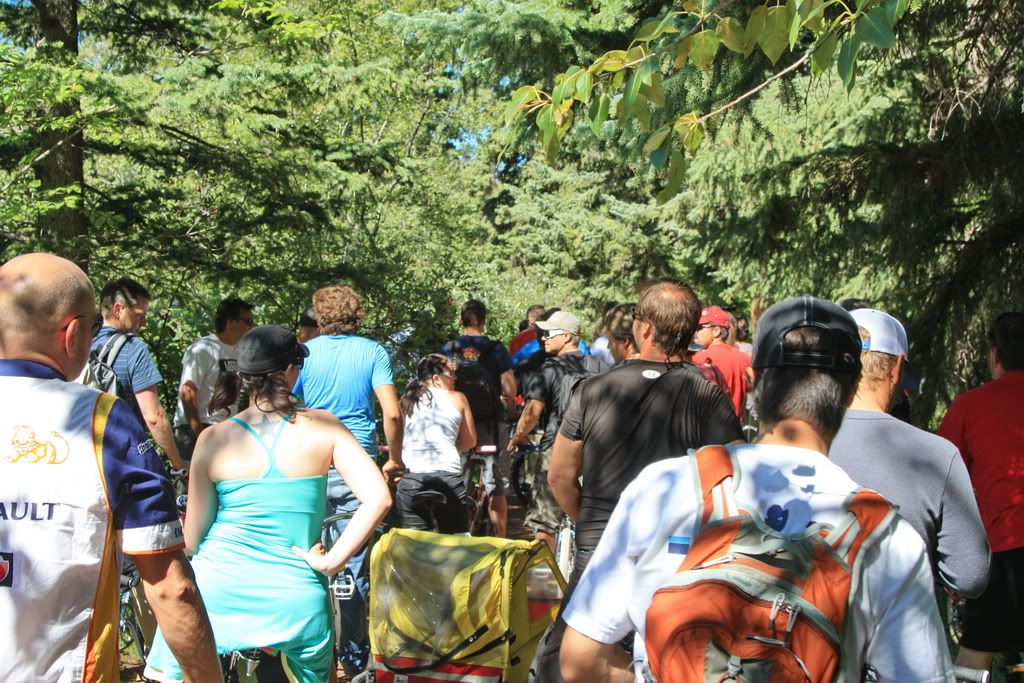 We stopped and started several times along this path. Eddie tried to explain that a certain spot was where they jumped into the water, Martin and others disagreed... :) It was all good though...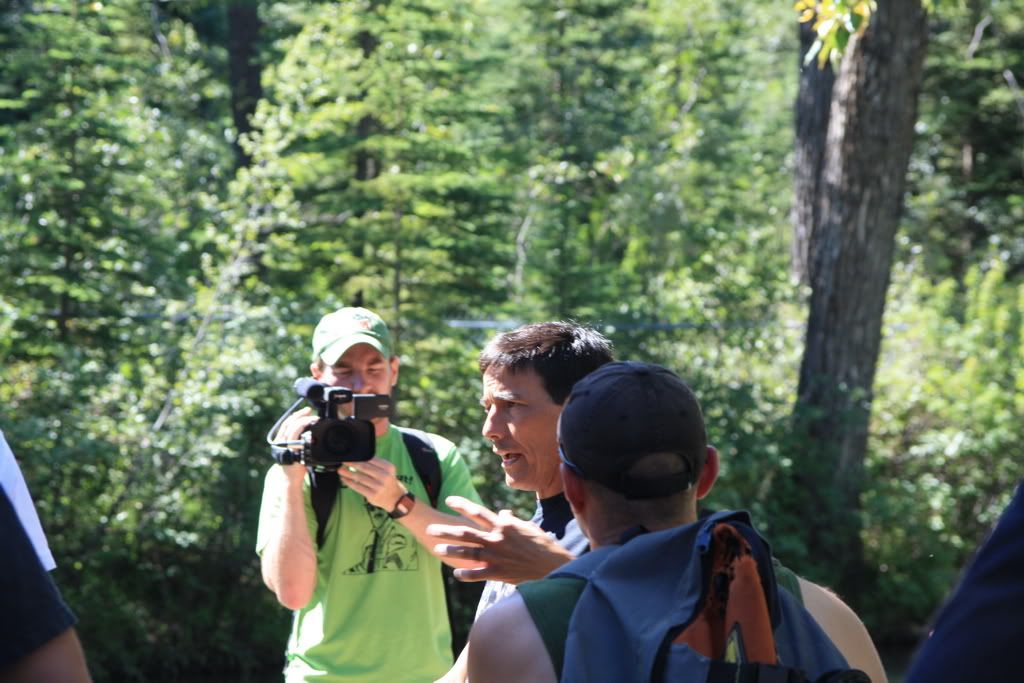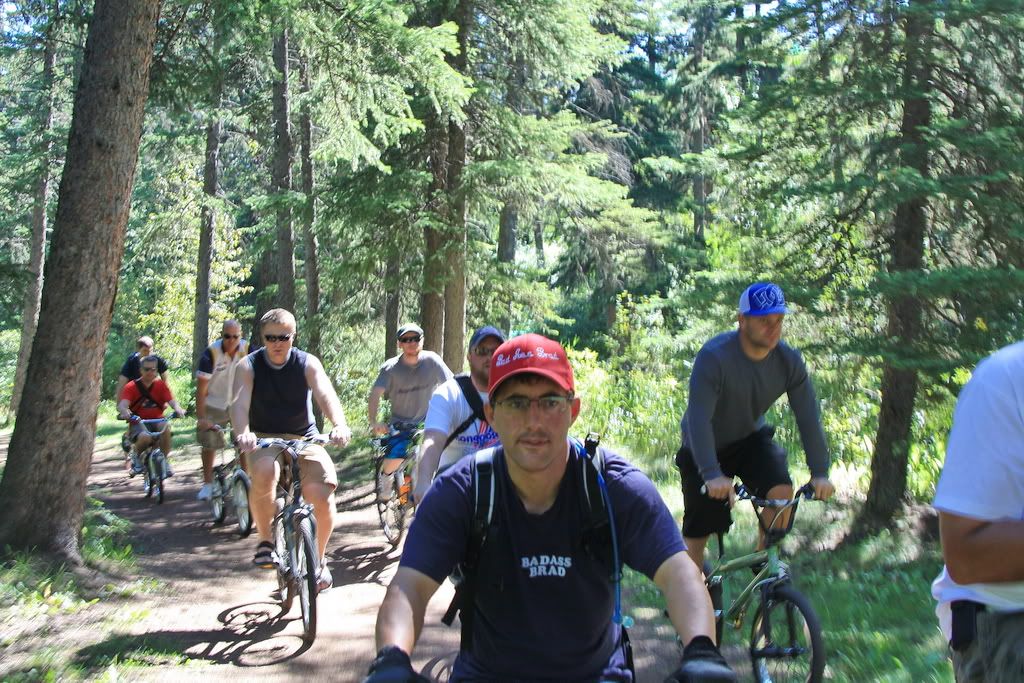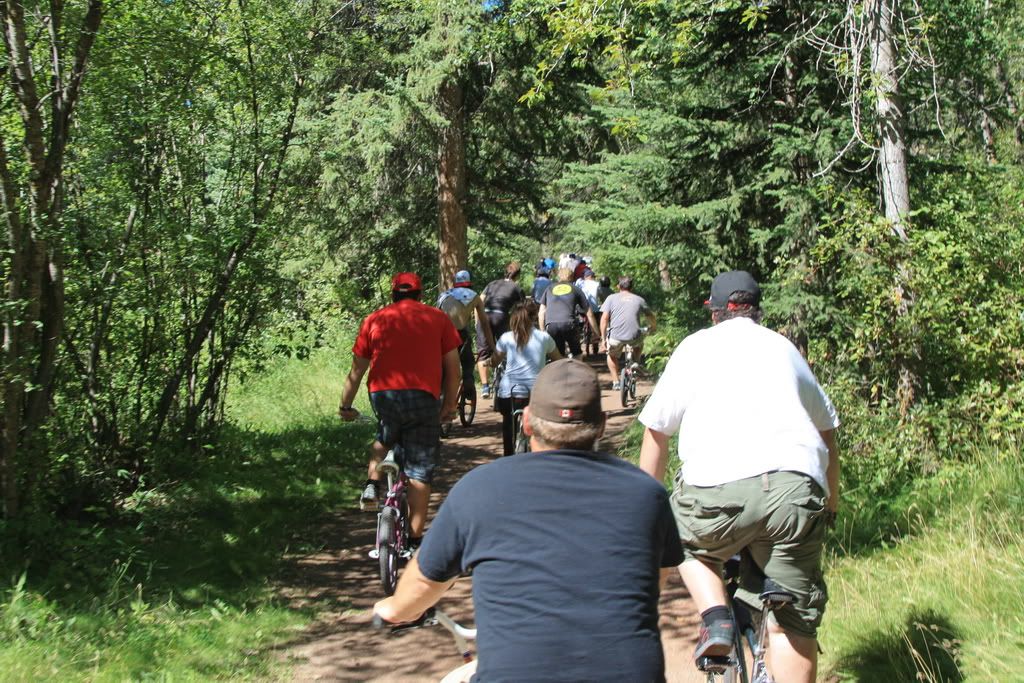 At one stop I started clicking off a series of shots as I was turning to create a panorama shot. The guy on the right looked over just as I got to him.

Someone suggested this as a future site for the X Games. It was where part of the qualifying race was shot. The concrete bridge was built many years after the movie.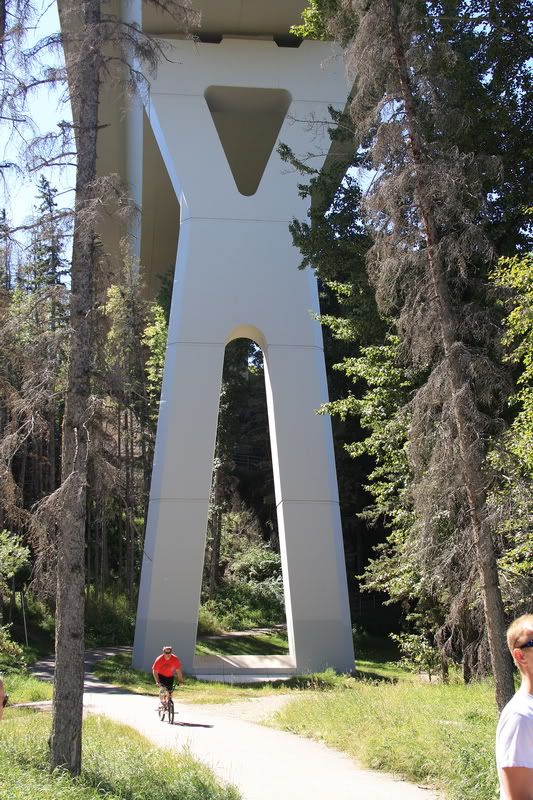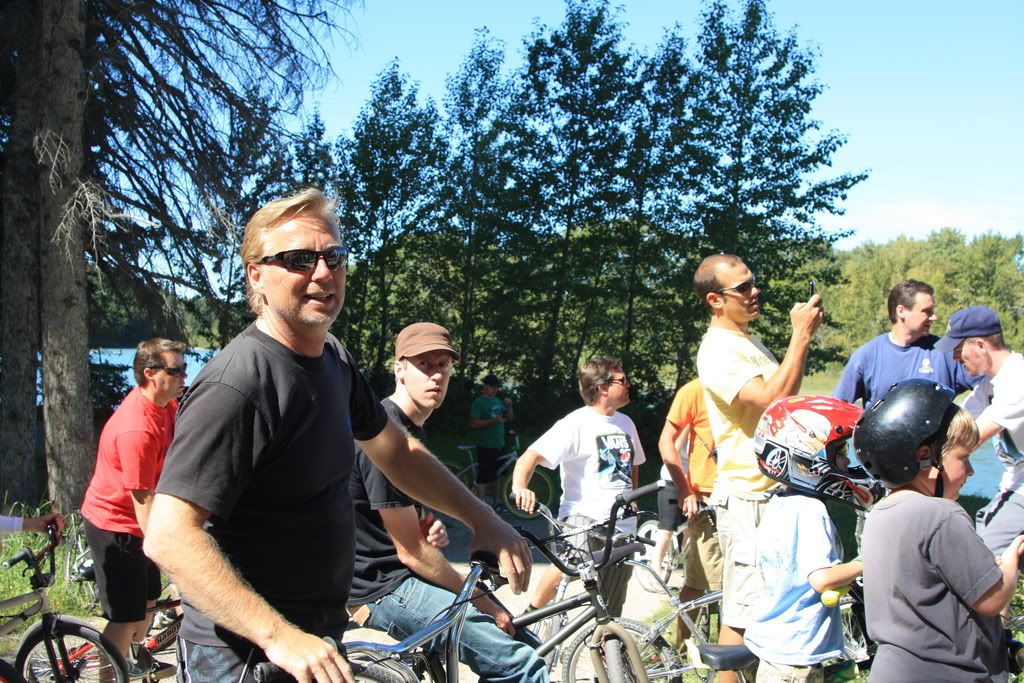 This is also where the famous ass sliding took place on the left bank. The shallow spot in front is where Christian drops the rock in the water behind Cru.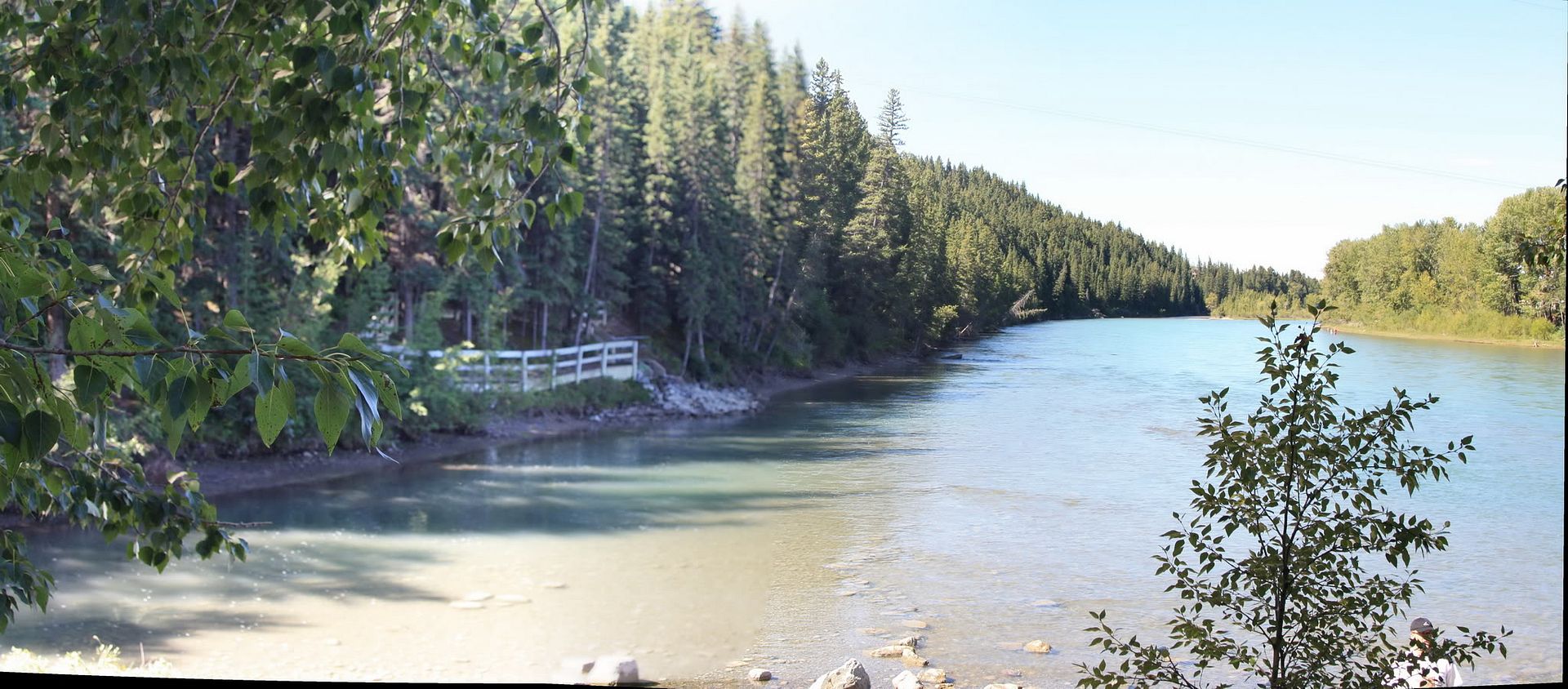 The hill behind Eddie is where the qualifying run came through the bushes and had several accidents.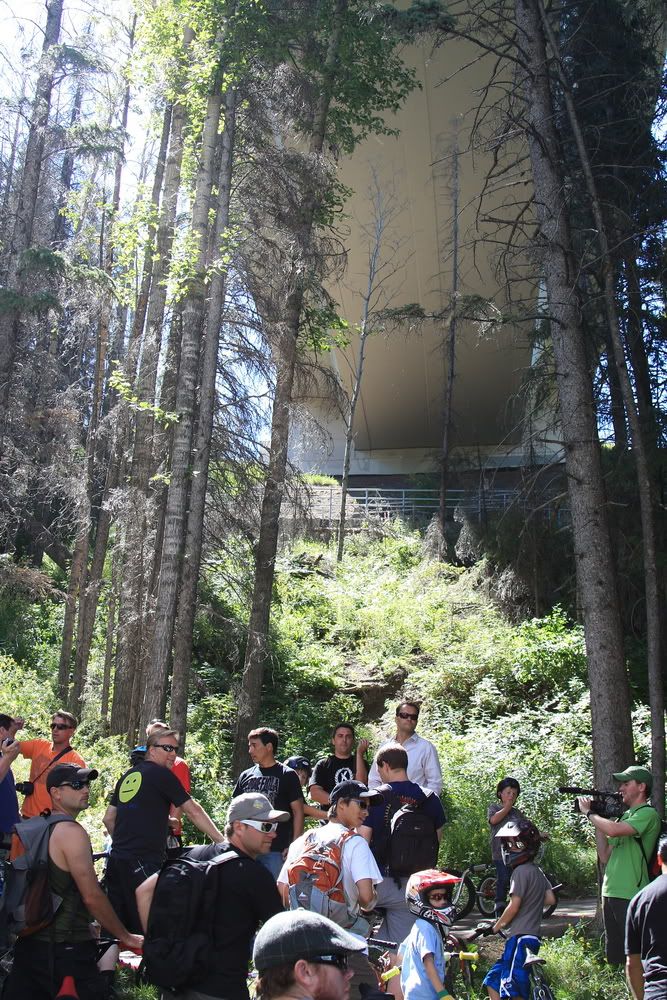 More than once we had to part like the red sea for passers by. This is Eddie saying "Clear the path"...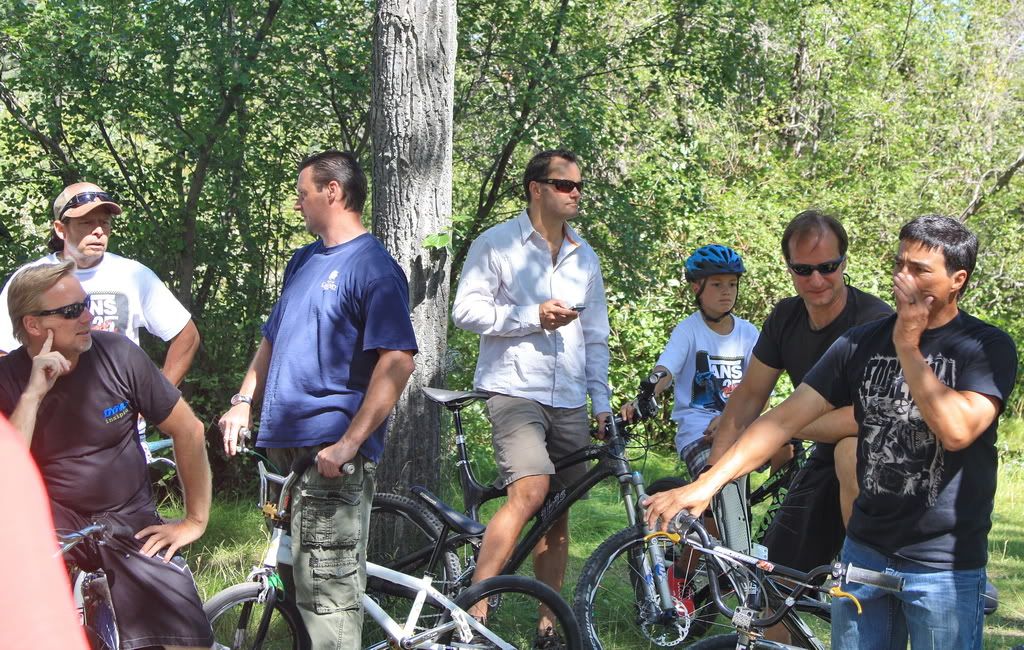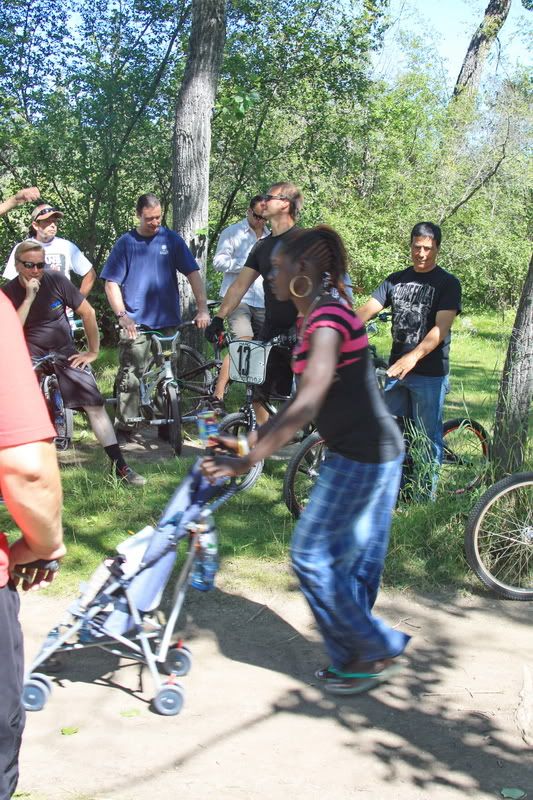 The spot where Cru and Christian start riding and copying tricks. They described how Martin played Cru and Eddie played Christian wearing a wig. He purposely rode stiff and straight-backed to "ride like a girl". ;)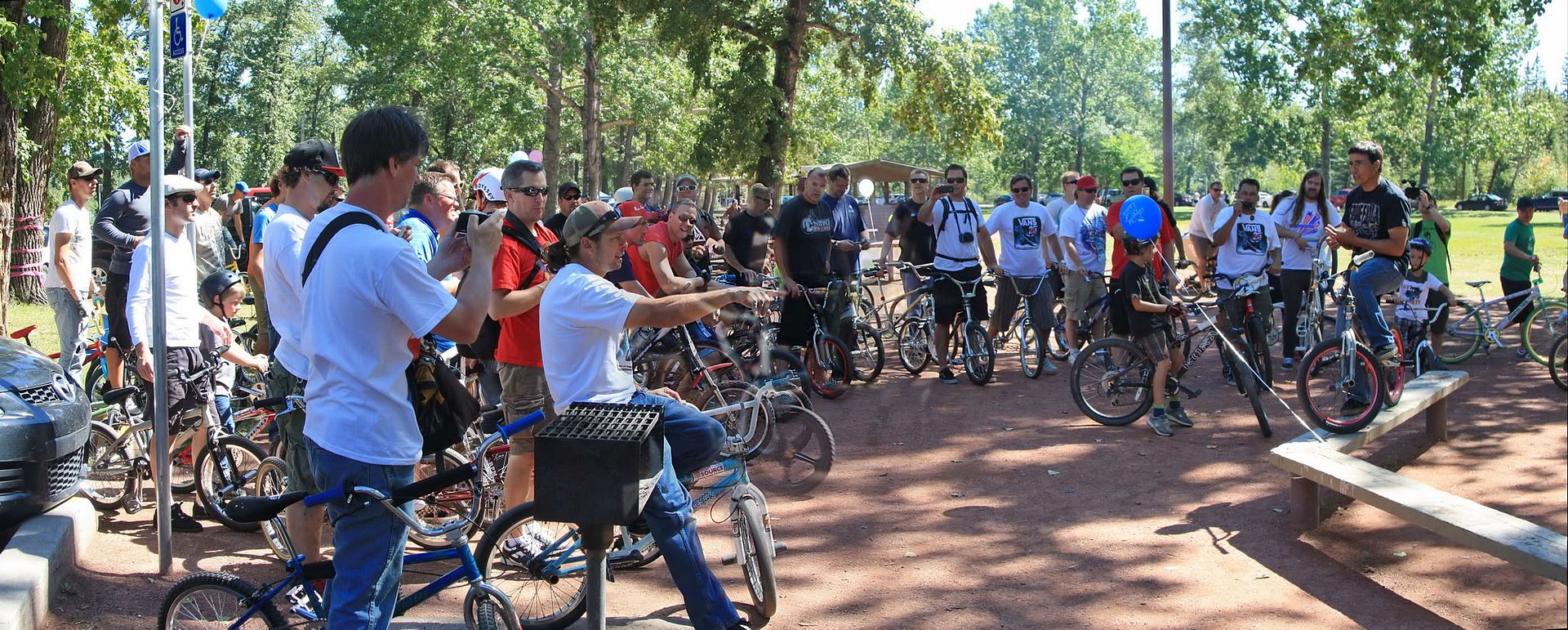 And then we reached Bowness Park, the clearing where Helltrack was built. As we were pulling up I heard someone say "What? They took it down?".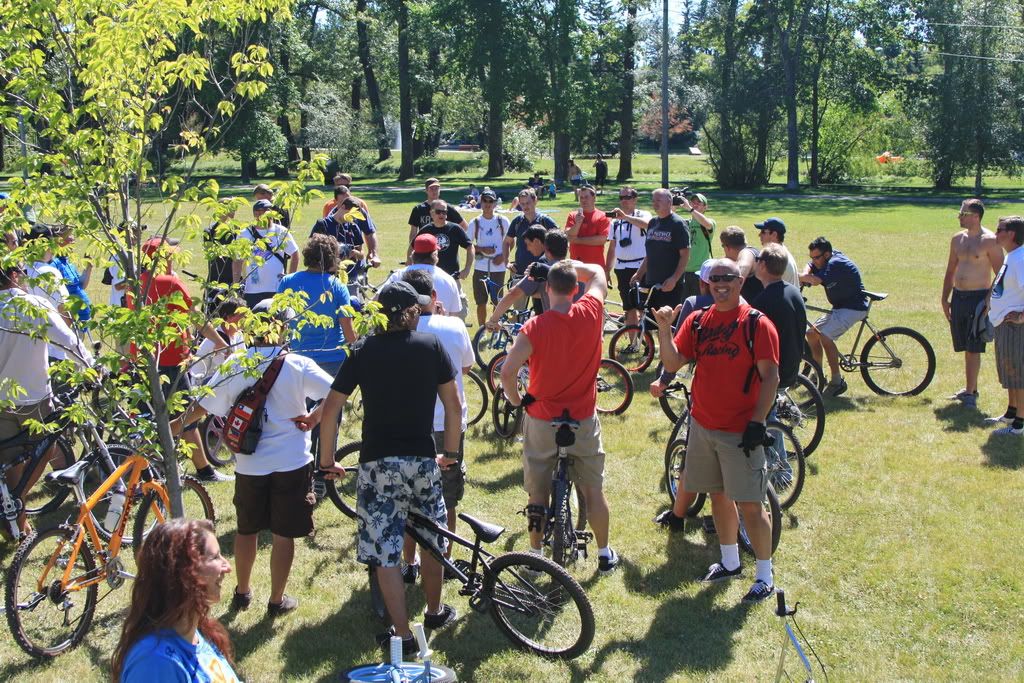 The first group shot was for anyone in the movie. From left to right are Chris Phenix (Director of Photography for the Rad Documentary), Kevin Hull, Everett Rosecrans, Eddie Fiola, Martin Aparijo, Jamie Clark, Jeremy Moser, Beatle Rosecrans and Kirk Bihun.
Click here for a large version: [url]http://i98.photobucket.com/albums/l258/GHS_Wired/rad25/Rad25_2011-08-21_043LG.jpg?t=1314063397[/url]
The next was for everyone.

Click here for a large version: [url]http://i98.photobucket.com/albums/l258/GHS_Wired/rad25/Rad25_2011-08-21_045LG.jpg?t=1314063397[/url]
One of the riders was nice enough to trade camera spots with me.

Click here for a large version: [url]http://i98.photobucket.com/albums/l258/GHS_Wired/rad25/Rad25_2011-08-21_047LG.jpg?t=1314063397[/url]
We hung around the park for another fifteen or so minutes then rode back to downtown Bowness. Everyone gathered around the Vans tour bus and said their goodbyes.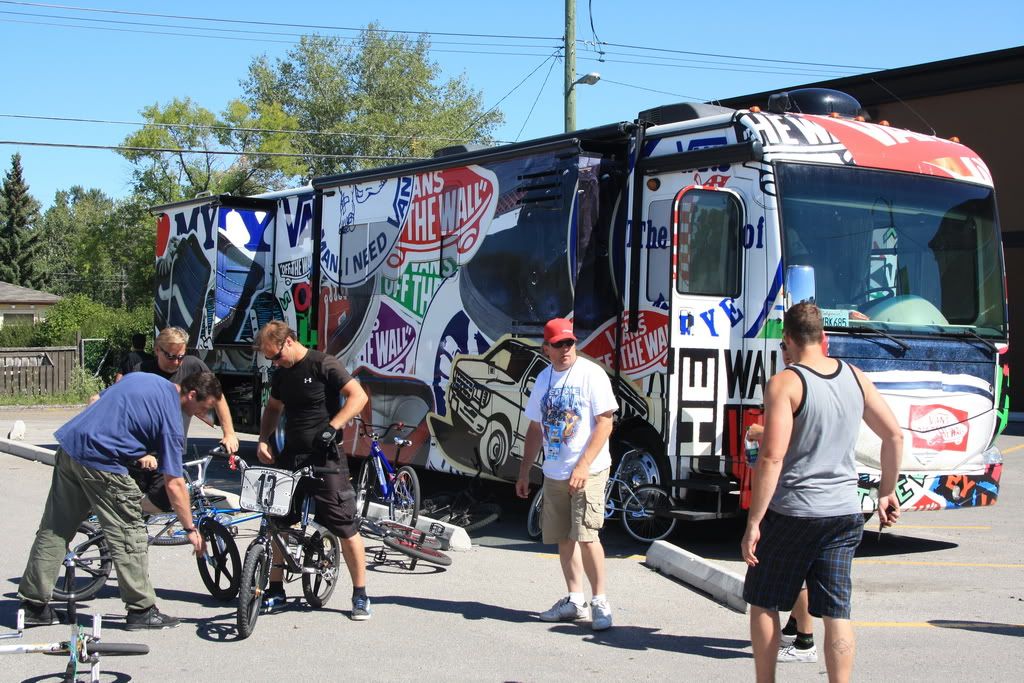 Time for a few final autographs.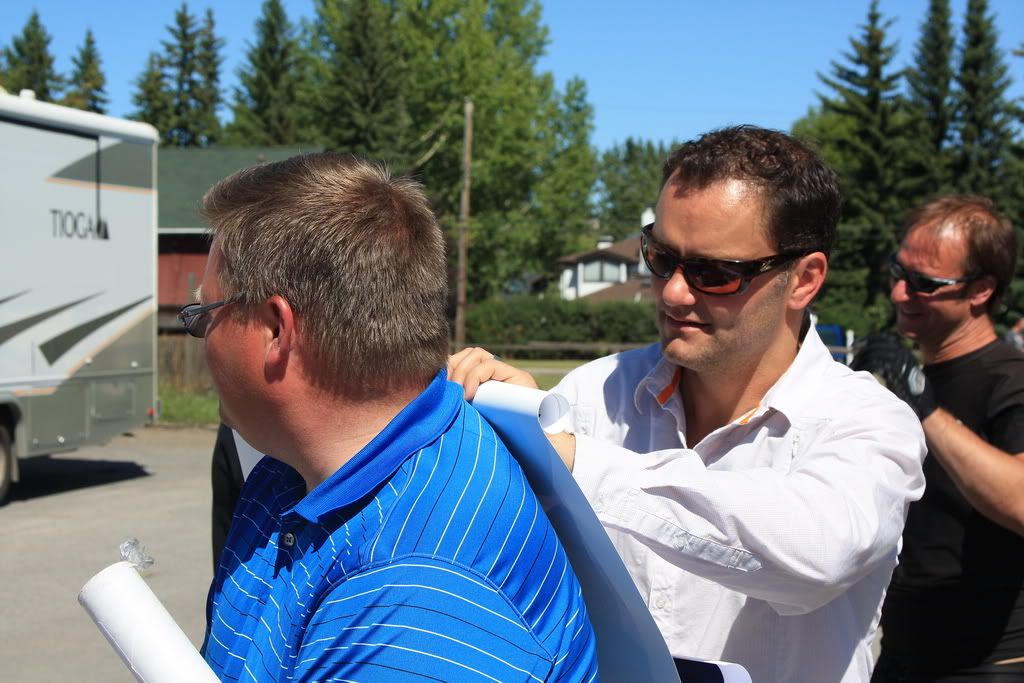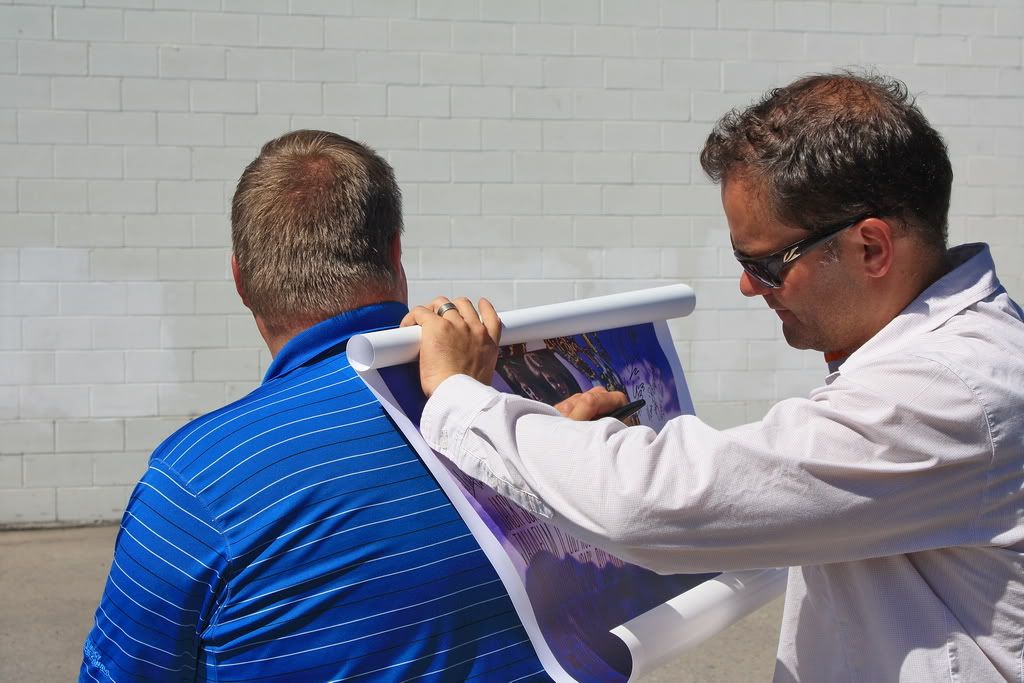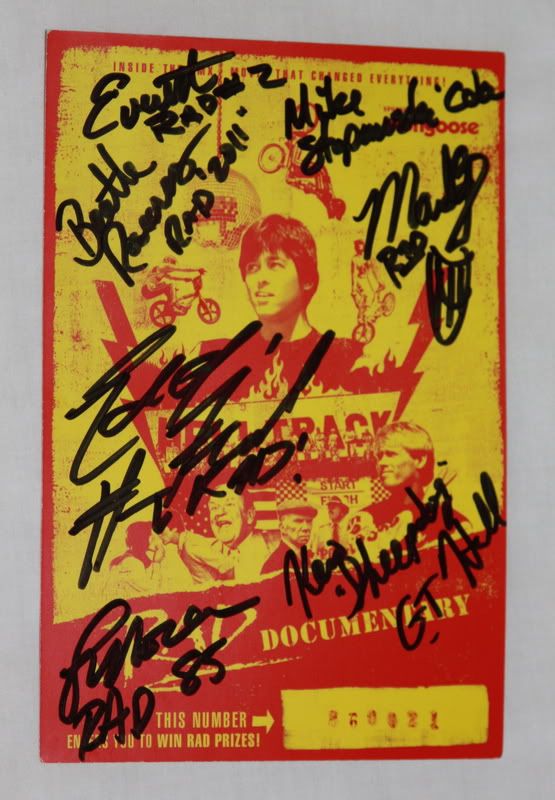 Before I knew it I was back at my hotel taking my bike apart and packing everything up. I got to the airport and went through customs. The officer I spoke with said Eddie had just come through him a little ahead of me. I never saw anyone else in the airport that afternoon and boarded my flight home. I crashed hard and slept through takeoff until we were in the air. After the flight attendant came by with drinks I put on my headphones and started listening to the Rad soundtrack. The sun was setting outside my window and all I could think was that I couldn't believe it was already over.
Rad50 anyone? :)