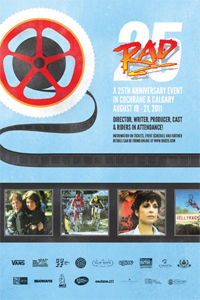 ESPN Action Sports BMX
By Brian Tunney
With 2011 marking the 25th anniversary of the seminal '80s cult classic BMX film 'Rad,' devoted fans of the film are flocking to Calgary and Cochrane, Alberta this coming weekend for the Rad 25 anniversary celebration.
Presented by the Calgary Underground Film Festival, 'Rad' fan site themovierad.com, as well as the Towns of Cochrane and Calgary (where 'Rad' was filmed in 1985), the anniversary celebration will include a 'Rad' memorabilia museum, a BMX museum, tours of the shooting locations and more.
Additionally, this weekend's upcoming festival will feature screenings of the film on the only legal copy of the 35mm film in existence.
Beginning Friday, the Rad 25 celebration begins with a BMX gallery that includes an assortment of poster art from the movie and the opening of the 'Rad' museum, then moves into screenings, which will be attended by cast and crew from the movie, including Bill Allen (who played Cru Jones) and Hal Needham (director).
The event continues Saturday with events at the Cochrane BMX track, Cochrane skatepark, bike tours of filming locations, additional screenings and an afterparty.
Initially, a documentary on the movie 'Rad' was scheduled to debut at the Rad 25 festival, but according to the filmmakers, the documentary is still in production and no official release date has been set. Mongoose Bicycles recently signed on as a sponsor of the documentary.
Released in 1986 and directed by Hal Needham, 'Rad' charts the meteoric rise of a BMX riding paper boy named Cru Jones, who through hard work and determination, rises up to beat national BMX race pros on a track dubbed "Helltrack." The film additionally featured freestyle riding and acting parts from major BMX race and freestyle pros, and has appeared on the pop culture radar through TV shows such as "Tosh.0" and "American Dad."